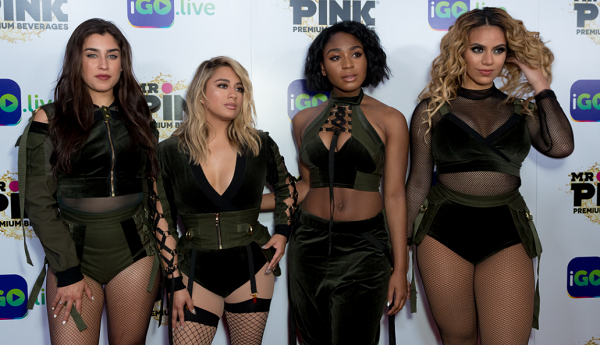 Fifth Harmony aren't the angels you think they are. The girl group, composed of Ally Brooke, Normani Kordei, Dinah Jane and Lauren Jauregui, looks and sounds sexier than ever in the video for their newest track, "Angel," released Friday. And their new vibe is a bit different from what the bubblegum fans were used to seeing back when Camila Cabello was a member.
Cabello departed in December to pursue a solo career, leaving her relationship with the remaining members on shaky ground.
At the time, Fifth Harmony released a statement announcing the split, claiming that they had been spent more than a year trying to "communicate to her and her team all of the reasons why we felt Fifth Harmony deserved one more album of her time."
Cabello responded in an Instagram post, explaining to fans that her bandmates were "aware of my feelings through the long, much needed conversations about the future that we had during" their 2016 tour. And in May, Cabello announced her debut solo project, The Hurting, the Healing, the Loving, with the LP's first single dropping on May 19.
While the ladies have always had a bit of sex appeal since their first album, Reflection, was released in 2015, their newest video is a sure indication of the new and grown-up direction the group is heading toward without Cabello.
Appearing on the cover of Seventeen magazine's September/October issue, Fifth Harmony's members said that they were using Cabello's exit as a chance for a fresh start and were focusing on their "new era."
"We've had some highs and some very, very sad lows, but together we're writing our new narrative," Brooke, 24, told the mag.
Although fans weren't all that surprised by Cabello's split from the group, her departure and the media madness that followed were still a tough pill to swallow for the other members. However, the fallout served as a bonding moment for them, and the girls leaned on each other for comfort during the loss.
"It's so beautiful having four women on the same page. There's nothing we can't get through together," Kordei, 21, said.
Fans have remained supportive of Fifth Harmony despite their losing a member, and the group received much praise following their new video's release.
Cabello, who last week released two new songs, "OMG" and "Havana," has also maintained her legion of fans since her separation from the group.
Fifth Harmony will release their third self-titled studio album on August 25. Check out the "Angel" video below.