On Monday, pop group Fifth Harmony announced they were breaking up to "stay authentic" to themselves. The group formed six years ago on X Factor with former bandmate Camila Cabello.
Fifth Harmony took to social media to share the news with their fans, dubbed Harmonizers. "We do need to take some time, for now, to go on a hiatus from Fifth Harmony in order to pursue solo endeavors," the group said. "We are all very excited and grateful to be able to take this time to learn and grow creatively and really find our footing as individuals."
Lauren Jauregui, Normani Kordei, Ally Brooke Hernandez and Dinah Jane thanked Harmonizers "for everything we have been able to build as Fifth Harmony." Although the girls confirmed the breakup, they're expected to finish the last set of their PSA tour in May, with scheduled performances in Florida, Puerto Rico and Iceland.
The split may not be surprising to some, considering the singers pursued solo projects outside Fifth Harmony. Jauregui had several high-profile collaborations: "Strangers" with Halsey in June, "Back to Me" with Marion Hill in December 2016, and "Never Let You Down" with Tinashe, expected April 13. Last month, Kordei lent her voice to a song with singer Khalid for Love, Simon's soundtrack, and Hernandez released her first single, "Perfect," in January.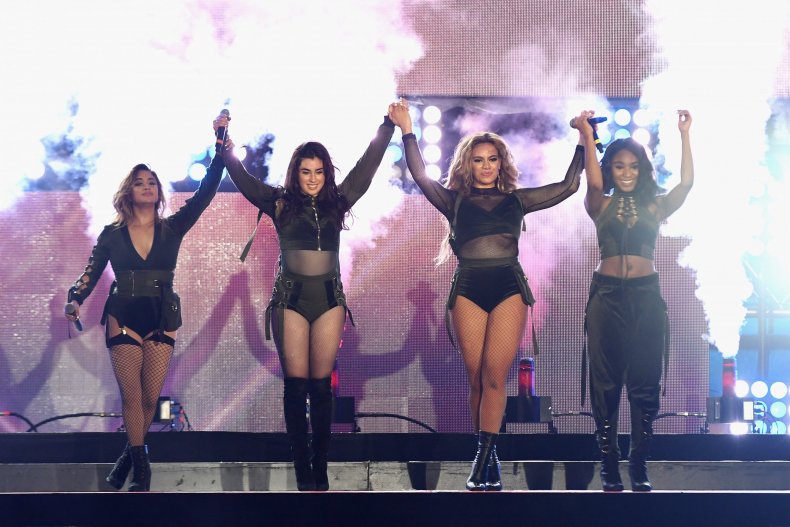 Jane was the only member who didn't debut solo music. "Sometimes, when you sing someone else's song over and over again, or songs that have been given to you, you're afraid to go out there and write one yourself," she told Flaunt in January. "You start to question, 'Well, I don't know if my music will be as perfect as these songs I'm given.'"
Cabello was the first to exit the group. After leaving the band in December 2016, she released her first solo album, Camila, the following month. Her acclaimed album topped Billboard's Top 200 Albums chart. Now the 21-year-old star is expected to join singer Charli XCX as the opening acts for Taylor Swift'sReputation Tour this summer.