A Fifth of New York Firefighters Take Paid Medical Leave to Avoid Vaccine Mandate
More than a fifth of the New York City Fire Department's workforce has taken paid medical leave in the week leading up to the city's vaccine mandate.
FDNY Commissioner Daniel Nigro said that 2,300 firefighters of the department's 11,000 employees have called out sick as of Monday morning.
FDNY Deputy Commissioner Frank Dwyer called the numbers "very unusual."
City officials believed the staffing shortage is in protest of Mayor Bill de Blasio's mandate for the municipal workers, who had until 5 p.m. Friday to get at least one shot of a COVID-19 vaccine or be placed on unpaid leave beginning Monday.
Nigro has slammed the apparent sickout as "bogus" and blasted firefighters who are participating for neglecting their oaths.
"Irresponsible bogus sick leave by some of our members is creating a danger for New Yorkers and their fellow Firefighters," Nigro said. "They need to return to work or risk the consequences of their actions."
"Despite these actions by some, the department will continue to respond to all calls for help that come our way," the commissioner added.
Nigro said that despite missing nearly a fifth of their members, "the department has not closed any firehouses."
In the week and a half since de Blasio announced the mandate, the FDNY has a vaccination rate of 87 percent.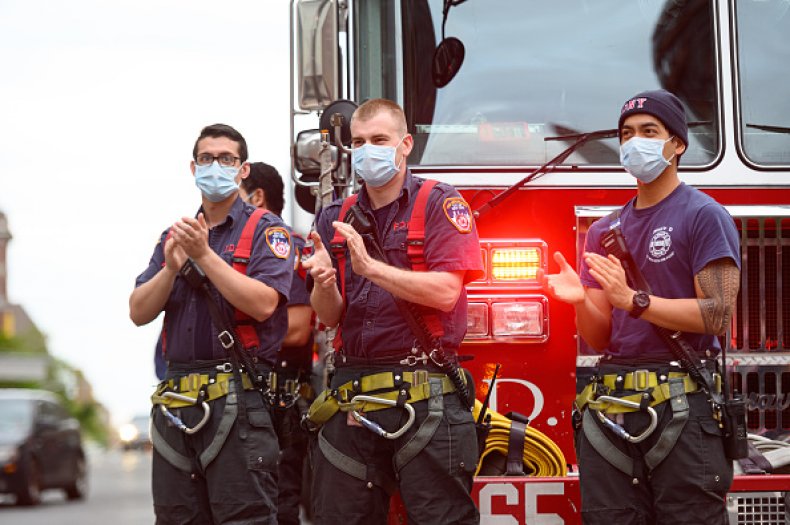 Firefighters Association President Andrew Ansbro and FDNY-Fire Officers Association President Jim McCarthy have argued that their members did not receive enough notice from the mayor on the mandate.
De Blasio disputed the union leaders during a Monday press conference, saying "There was lots of time for people to think about" getting vaccinated.
"We had the phase of vaccinate or test. There was lots of time. There were lots of incentives. But it's been quite clear this was the direction we're going in and it's the right thing to do," de Blasio said.
"Do the right thing. Come to work. Protect people as you took an oath to do," he added. "This is something we don't tolerate. In the end, when people do this kind of thing, there are consequences."
The mayor also pointed to several court rulings that confirmed the legality of his mandate, saying "The court spoke, it's time to recognize this is the law. Get back to work protecting the people the city."
The FDNY said they are continuing to see "strong, good normal response times" but that many firehouses remained understaffed.
"Once members come to their senses and stop using medical leave improperly, they can help not only the citizens of the city but their brothers and sisters who are staffing these units," Nirgo said.
On Monday, de Blasio warned city workers of faking being sick, telling them that they could soon lose the support of New Yorkers across the city.
"When city workers, such as those who are choosing not to show up to work even though they're not sick, when they do that, they start to lose public support," de Blasio said. "They start to get the public, in fact, angry that people are paying taxes but not getting the services they deserve."
"So, if anybody out there is faking being sick, you're doing the wrong thing for yourself. You're doing the wrong thing for your department and you're sending a message to people the city and they're receiving that message and they don't like it," the mayor added.