In Fifth Season of 'Louie,' C.K. Nails the Punchlines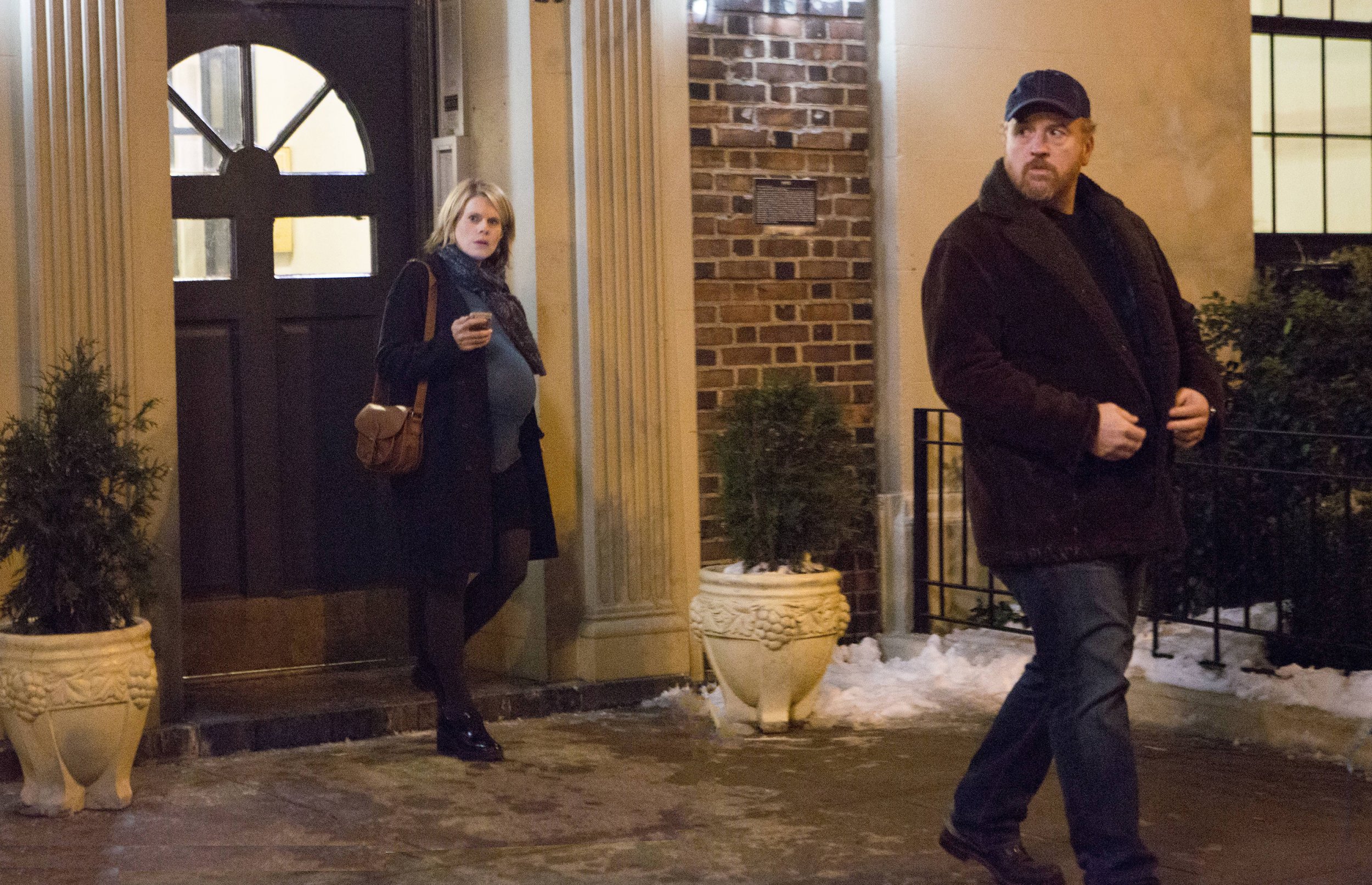 Since 2010, the comedian Louis C.K. has taken viewers on a harrowing and hilarious trip with his FX program Louie. Depending on who you talk to, Louie is a drama or a comedy. Either way, it's less a show and more a compilation of vignettes, depicting what could possibly occur in a single day in a life. That's it. But this includes, and isn't limited to, the finer points of blueberries and nervous breakdowns, the woes (and wonders) of being a single parent in New York City, awkward almost-threesomes and witnessing a freak accident while walking to a first date.
C.K., in all of his self-loathing charm, has been touted as comedy's Great White Hope. Heck, Louie may now even be the standard for the autobiographical-ish comedic drama show. But Louie, Louie: Five years later, we gotta go (further) now. The question is: Where?
The beginning of season five, which had its premiere April 9 with the episode "Pot Luck," already promises bigger punchlines, headier themes and the series' tightest batch of episodes. Every season, viewers have grown along with the schlubby and ultimately lovable Louie. Some things about him, like his reddish facial hair and his talent for walking blindly into strange situations, will never change. For instance, when asked to bring a dessert to a class potluck in this season's eponymously named first episode, he insists on making fried chicken. Of course, because it's Louie, a set of absurd circumstances—which may or may not include cult activities—lead to him not being able to deliver the dish he slaved over. Oh, Louie.
What's different in season five is where Louie, the character, stands in his life. While he's still the same bumbling protagonist who simultaneously surprises and disgusts us, he's finally found mild professional success. Louie is a comedian who's no longer playing the court jester, or having to side hustle or give disastrous opening sets for his old pal Jerry Seinfeld. This Louie is not quite the real-life, mega-successful C.K.—he still has to do his own introduction while hosting an open mic night, as seen in episode two, "A La Carte"—but he's hit the point in his career where people recognize that he's doing well, and he isn't worried about money anymore.
Jokes that would typically be cheap shots in standup—an elongated gag about poop and speculative talk of aliens—keep the mood light in the new episodes. It's a welcome contrast, because C.K. is going macro with this season, tackling one of the abstract worries plaguing humanity: mattering in a world that's becoming increasingly clickable, digestible, expandable and expendable.
And let's face it: Everyone, from comics to chefs, wants to be remembered beyond the grave. "It's like guys like us are being selected out," muses an old acquaintance of Louie's in the season's third, and thus far most gripping, episode, "Cop Story." The day before, Louie had been handed his lunch by the owner of a high-end cooking store (a young woman who calls him out for patronizing her), which evolves into an existential exchange: "We're the future, and naturally you don't belong in it. We're beyond you, and naturally that makes you feel kind of bad. Deep down you have this feeling that you don't matter anymore," she says with a blink. He sighs in acknowledgement. Now that's a stove-top burn.
But Louie's curmudgeonly tendencies are valid: Of course the future is scary, and people feel threatened by who, or what, will be taking their places when they depart this Earth. In our desire to connect through the World Wide Web we are splintering from each other. It's 2015, and Edward Snowden can detail, on national television, exactly where our nude photos are nestled in NSA databases, and soon we may even be able to order to our doorsteps apple pie a la mode via drones. What a time to be alive.
Mattering is the through-line between the diverse episodes in Louie's fifth season, especially in those like "A La Carte." This episode contends with the confusion of contemporary dating, and how no one has the cojones to admit that they want to be anything more than casually, sort-of seeing each other. Here C.K. is asking things we all subconsciously wonder: What do I mean to the people around me? To the world at large? To the person I'm sleeping with, have feelings for, but am also friends with? It calls to mind Brazilian author Clarice Lispector, who once wrote: "Human life boils down to the pursuit of pleasure, to the fear of it, and above all to the dissatisfaction of the time in between." This conceit isn't new to Louie, but becomes all the more prevalent at this point in time, when Louie begins to slowly cement what it is that he wants out of his relationships, his career and ultimately his life.
The best jokes, as C.K. said in his 2014 GQ cover story, don't register as jokes. They're sly observations, funny in their frankness.What can you do sometimes but laugh after you've been terribly rejected by someone you're into? Because this show doesn't evince chuckles as much it does sharp inhales or winces, a common criticism of Louie is that it's a drama masquerading as a comedy.
This style is certainly not suited for people who want rapid-fire jokes, but the slow-burn narrative has made all the difference in Louie. And unlike so much of comedy, the show deepens what it means to laugh. We giggle sadly when Louie's therapist dozes off on him in "Pot Luck." He's finally attempting to get help, pouring his soul out and admitting he "doesn't know how to live a life anymore," and of course he isn't heard! We laugh nervously when Louie, standing alone at a KFC in the wee hours of the morning, shovels fried chicken into his mouth and reminds us of our shortcomings. Ultimately, this approach forces us to contend with our insecurities, and might even make us chuckle along the way. It's cheaper than therapy, at least.
But then Louie surprises himself, and us, in episodes like "Cop Story." In this one, Louie has an unpleasant run-in with someone from the past who is insulting and rude. Yet when an unexpected crisis strikes, Louie, himself occasionally exhibiting shithead tendencies, helps this fellow unflinchingly and fully, because that's what we do as humans.
Unlike the trope of the complicated, bad-leaning, good-meaning anti-hero a la Don Draper or Tony Soprano, Louie has a big heart, and is far too self-aware to ever truly be a capital-A asshole. This is why Louie has such a resonance with audiences: because the main character isn't afraid to admit that despite his success, he's just as confounded and lost as we are. It takes a real man, or woman, to admit that.