'Fifty Shades' Sex Scenes Are Shot With a 'Wee Bag,' Jamie Dornan Says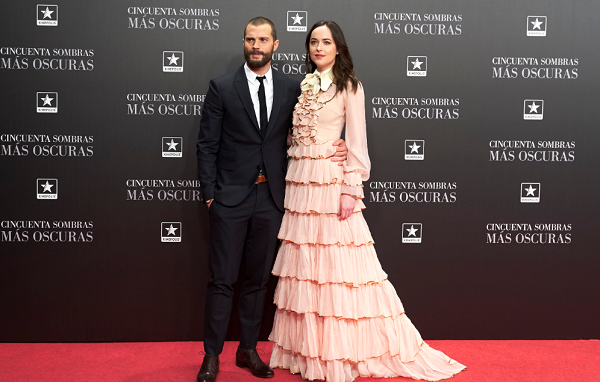 There's a reason why viewers flood theaters to watch Jamie Dornan and Dakota Johnson in the Fifty Shades movies: the sex.
Just like the books, the plethora of intimate scenes in Fifty Shades of Grey and Fifty Shades Darker are undeniably hot. And more than likely, viewers will squirm with arousal while watching the whips, chains and kinky displays of affection displayed in the third installment of the franchise, Fifty Shades Freed, debuting in theaters on February 9.
Despite the fun audiences have watching Dornan's Christian Grey and Johnson's Anastasia Steele, filming the sensual moments wasn't nearly as pleasing for the actors. For one, Johnson is more like a "sister" to Dornan than anything else, he said on Jimmy Kimmel Live on Wednesday.
The 35-year-old, who is married to English actress Amelia Warner, dished how he keeps his hormones in control while acting out love scenes with Johnson. "I wear like a wee bag," Dornan revealed.
He emphasized the phrase had nothing to do with the size of his package. "That's an expression I say from where I'm from—a wee—but it doesn't mean it's actually wee inside. I wear quite a big bag," he joked. "I wear this huge travel case and sort of stuff everything inside. Like a potato sack."
Even less sexy, the wee bag was apparently used by another actor.
"On the first movie, I thought there'd be—and there was—a selection of [bags] for me, and I picked one. And I thought I'd take them out of the packets, they'd be brand new. They'll have that brand new smell. And then I sort of picked one that I liked the look of and the shape of, and then I picked it up and in the seam, it said, 'inmate number three.' It was sewed in," he said with a laugh.
"And I was like, 'Shit, this has been used before?' and when you picture the guy playing inmate number three in a movie in your head, it's not…I don't know, it's not sexy."