Fight for $15: Fast-Food Workers Protest for Higher Pay and Unions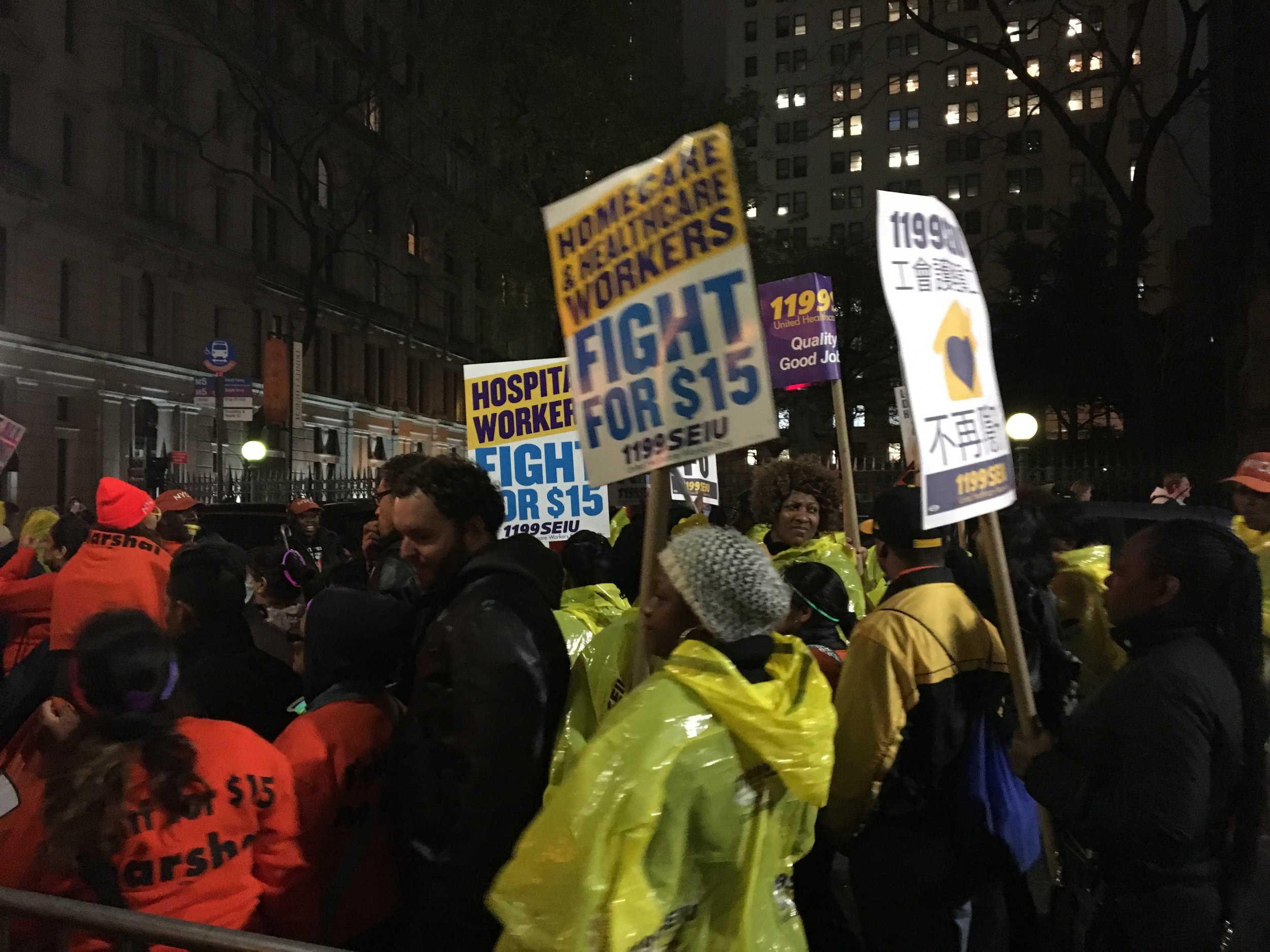 U.S. fast-food workers protested on Tuesday in support of a $15-an-hour minimum wage and union rights in a campaign they hope will catch the attention of candidates in the 2016 elections.
Hundreds of people rallied in New York, Washington and Chicago as part of the union-backed Fight for $15 campaign. Organizers said strikes would take place in 270 cities and protests in hundreds more.
Protesters were scheduled to march on Tuesday's televised debate of Republican presidential candidates in Milwaukee. Strikes took place in at least seven other cities, including Reno, Nevada, and Santa Monica, California, organizers said.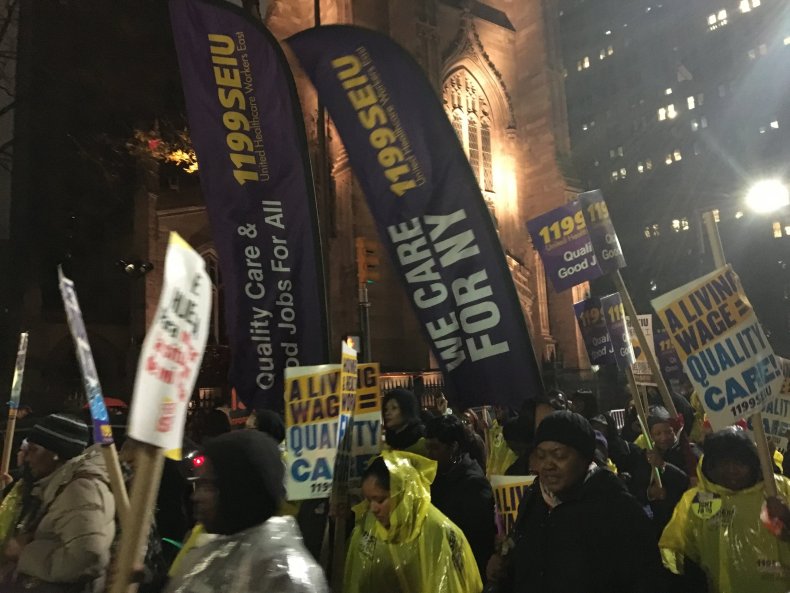 The protests are aimed at gaining political support for a minimum hourly wage of $15 and union rights as income inequality looms as an issue in the November 2016 presidential election.
"The money I bring home can barely take care of my rent," said Alvin Major, 50, a KFC worker who was among about 200 protesters who blocked traffic in Brooklyn.
"We need a wage that could take care of our basic necessities," he said as protesters rallied outside a McDonald's restaurant.
The minimum wage for fast-food workers will rise to $15 by 2018 in New York City and statewide by 2021. Many U.S. cities and municipalities have a higher base rate than the federal hourly minimum of $7.25.
Organizers said the protests would include workers from McDonald's, Wendy's, Burger King, KFC and other restaurants.
Coinciding with the protests, Pittsburgh Mayor William Peduto and New York Governor Andrew Cuomo, both Democrats, hiked the minimum hourly wage to $15 for city and state government workers, respectively. The increases will be phased over several years.
The Fight for $15 campaign began in 2012 and the Service Employees International Union is a major backer. Last December the group staged similar protests in some 200 cities.
Among Democratic presidential candidates, front-runner Hillary Clinton, who backs a federal minimum of $12 an hour, and Martin O'Malley tweeted support for the protests and strikes.
Another Democratic presidential candidate, Vermont Senator Bernie Sanders, told about 250 mostly black and Hispanic protesters in Washington that U.S. workers deserved a living wage.
"What we are saying is, enough is enough," said Sanders, who has called for a $15 federal minimum wage.
About 100 protesters at a Chicago McDonald's blocked the drive-through lanes during rush hour, chanting, "We work! We sweat! Put 15 on my check!"
Protester Douglass Hunter, 55, said he was working two jobs and people were having to choose between buying food, paying rent and other bills.
"These are choices we should not have to make living in a country as rich as America," he said.
Industry lobby groups contend the proposed pay raises would be unsustainable and cause them to cut jobs.
Michael Mabry, the chief operating officer of Texas-based Mooyah Burgers, Fries and Shakes, said base pay of $15 would reduce entry-level jobs. Restaurants also could cut staff and thus drive away customers, he said.
"There are unintended consequences when you make a blanket statement of $15 an hour," Mabry said.