To Fight Bigotry, we Must Condemn it, Not Make it up | Opinion
Critics attack President Donald Trump almost daily with the accusation that he does not denounce white supremacists. This critique is Orwellian, given that he has repeatedly condemned white supremacy, most recently at his town hall meeting of October 15th, and two times on the evening of the first presidential debate of 2020. Another tactic has been to quote President Trump out of context regarding the events at Charlottesville in 2017. In that now-infamous exchange with the press, the president not only recognized that "you had some very bad people in that group" while he defended the peaceful protesters on both sides of the issue, but also emphasized "I'm not talking about the neo-Nazis and the white nationalists, because they should be condemned totally."
President Trump has a consistent record of opposing white supremacy. In a 2016 presidential debate, he stated: "I totally disavow the KKK. I totally disavow David Duke." In August 2017, President Trump stated: "Racism is evil. And those who cause violence in its name are criminals and thugs." Following mass shootings in Texas and Ohio in August 2019, President Trump stated: "In one voice, our nation must condemn racism, bigotry and white supremacy."
President Trump also has a strong record of condemning anti-Semitism and implementing policies to combat it worldwide. He condemned the Pittsburgh Tree of Life and Poway synagogue attacks as anti-Semitic on the days of both attacks. In his 2019 State of the Union address, he stated regarding Iran—the greatest state sponsor of anti-Semitism: "We will not avert our eyes from a regime that chants 'Death to America' and threatens genocide against the Jewish people. We must never ignore the vile poison of anti-Semitism."
Anti-Semitism and extremism emanate from the far Right, far Left and radical Islam. But while dreaming up a connection between President Trump and white supremacy, many choose to ignore actual anti-Semitic incidents that are mostly emanating from the Left.
Rep. Alexandria Ocasio-Cortez (D-NY-14) rebuffed attempts by leaders of New York's Jewish community to meet with her while she withdrew from a Yizhak Rabin memorial event, displaying a refusal to engage with American Jewry. A couple of months prior, Rodney Mohammad, the Philadelphia chapter head of NAACP, posted an anti-Semitic caricature on Facebook, leading to his eventual removal.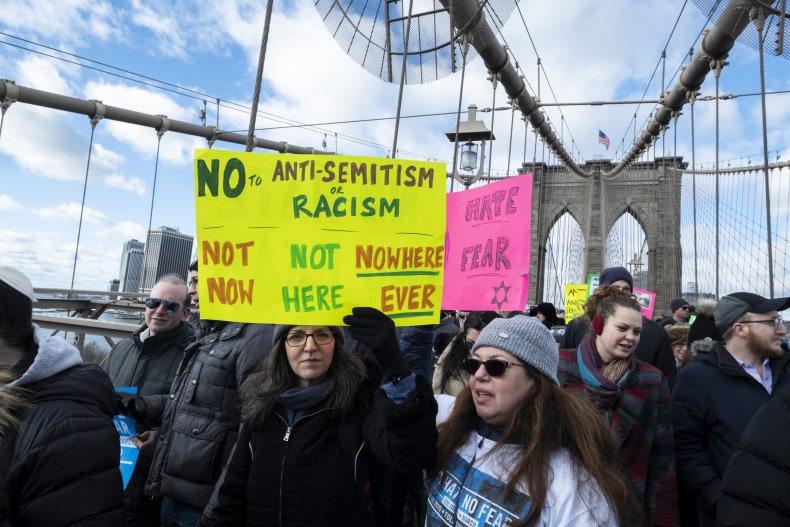 Melina Abdullah, co-founder of BLM in Los Angeles, led rioters chanting "F*** the police and kill the Jews." In that riot, three Jewish schools and five synagogues were attacked, and one synagogue was defaced with graffiti stating "F*** Israel, Free Palestine." Linda Sarsour's group Muslims4Abolition advertises New York as being "open to all, minus cops & Zionists."
Rabbi Josef Neumann died from stab wounds to his head the previous December during a Hanukkah celebration. The accused assailant, Grafton E. Thomas, is not a white supremacist but an African American. This followed more murders of Jews last winter, when two members of the Black Hebrew Israelites killed six people at a kosher deli in New Jersey.
In contrast, President Trump will likely go down in history as the most philo-Semitic U.S. president. He issued an executive order combatting anti-Semitism which, for the first time in U.S. history, makes clear that Title VI of the Civil Rights Act's prohibition against discrimination based on race, color or national origin covers discrimination against Jews. The Trump administration adopted the International Holocaust Remembrance Alliance definition of anti-Semitism within this executive order, providing critical guidance to executive agencies. President Trump also brokered peace between Israel, the United Arab Emirates and Bahrain—the first peace agreement in the Middle East in 26 years. The administration recognized Jerusalem as Israel's capital and moved the U.S. embassy to Jerusalem.
President Trump confronted Iran with the strongest sanctions campaign in history after walking away from the Obama administration's Joint Comprehensive Plan of Action. The JCPOA provided the Iranian regime a clear pathway to nuclear weapons and left it flush with cash. The Trump administration's sanctions campaign starves the Iranians of the money they use to fund proxies—such as Hezbollah in Lebanon and in South America, as well as Hamas and the Houthis—who seek to harm Jewish civilians and Israelis. For years, Iran has engaged in what I have termed "an obsessive anti-Semitism," which includes genocidal calls to eliminate Israel.
President Trump has consistently opposed white supremacy and all forms of anti-Semitism, and has brought the resources of the entire administration to bear on the fight against anti-Semitism. Those who seek to politicize white supremacy and minimize the threat that other sources of hate pose—all to create a narrative that falsely accuses the president—leave Jews less safe. It is time to stop the lies.
Ellie Cohanim is U.S. Assistant Special Envoy to Monitor and Combat anti-Semitism at the U.S. Department of State.
The views expressed in this article are the writer's own.