Fight Against California Wildfires Uses Mules as Well as Modern Technology to Aid Firefighters
As California's numerous wildfires continue to rage throughout the state, great numbers of aircraft, trucks, personnel and even drones have been deployed to the area. However, the fight to contain the wildfires isn't confined to modern technology: A string of mules was sent to the front lines to help subdue the flames.
Charged with delivering supplies to remote locations where fire crews are working, California mules have been employed during fire season for more than 70 years. This time around, they're fighting the Lions Fire. In a post on Facebook, the United States Forest Service explained that the "old school technology" that comes from a pack string of mules provides "important support" in fire suppression. A "pack string" refers to a group of mules tied together as a group.
The Forest Service acknowledged that using the mules is becoming a "vanishing skill," but when smoke from a fire limits aircraft support, strings of mules "ensure that we can keep the spike camps supplied." Mules can travel up to 16 miles with 150 pounds of gear or more, according to KOLO. Among the supplies they're responsible for bringing are tools, clothing, medical supplies and food. Newsweek reached out to the Forest Service but did not receive a response in time for publication.
A diet of weed-free hay, grains and alfalfa cubes gives the mules the stamina they need to complete the arduous work their missions require. Each "string" of mules includes a pack of five to 10 mules.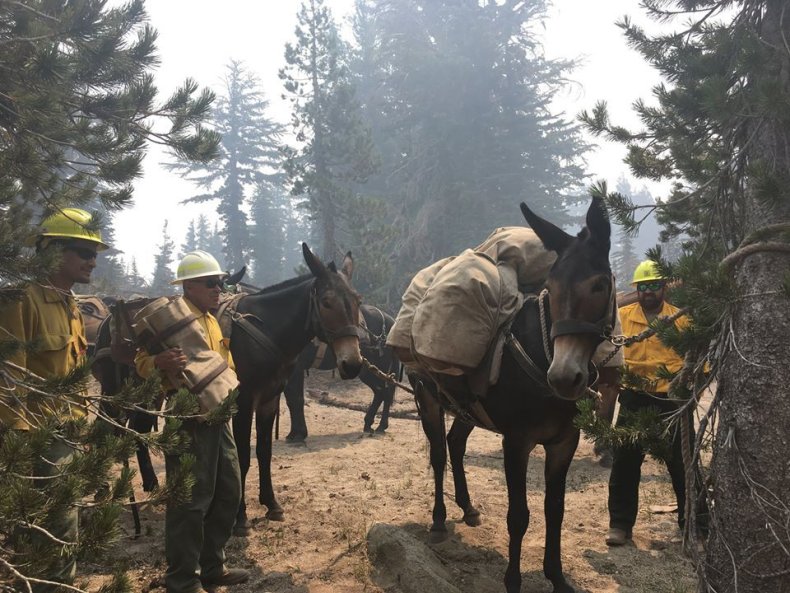 The Lions Fire began June 11, after a lightning strike sparked the flames, and has spread to 8,711 acres in the area about seven miles southwest of Mammoth Lakes, California. The fire is currently 70 percent contained and has an expected containment date of August 25.
"What makes me tick is always looking to make packing better for the animals and myself," Lee Roeser, a packer for the U.S. Forest Service on Inyo National Forest, told the Forest Service. "I want the equipment to be more in harmony with the mules. You can't be a packer for the salary. You have to have a love for working with mules in the mountains."
Roeser is a second-generation packer and learned the trade from his parents at the tender age of 6. By 16, he was working as a packer. Roeser said he chose his profession because he's passionate about the well-being of the animals he leads, and the love he has for the mountains.
The Lions Fire is a comparatively small fire currently burning in California, but mules have also been used to bring necessary supplies to firefighters battling larger flames. In August 2017, seven pack mules from the Shasta-Trinity National Forest were deployed to provide "invaluable support" to the firefighters working on the Orleans Complex fire, which burned nearly 30,000 acres.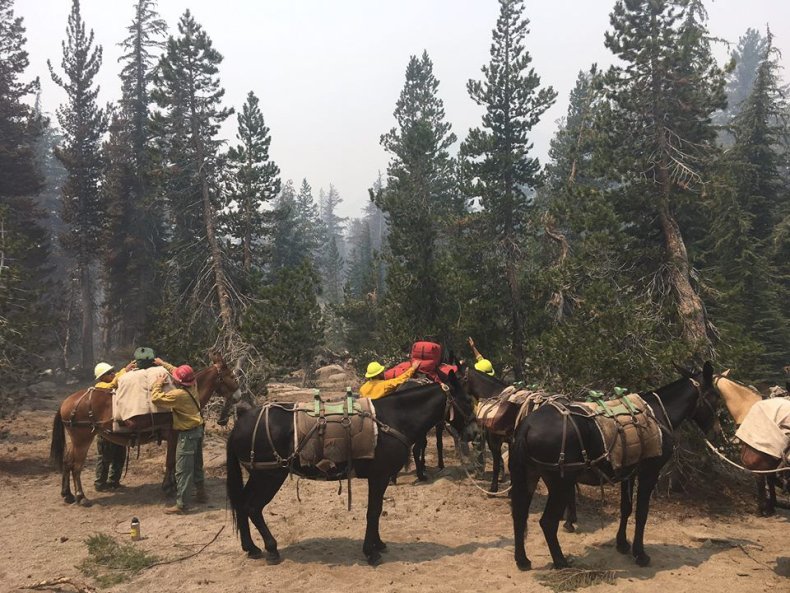 In a single trip, a string of mules can carry an amount of supplies that would require 10 to 12 helicopter flights, according to a release by Six Rivers National Forest. At times, using mule packs isn't even a choice: Because of environmental regulations in certain areas, they're largely the only resource available.
During a 2016 wildfire in the Sespe Wilderness of Los Padres National Forest, wilderness designations that protected special areas of the forest prevented motorized or mechanical transportation from entering the area, according to the Associated Press. Each morning, the pack strings of mules headed out to deliver supplies to firefighters set up in remote areas of the forest where motorized vehicles couldn't deliver supplies.
More than 1,000 mules were used by the United States Forest Service in the 1930s. The force is down to only about 120 mules as of 2018, due to modern technology.
Fight Against California Wildfires Uses Mules as Well as Modern Technology to Aid Firefighters | U.S.