Fight Over Confederate Monument in Ohio Has Led to Death Threats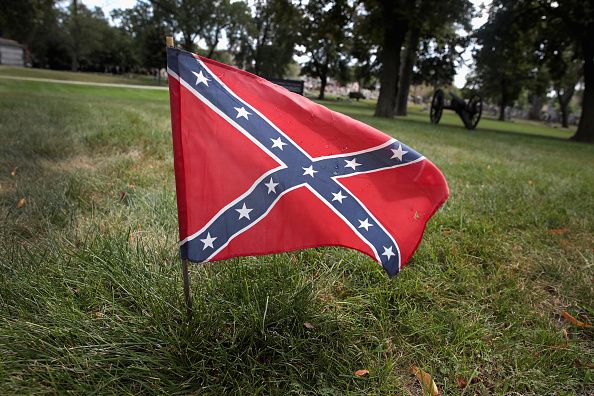 It was a couple of weeks after the violence in Charlottesville, Virginia, and the mostly white, mostly Republican city of Franklin, Ohio, was under heat from protesters over a 90-year-old plaque honoring Civil War General Robert E. Lee. Vice Mayor Carl Bray reportedly called up a vocal opponent of the Confederate memorial, which had been temporarily taken down, to insist there was no point in protesting against it anymore.
"The monument will go back up, our town will love it," Bray apparently says in an August 28 voicemail to community organizer Corey Andon of nearby Dayton. "We will have a parade, and we will be happy."
"If you slip up," Bray warns the 24-year-old Andon, "our police officers will arrest you."
If social media posts are any indication, many Ohioans apparently had no idea a marker commemorating the Confederacy even existed in a state that once produced over 300,000 troops for the Union Army—that is, until a local news story about the one in Franklin went viral last week. But the saga over what to do with a city's tribute to the pro-slavery side of the Civil War has been going on for well over a month—with Andon and other activists reportedly receiving death threats for opposing it. The local drama is part of a larger, ongoing cultural war in America in which roadside monuments that were ignored for decades have become flash points seemingly overnight.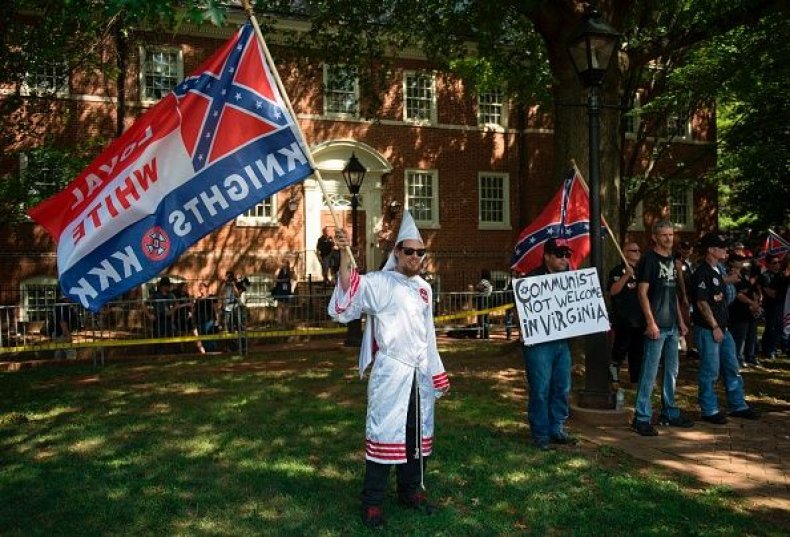 The Lee plaque in Franklin, which was originally dedicated in 1927 by a Southern hereditary organization, the United Daughters of the Confederacy, was removed on August 17, five days after the so-called Unite the Right rally in Charlottesville. The stated reason was that it created a traffic hazard, but in the background, Andon and other members of Socialist Alternative (SALT), a leftist organizing group, had been pressuring Mayor Denny Centers, Bray and other local politicians to remove it.
After the plaque came down, many Franklin residents were outraged. A day later, an anonymous resident put up a homemade sign in the spot where the monument once stood, displaying a crude drawing of the Confederate flag. "We do not negotiate with terrorist [sic]. BLM is a terrorist organization," the replacement marker declared, referring to the anti-racism group Black Lives Matter. (Warren County, where Franklin is located, is less than 5 percent black, according to Census Bureau data.)
Bray grew emboldened by the pushback against the plaque's removal, according to Andon, and responded by doxing the young organizer, releasing his phone number to his constituents on Facebook. As evidence, Andon provided Newsweek with a screenshot apparently showing Bray's post.
"Everyone has been asking me about this man who has been bashing me in the media," Bray says in the post, according to that screenshot. "His name is Corey Andon from Dayton. If your [sic] have any questions, or need any information, his number is [redacted]. PLEASE call him." The post has since been deleted.
Andon tells Newsweek that after Bray's post went live, he received in the vicinity of 40 to 50 phone calls from people threatening him and other activists with bodily harm. "We have plans for you," one caller said, according to Andon's recollection. "Watch your back."
Andon said another caller appeared to have been stalking him, citing his specific whereabouts at an organizing meeting in Dayton. Franklin Police Chief Russ Whitman told Newsweek he did not receive any reports about the alleged harassment. Police in Kettering, the town near Dayton where Andon lives, have a record of Andon reporting concerns about threats on August 19. Andon says an officer promised to increase patrols in his neighborhood in response to the threats.
The plaque was discussed at a Franklin City Council meeting on August 21, and Andon spoke out against its presence, eliciting what he describes as a second wave of threats. Andon claims members of a local militia, the Ohio Valley Minutemen, sided with Bray on the plaque. Andon says they followed him out onto the street after he left the meeting, shouting out his home address to encourage further harassment. Video footage captured by SALT appears to corroborate that his address was indeed announced by someone.
David Crum, a spokesperson for the militia, would not confirm or deny whether members of his group threatened Andon but said some did attend that meeting "as concerned citizens."
"We believe that erasing history is a slippery slope that often leads to very dark places," Crum says about the Confederate monuments issue.
One person, who prefers to remain anonymous, captured video footage of a pro-plaque attendee of the City Council meeting speaking casually about attending Ku Klux Klan meetings and leaked that footage to SALT. According to Andon, everything from the alleged death threats to the apparent casual acceptance of the KKK stems in part from Franklin's insulated culture, one that is perpetuated by the city's politicians.
Professor Charles E. Jones, the head of the University of Cincinnati's Africana Studies Department, tells Newsweek that "the Klan has a very strong presence in the tristate area," a region that also includes neighboring states Indiana and Kentucky.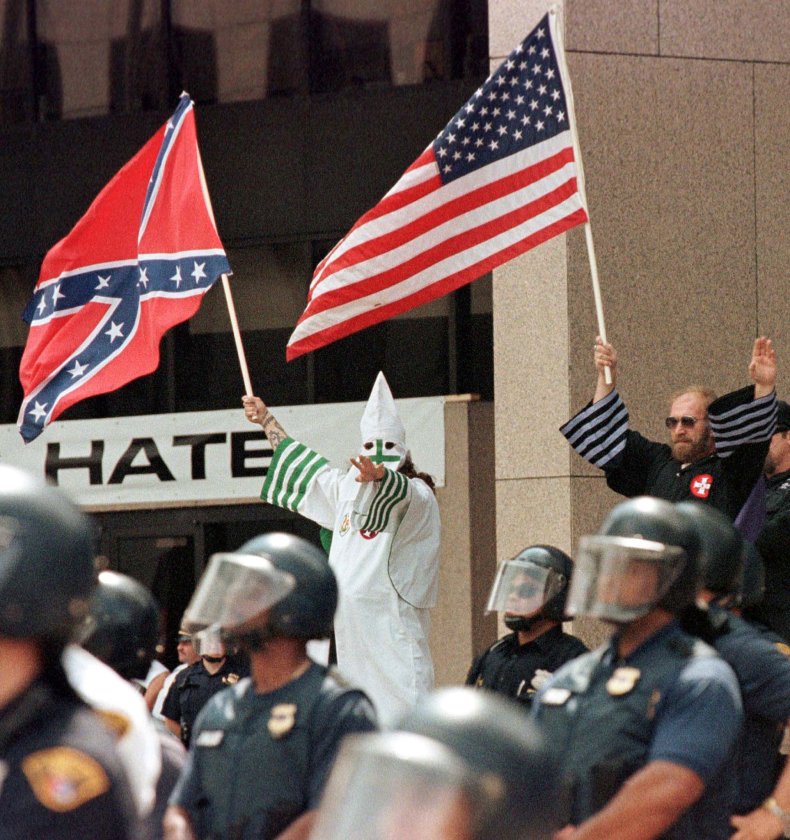 "What I would like from Mr. Bray at this point is that he resign," Andon says of the situation that has developed over the plaque. "He's shown an extreme lack of professionalism as a leader and has put his own citizens in danger with the atmosphere he created."
Newsweek reached out to Bray multiple times to get his side of the story, but he declined to comment. In one phone conversation, Newsweek asked if the voice on the recording saying there would be "a parade" to celebrate the Confederate monument was his, and he denied it. But phone records indicate the voicemail came from Bray's mobile phone number, and the speaker—whose voice sounds like Bray's—introduces himself as "Mr. Bray."
Bray later called Andon "an idiot" and then told Newsweek to "go with those idiots," before hanging up. Further attempts to speak with him were ignored. Centers, the mayor, responded to multiple requests for comment by referring Newsweek to a lawyer, who submitted answers on his behalf.
"Mr. Bray and Mr. Andon are both citizens entitled to the right of expression under the First Amendment," says a statement from Centers regarding the alleged threats against Andon. "It is unknown who from the City visits Mr. Bray's personal Facebook page and when they may visit the page to know what is posted there."
The city has not proposed any disciplinary action against Bray, according to Centers. "The City of Franklin has no plans to conduct a parade," the statement adds regarding Bray's alleged promise on Andon's voicemail.
In the voicemail to Andon, Bray warns him and other SALT activists against threatening him. Newsweek asked Andon if he had ever threatened Bray during the protest campaign. He said that he hadn't and that his calls were focused on the plaque itself. He says he merely told Bray that the controversial monument "was coming down"—without equivocation. Franklin police say they have no record of protesters threatening politicians over the plaque.
While some Franklin residents might be accustomed to the presence of a Confederate monument, former and current Ohioans were repulsed to learn about it.
"Ohio wasn't even a part of the Confederacy so please don't ever tell me this flag isn't about racism ever again [thank you so much]," Kashmir Thompson, a graphic artist from Cleveland who resides in Georgia, tweeted in a post that has already been shared over 30,000 times.
Thompson, who is black, says she froze with confusion when she first read about the plaque and quickly did some research to make sure that she wasn't "going crazy" in remembering Ohio's role in the Civil War.
"Why do you need to preserve this particular moment in history?" she asks. "It's almost like they're trying to send a message to black people."
Civil War historian Kevin Levin says the plaque is one of many put up in Northern states by Southern heritage groups that believed that generals like Lee were "Christian warriors" and that the enslavement of black people was "peaceful and benign."
"Markers like these are not about history," he says of the cultural message behind it.
State Senator Charleta Tavares, a Democrat from Columbus, Ohio, who is the first African-American woman from her county to serve in the Legislature, says she worries that the presence of the plaque "reinforces the divisiveness across our state and across the country."
Tavares also expressed disappointment regarding the news that Bray had promised a "parade" to celebrate the Confederate marker.
"I just worry that this sort of heated rhetoric can provoke an act of violence," she says.