Fighter Jets Intercept Russian Bombers Heading for British Airspace and Ignoring Air Traffic Controls
British and French fighter jets were assembled to intercept two nonresponsive Russian nuclear bombers Thursday as they passed through NATO airspace toward the British Isles.
NATO had been monitoring the Tu-160 Blackjack strategic bombers as they transitioned the airspace of several nations, Sky News reported. The interceptors were sent up after the Russian crews did not reply to warnings from British air traffic controllers.
The British sent up Typhoon fighters and a supporting Airbus Voyager tanker plane to meet the Russians, while the French scrambled Rafale fighters and a fuel tanker.
The U.K. Ministry of Defence (MOD) said the bombers' failure to respond to communications made them "a hazard to all other aviation." Defence Secretary Gavin Williamson said the "probing" incident was a "reminder of the very serious military challenge that Russia poses us today."
The minister warned that the U.K. "will not hesitate to continually defend our skies from acts of aggression" and also paid tribute to the Royal Air Force, which, he said, showed how "vital our armed forces are in protecting Britain."
The MOD had been in communicaiton with the U.K.'s NATO partners as the Blackjacks traveled toward the British Isles. Commanders sent the fighter jet to intercept the long-range bombers as they crossed the North Sea around 40 to 100 nautical miles from the coast.
The planes then escorted the Russians "out of the U.K.'s area of interest," the ministry stated. The Russian aircraft did not enter British airspace at any time.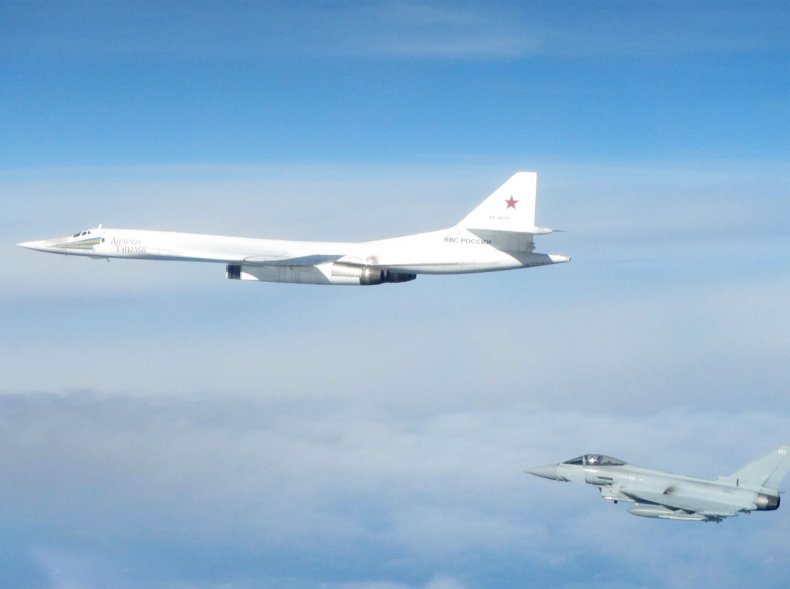 French air force spokesman Colonel Cyrille Duvivier said the country's aircraft were sent to shadow the Russians even though the Russians' actions "were not hostile." Duvivier said the warplanes "positioned themselves for possible intervention" as the bombers passed.
Such Russian probing flights are common and are used to collect information on the response times of NATO air forces. Bombers also regularly skirt U.S. airspace around Alaska to observe American interception practices.
Earlier this month, F-22 Raptor stealth jets were sent to meet two Tu-95 long-range Bear bombers detected in the Alaskan Air Defense Identification Zone. Such flights can also be used to practice attack runs against U.S. air defenses and monitoring stations using cruise missiles.
NATO aircraft too are sent on missions around Russian airspace to probe for weaknesses and watch how local defense forces respond to a threat. Earlier this year, the Kremlin made an appeal to Washington to adjust its flight plans to avoid any accidental collisions or confrontations with Russian jets.