Fighting Continues Amid Rebels' Doubts on Syria Peace Deal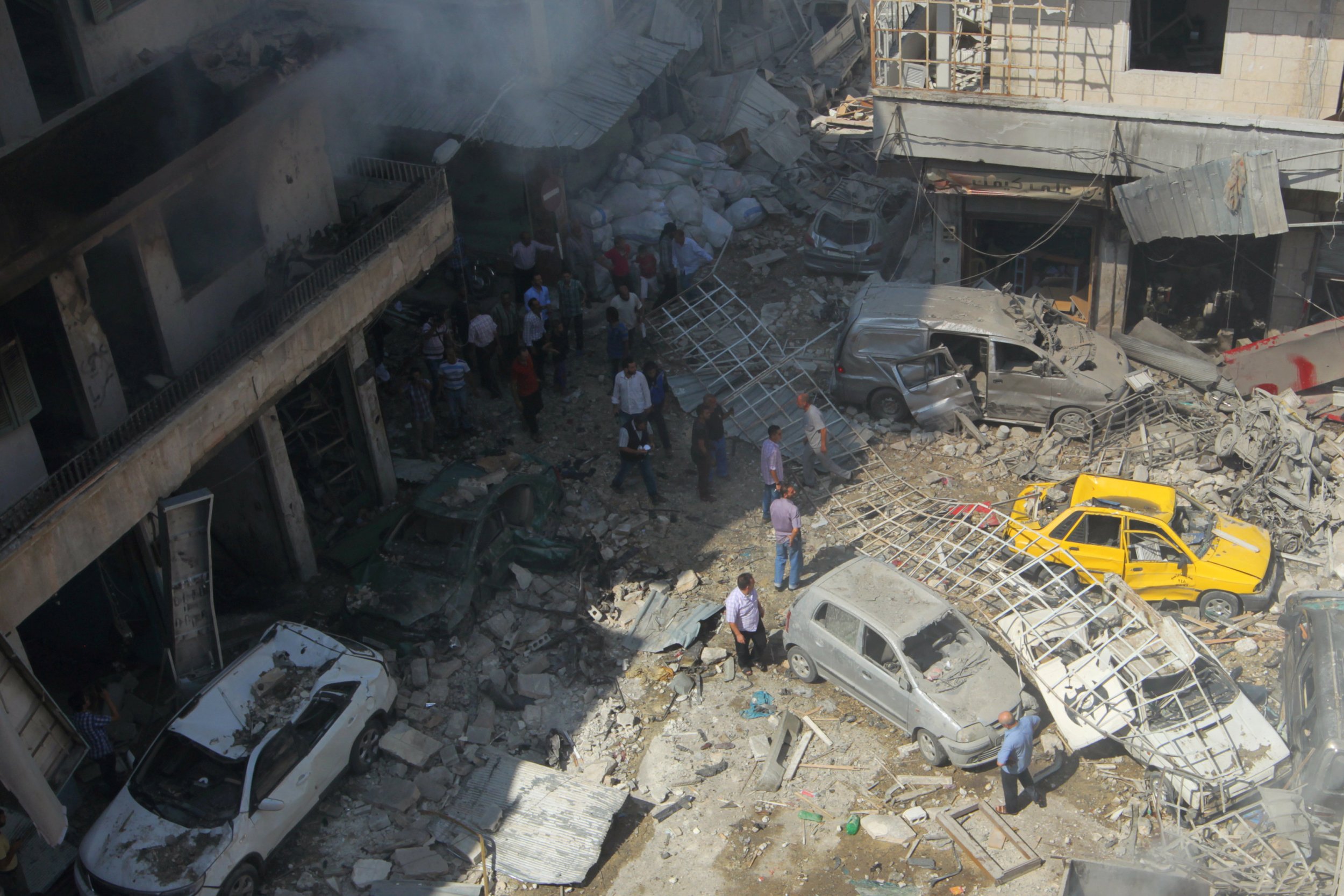 The United States and Russia hailed a breakthrough deal early on Saturday to put Syria's peace process back on track, though the war-torn country's rebels said they doubted it would hold and violence raged on in Aleppo.
The agreement reached by the powers backing opposing sides in the conflict promised a nationwide truce effective from sundown on Monday, improved humanitarian aid access and joint military targeting of banned Islamist groups.
But only hours after it was announced, Syria's army attacked rebel-held areas in the northern city of Aleppo, both sides said, as the military pushed to maximize gains before the ceasefire deadline. Insurgents said they were planning a counter-offensive.
"The fighting is flaring on all the fronts of southern Aleppo but the clashes in Amiryah are the heaviest," Captain Abdul Salam Abdul Razak, the military spokesman of the rebel Nour al-Din al Zinki Brigades said.
Syria's five-year civil war has killed thousands in Aleppo, the main focus of clashes between insurgents, including Western-backed rebels, and pro-government forces backed by Russia and Iran.
U.S. Secretary of State John Kerry called on all sides to respect the deal, which was reached after marathon talks in Geneva and several failed attempts to hammer out the details in recent weeks.
"This requires halting all attacks, including aerial bombardments, and any attempts to gain additional territory at the expense of the parties to the cessation. It requires unimpeded and sustained humanitarian access to all of the besieged and hard-to-reach areas including Aleppo," he said.
Russian Foreign Minister Sergei Lavrov said that despite continuing mistrust, the two sides had developed five documents that would enable coordination of the fight against terrorism and a revival of Syria's failed truce in an enhanced form. Both sides agreed not to release the documents publicly.
"This all creates the necessary conditions for resumption of the political process, which has been stalling for a long time," Lavrov told a news conference.
Halt to Fighting?
Previous efforts to forge agreements to stop the fighting and deliver humanitarian aid to besieged communities in Syria have crumbled within weeks, with the United States accusing Assad's forces of attacking opposition groups and civilians.
Kerry said the "bedrock" of the new deal was an agreement that the Syrian government would not fly combat missions in an agreed area on the pretext of hunting fighters from the banned Nusra Front, an al-Qaeda affiliate in Syria.
Under the agreement, Russian-backed government forces and opposition groups, supported by the United States and Gulf States, would halt fighting for a while as a confidence-building measure.
If the truce holds from Monday, Russia and the United States will begin seven days of preparatory work to set up a "joint implementation centre," where they will share information to delineate territory controlled by Nusra and opposition groups.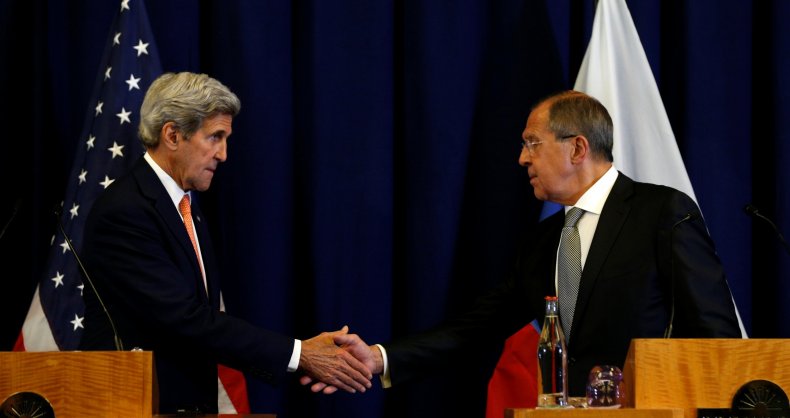 Both warring sides would pull back from the strategic Castello Road in Aleppo to create a demilitarized zone, while opposition and government groups would both have to provide safe and unhindered access via Ramouseh in the south of the city.
Syria's moderate Free Syrian Army (FSA) rebels said on Saturday they saw were skeptical the deal would be enforced as Damascus and Moscow had continued bombing their areas under earlier truces.
Razak, from the rebel Nour al-Din al Zinki Brigades, said they were studying the deal but it appeared it would only give the Syrian army a chance to gather forces and pour more Iranian-backed militias into the main battles raging in Aleppo.
The U.K. based Syrian Observatory for Human Rights said jets believed to be either Syrian or Russian also hit rebel-held towns in the northern Aleppo countryside including Anadan and Hreitan along important insurgent supply routes. The monitor confirmed reports by residents and activists in rebel-held eastern Aleppo who said Syrian army helicopters dropped barrel bombs on residential civilian areas in several districts with scores injured and at least four civilians killed.
Jets believed to be Russian also hit several areas in rebel held Idlib city in northwestern Syria, targeting a busy market with reports of several dead and injured, residents and the monitor said.