Fighting Corruption One App at a Time in Latin America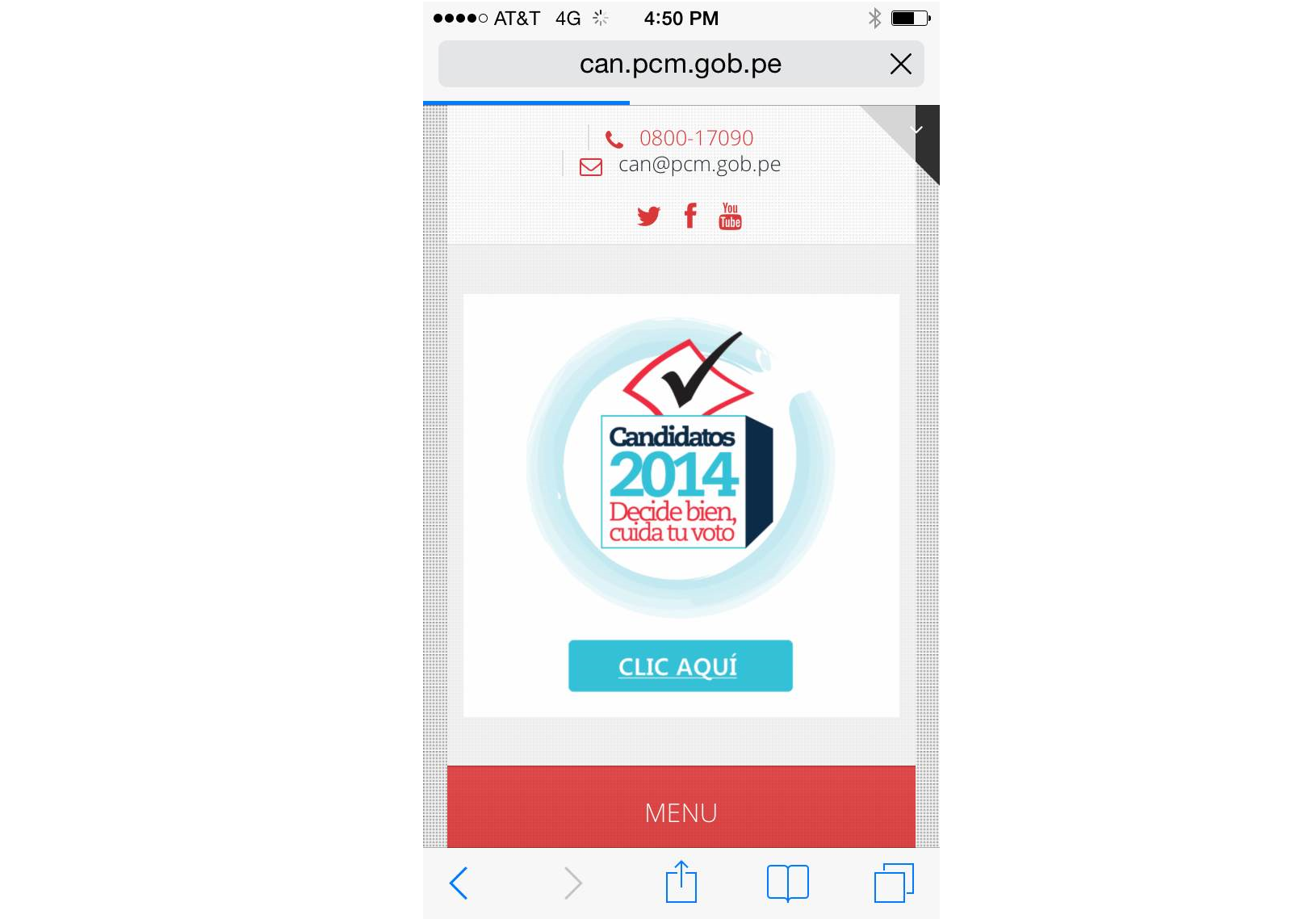 Balentin Cacha Espiritu is a convicted terrorist. Herline Pitman Quispe Ramos was found guilty of manslaughter. Florentino Lope Ruiz was sentenced to 10 years in prison for rape. Those seemingly random acts of violence are interesting this month for one reason: All three men are running for public office in Peru, and their criminal histories would have been kept essentially in the dark were it not for a mobile app recently launched by Peru's High Level Anti-Corruption Commission.
Platform: Candidates 2014 lists 653 candidates for town mayor and regional presidency, and at least 13 have three or more previous criminal charges or open criminal cases. Its creators focused on serious offenses like corruption and drug trafficking, and list the status of each legal case, if still open, and provide a photograph of many of the candidates. They also provide a comment section, which makes the app highly interactive. "We launched this platform to increase transparency," said Susana Silva Hasembank, head of the Anti-Corruption Commission, so citizens "are better informed, make an informed vote."
In Bolivia, a civil organization launched an app called Fictitious Budget, where volunteers who attend campaign events can upload estimates on how much they cost. They input the number of people attending (the app recommends dividing the space into quadrants, then estimating the number of attendees in each), the names of any musical groups performing, the type of propaganda and souvenirs handed out, and whether food was provided. "The observer is in fact an investigator, since he or she is sometimes required to go deeper than what is only 'apparent'," says the app. Volunteers are asked to find out what hotel the candidate is staying at -- "obtain that information 'off the record' from a person involved or not in the event -- and input the number of stars the accommodation has received.
Electoral Reform International Services, a UK-based, not-for-profit, financed the app.
In Costa Rica, the Comptroller General created an app for citizens to file a corruption or abuses-related complaint and then check its status with a few clicks. There is a chat feature through which users can begin a real-time conversation with a government representative within seconds. And they can also sift through public spending databases going back to 2006: A search revealed, for example, that in 2012, authorities in the capital city, San Jose, spent $1.6 million on a facelift for the children's area at the San Francisco park, when its budget had been $8,319.
People in Latin America spend, on average, 8.67 hours on social media, while Europeans spend 8.07, and users in North America clock in at 6.08, according to comScore, an Internet analytics company. That high level of social media activity and a growing demand for transparency in government throughout Latin America have spurred a crop of corruption-fighting mobile phone applications. Created by government, civil societies and international organizations, the apps are promoting grassroots citizen engagement in a region where social rank has historically rendered large portions of the population mute in the face of abuses.
"Citizens today are much more demanding, they have higher expectations of their government," said Maria Fernanda Trigo, director of effective public management at the Organization of American States. "You do not need big investments for these kinds of things. You just need innovation."
Gathering information in Latin America, a region where opacity is the norm, is notoriously challenging. To build the database of Peruvian candidates, staff had to go to courthouses around the country, requesting information, waiting for files and double-checking their findings. It was an arduous process, in part because Peru has legislation protecting personal data. Staff consulted with constitutional lawyers to ensure that publishing data on ongoing cases -- considered confidential -- was legal. "We have to have absolute certainty," said Hasembank, speaking both about the legality of making data public and the veracity of the information.
Obstacle Course
What about holding officials accountable after elections? A group of students from the Massachusetts Institute of Technology has been working on an app to do just that in Brazil. Called Promise Tracker, it collects data of projects which candidates made during election. The group first had to define what counted as a promise, what counted as progress and who should be held accountable -- difficult questions to answer even when there is full transparency in government. Over the last nine months, the team went to different communities, evaluating which issues are relevant to which neighborhoods. While trash collection can be a top priority in one district, housing rights can tops in another. The first challenge, therefore, was building a platform that had the flexibility to accommodate this wide spectrum of issues into a single form.
A new challenge emerged once they started collecting information. "The trick has been to figure out, what do you do once you make that public data available?" asks Chelsea Barabas, research assistant at the Center for Civic Media at MIT. "How do you translate these data points into a compelling and accessible narrative?" wondered Barabas.
Governments across the region, particularly in Uruguay, Mexico, Argentina, Colombia and Brazil, have organized "hackathons," where tech-savvy youth who design and develop tech-based tools that help society hold elected officials accountable can meet.
Technology-based efforts to monitor transparency and fight corruption are not limited to mobile apps. In Colombia, a website called Cuentas Claras en Elecciones, or Clear Accounts in Elections, houses an ever-growing database of politicians' and parties' official spending. In Mexico, an advocacy group set up an electronic billboard on a busy road flashing a constantly updated figure for how many education-related funds are stolen or funneled to unknown accounts. And in Chile, a website called Open Congress allows users to track legislation, download proposals, view detailed information on legislators and their voting history. Participants can even ask members of Congress direct questions, and read the questions from other users as well as any responses by lawmakers.
Accountability apps are "a trend that will only increase because governments are beginning to respond more and more quickly to a tendency marked by society itself," said Pablo Valenti, member of the Citizen Security and Justice Team at the Inter-American Development Bank.