Fighting Intensifies as Putin Sends More Troops to Ukraine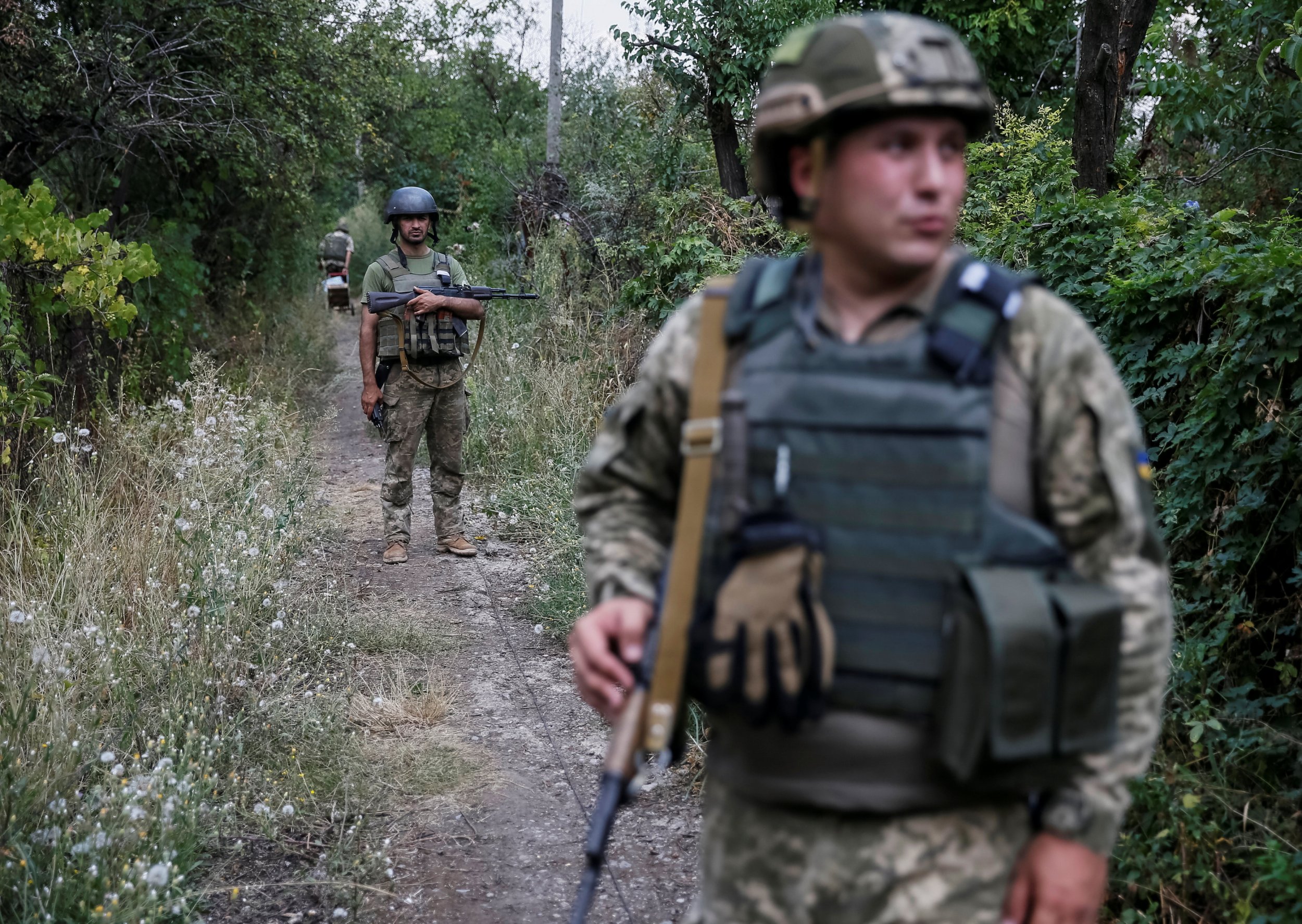 This article first appeared on The Daily Signal.
There were three beds in the hospital room in Kiev, Ukraine. Two were empty, and in the middle bed was my friend Nemo. He was naked except for a white sheet haphazardly draped over his crotch.
A mess of tubes extruded from his chest and torso. A long bandage went down his abdomen where the surgeons had opened him up. His legs were like a Jackson Pollock painting, covered in amorphous patches of red, purple and black.
I knew Nemo from my time on the front lines in eastern Ukraine, when I was embedded with the Ukrainian army's 93rd Brigade in Pisky.
Tall and muscular with closely cropped blond hair, Nemo took fastidious care of his body by working out every day in an improvised gym he had constructed in the outdoor garden of an artillery-blasted home. I remember watching in disbelief as he cranked out sets of dips, pull-ups and kettlebell workouts while artillery thundered around him.
He had a jug of protein powder for making shakes after each workout. He also grew strawberries in a garden he tended daily, even during battles.
Now Nemo lay in a bed in Kiev's Central Military Hospital. His once-muscular body had become flesh melded with plastic tubes, clicking and humming machines and bags of medicine dripping into him while other bags collected things coming out of him.
The bullet had shattered his pelvis, ripped through his colon and intestines and lodged in his liver. The grenade had riddled his legs and backside with penetrating wounds and left a piece of shrapnel in his liver.
Surgeons had fused his pelvis back together, removed his colon and performed an operation to remove the bullet from his liver. But they still needed to remove the remaining piece of grenade shrapnel and perform a litany of other operations.
Due to the damage to his digestive system, Nemo's metabolic waste now collects in a colostomy bag, which a nurse comes to empty into a tray every so often. Nemo's face was gaunt, his eyes looked dark and sunken in. But he smiled when he saw me.
"I thought you'd forgotten about me," he said.
"Impossible," I said.
Nemo the Warrior
Nemo's easy, calm demeanor in combat was mesmerizing to watch. While I instinctively ducked and my hands trembled during the artillery attacks, he sauntered around shirtless and in sandals with a black and white kaffiyeh tied around his head.
He was a tough, disciplined soldier—a member of a special unit in the 93rd Brigade comprising recon soldiers and snipers. When the fighting was at its most intense and other soldiers scrambled for cover in the basements of abandoned homes, Nemo and his unit would kit up and head out.
In this video, Nemo walks along the front lines in Ukraine in June 2015. The sounds are of heavy artillery—which is fired at long distance. You never know where it will land.
When I first arrived in Pisky in eastern Ukraine, Nemo was initially distrustful of me, a foreign journalist allowed to live in the midst of his unit. We barely spoke more than a few words of each other's language. But Nemo quickly warmed to me when he discovered that I had served in my country's military.
"Patriot," he said to me, alternately pointing to my chest and his.
We shared a small room in the basement of the abandoned home that was the hideout for Nemo's unit. I had arrived unprepared, without a sleeping bag or blanket. On the morning of my second day in Pisky, I woke with a warm blanket draped over my body and pulled up to my neck. It was Nemo's. He had placed it over me in the night.
'Highly Trained Guys'
Even in his hospital bed, you could still see evidence of the soldier. Nemo's hands were calloused. His skin had not yet lost its tan. His muscles, while diminished, were still lean and taut.
When I first met him in June 2015, Nemo had been fighting in Pisky for five months without a day of leave. He was wounded in a battle outside Luhansk on July 18, 2016—519 days after the Minsk II cease-fire went into effect.
It was an intense battle, as he described it, consisting of close quarters combat with the enemy only 20 meters (about 65 feet) away. Close enough for shooting with pistols and tossing grenades. After they made contact with the enemy, Nemo said regular Russian soldiers, "highly trained guys," began to arrive.
A fellow Ukrainian soldier dragged Nemo to safety after he was wounded. Minutes later, that same soldier lost his arms when the armored vehicle in which he was traveling back to the firefight hit a land mine.
Sitting in the hospital room, as nurses and visitors paced outside in the hallway, with the warm smell of summer drifting in the cracked window, it was hard to believe the war was still real.
It was hard to believe that battles like the one Nemo, 40, was describing still existed within a long day of driving from Kiev's coffee shops, cafés and shopping malls. But Nemo's body was evidence enough to believe it.
I was at the hospital to visit Nemo with another friend from the war in Ukraine, Konstantin Bernatovich. It had been more than a year since we last saw each other.
Konstantin was out of the military now, working for a film production company. He told me he was adrift, though, and struggling to adjust to life after leaving the military. The hardest part, he confessed, was trying to enjoy life in peace with the knowledge that his friends were still serving in combat only a one-day car ride away.
Konstantin had survived the war without a physical scratch, but like many Ukrainian veterans, he now struggled with invisible wounds.
Konstantin was seeing a psychologist to deal with post-traumatic stress. He was a respected soldier, yet he was struggling to re-create in his civilian life the sense of purpose and meaning he had felt in the war. He was married with twin 14-year-old boys, and he wanted to address his issues before he lost his family.
We talked about how hard it is for soldiers to come home and get on with life when the war they fought in hasn't ended. It's hard to surrender to a life of peace when you know your friends are still out on the front lines.
I told him many American soldiers had the same difficulties coming back from the unfinished wars in Iraq and Afghanistan. "America has lots of experience fighting wars," Konstantin said. "And we can learn something from your veterans. But you don't know what it's like to have a war in your country."
A Forgotten War
The war in Ukraine is not over. It is, in fact, at its most intense level in a year. According to the United Nations, 73 civilians died because of the war in July, the highest monthly death toll for civilians since August 2015.
According to U.N. data, 57 percent of those civilian deaths came from heavy weapons banned from the front lines as part of the terms of the Minsk II cease-fire. Another 38 percent came from improvised explosive devices (IEDs) and unexploded ordnance.
The Organization for Security and Cooperation in Europe (OSCE), the multinational group charged with monitoring the Ukraine cease-fire, reports that cease-fire violations recently increased from dozens to hundreds daily.
The OSCE also has reported that its monitors are more frequently being harassed by combined Russian-separatist forces and denied access to key battlefield locations.
Tensions are steadily rising in the Donbas, Ukraine's embattled southeastern territory. Ukrainian intelligence services have reported a sharp uptick in the number of Russian troops inside Ukraine, and NATO has raised concerns about Russia's buildup of troops inside occupied Crimea and within Russian territory near the Ukrainian border.
I was made aware of the war's ongoing toll when Konstantin told me about the fate of the soldiers I had spent time with on the front lines last summer. He listed the names of the dead and gave accounts of the wounded.
Later, when I returned to my apartment, I scrolled through my photos of the men of the 93rd Brigade and watched the videos I had shot during my time on the front lines. I found myself calculating how much longer some of those men had to live from the moment I captured them in a photo or video.
As we talked with Nemo, nurses came and went, tending to his wounds. At one point, Nemo reached up to the support handle suspended over his bed and pulled himself upright.
He wrapped a Velcro belt around his waist to hold the colostomy bag in place. He gathered all the tubes connected into his body, arranging them so they wouldn't snag on anything.
He sat there a minute, and then, while silently grimacing in pain, he slowly, gingerly lifted his torso and swung his legs off the bed. The sheet that had covered him slid away, and he sat naked on the bed's edge.
Konstantin stood in front of his old friend from the war, both men completely immune to modesty. Nemo reached up and put his hands on Konstantin's shoulders. He rocked back and forth a few times, as if to gather momentum, physically and mentally, for the next move. Nemo leaned forward, his body tensed, and in a series of halting stops and starts, leaning left and right like climbing a ladder, he stood up.
Nemo's body trembled from the effort; Konstantin whispered quiet words to him in Russian. I don't know what exactly, but he must have said he was proud of his friend.
Flashed a Smile
Only two days before, Nemo couldn't sit up straight. Now he could stand up with help. The soldier's grit was not as easily wounded as his flesh.
After a few moments, Nemo slowly sat down, his hands still on Konstantin's shoulders for support.
Nemo sat at the edge of the bed for a little while longer while Konstantin cleaned him with wet wipes. Konstantin carefully and gently wiped away the web of sticky bandage residue that ran across Nemo's back. He cleaned Nemo's shoulders and arms and under his armpits. They both said nothing.
Nemo sat with his head leaning forward. His arms extended straight down by his sides to relieve some weight from his wounded torso. His naked body trembled, a clue to the pain he tried not to expose.
Cleaned, Nemo delicately leaned back into bed and pulled the sheet up to his waist. When it was all over, he flashed me a quick smile like he was sharing an inside joke.
We talked for a while, recalling our brief time together in the war. Nemo showed me pictures from winter on the front lines. Konstantin and Nemo talked about their old friends, those who were dead and also the living—the wounded, the ones who had gone home and the ones still in the war.
After some time a nurse and an orderly wheeled a gurney into the room and said they had to take Nemo away for treatment. I put a hand on his shoulder and told him I was proud of him and that I had not, and would never, forget about him. He reached up and clasped my hand.
"Friend," he said in Russian.
Konstantin and I walked out into the hospital's courtyard. We stopped at some benches under a patch of trees to talk for a bit. And then we left the hospital grounds and rejoined the city outside.
"All this, this life in peace," Konstantin said as we walked through Kiev's bustling streets. "This is all because of the soldiers. But no one remembers."
Nolan Peterson, a former special operations pilot and a combat veteran of Iraq and Afghanistan, is The Daily Signal's foreign correspondent based in Ukraine.