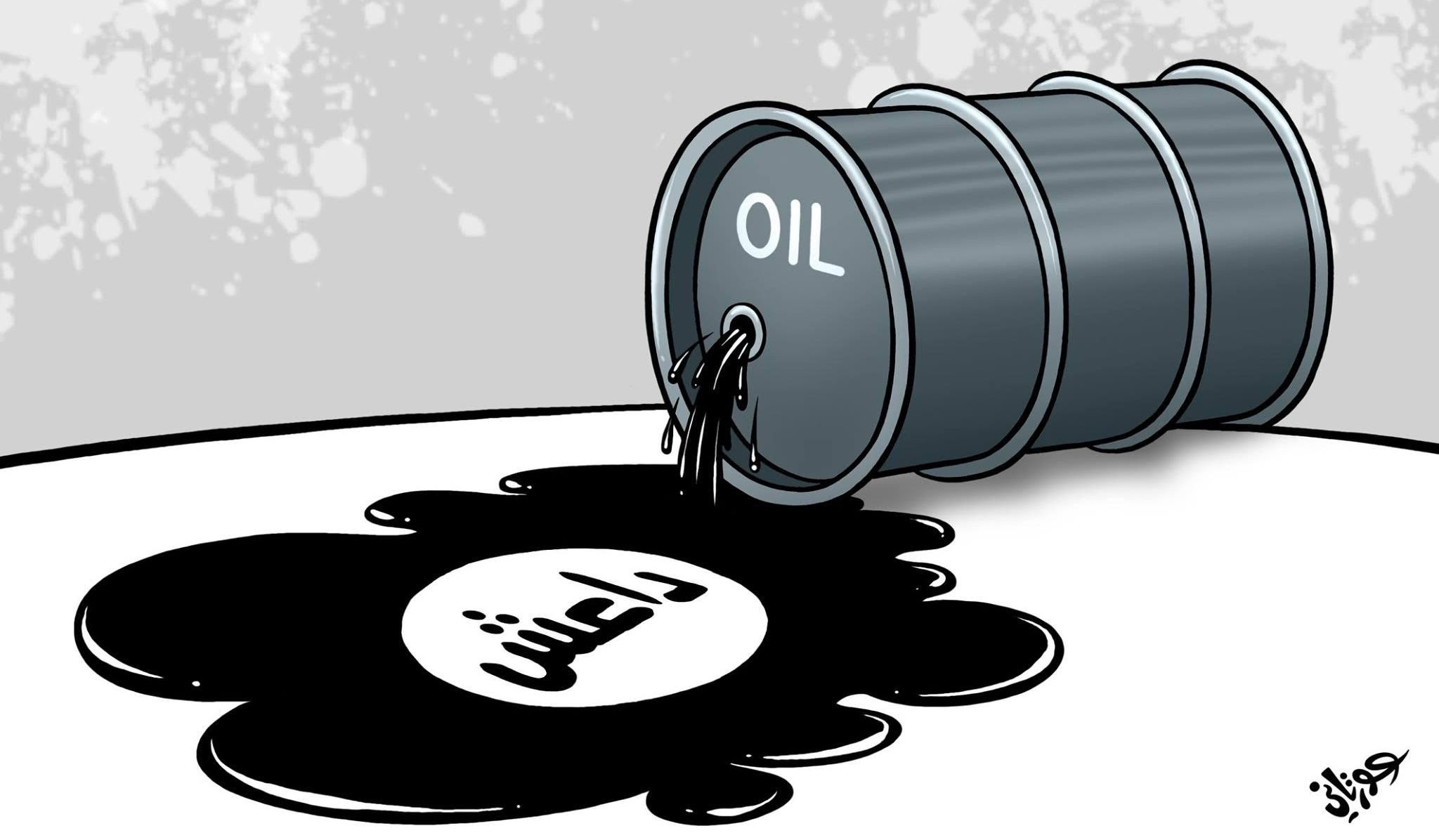 A few weeks ago, Newsweek published a piece on Muslim cartoonists who are poking fun at ISIS. Among them are the Jordanian artists Osama Hajjaj and Jehad Awartani as well as the Iranian cartoonist Mehdi "Amo" Rasooli.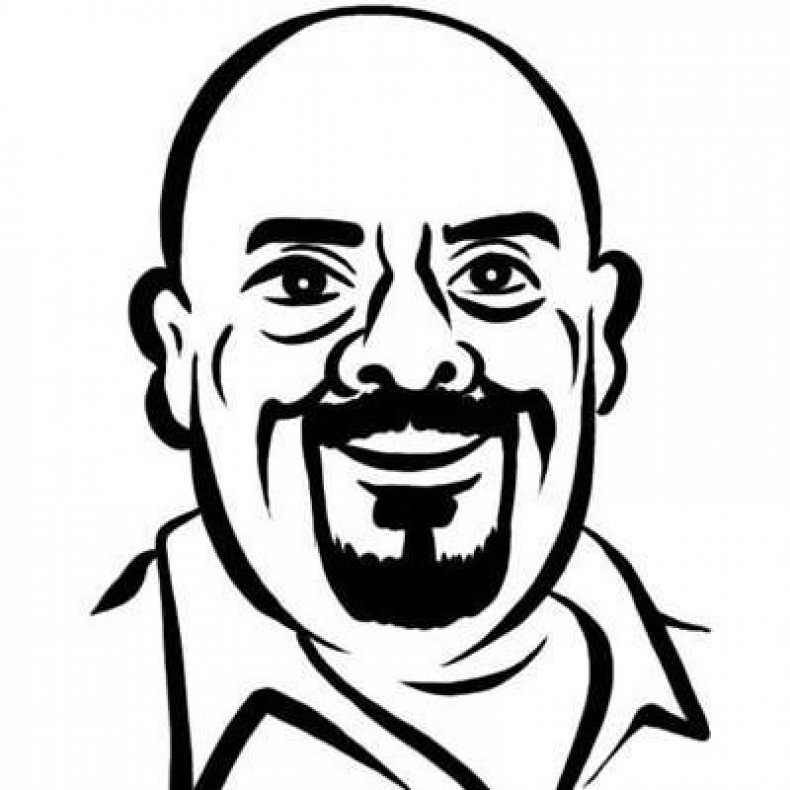 Ten days before the Newsweek article was published, Osama Hajjaj received death threats from ISIS for a cartoon criticizing the oppression of women under Sharia law. Despite the evident perils, Osama continues to criticize ISIS through his ongoing output of satirical images.
He and numerous other Middle Eastern cartoonists, including Jehad Awartani and Mehdi "Amo" Rasooli, also have received acclaim for their visual lampoons, which were included in an international anti-Daesh cartoon exhibition that was recently held in Tehran. These cartoons criticize a variety of world leaders as well as ISIS's perversion of Islam, acts of barbarism and destruction of cultural heritage. Quite usefully, all the show's cartoons are included in an illustrated catalogue that can be downloaded as a PDF.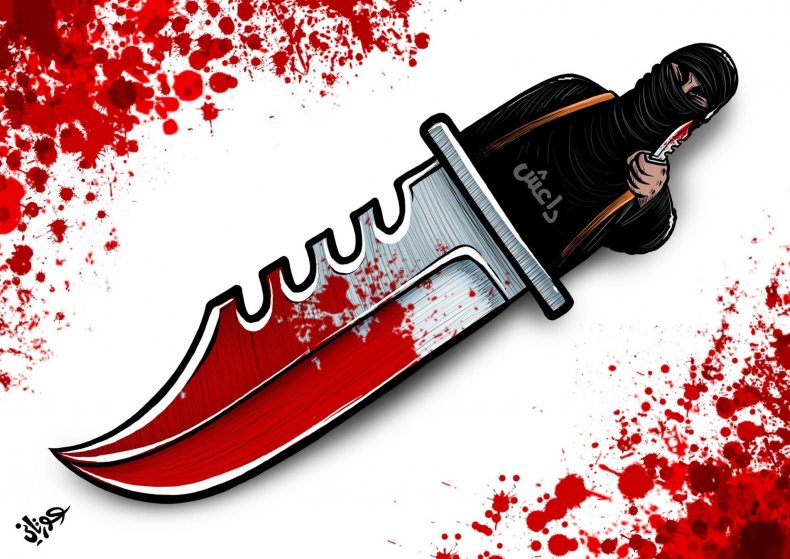 Like his colleagues in the cartoon arts, Jehad Awartani takes ISIS to task on a range of issues, especially the group's use of extreme violence. His cartoons are crisp and minimalist, and they reveal a man whose wit is cutting-edge.
Since his voice shines bright through his visuals, I chatted with him to find out more about what compels him to draw and why ISIS occupies such a prominent place in his work. Below is our conversation illustrated with some of his cartoons.
CG: Why did you decide to become a cartoonist?
JA: When I was a schoolboy, I was surprised by my drawing talent. I really enjoyed creating cartoons because they entertained my classmates and teachers. All of us found an outlet in my cartoons because they provided levity within a very rigorous educational system.
CG: What topics do you address in your cartoons?
JA: I tackle a range of themes. In light of the volatile political climate in the Middle East, I try to remain loyal to my principles while also expressing national pride. As a result, I favor political subjects even though my cartoons often address a number of issues that are important to the community in which I live.
CG: You have made a series of cartoons that criticize and mock ISIS. What propelled you to express yourself in this medium and what impact do you hope your cartoons will have?
JA: When you find yourself surrounded by hell, you have no other option than to fight it with all the arms at your disposal. Every individual in the Middle East finds himself obligated to stand up against ISIS, which uses the excuse of religion as a means to destroy us and our faith. As an artist, I consider myself at the forefront of those who must fight this disastrous organization. It is an evil burst in our midst.
As for the impact of these cartoons, I think of them as candles on the path of consciousness. Hopefully they will illuminate difficult issues and enlighten their viewers. For my cartoons to have even greater influence, they must be accompanied by other forms of creative criticism.
CG: Have you received any negative reactions or possibly, like Osama Hajjaj, any death threats for your anti-ISIS cartoons?
JA: I live in a tense atmosphere and practice my craft in a danger zone. There are many signs that make me feel like I am a target, and you never know when a dagger might stab you in the back.
Despite the dangers, I think that we don't have any other choice than to stand up to this vicious gang. If we abandon our duty to spread goodness and fight evil, then this will allow dark forces to prevail in our region. Ultimately we are soldiers and we must not withdraw from this battle no matter how fierce it is.
CG: As a Jordanian, the burning of Muath al-Kasasbeh must have marked you. What was your reaction to the news of his death and what did you try to convey in your cartoons in response to ISIS burning the Jordanian pilot alive?
JA: ISIS committed this heinous crime in order to inflame the spirit of hostility and hatred in our region. The event also shook the conscience of the entire world.
The burning of Kasasbeh deviates from the norms of all religions and laws since the dawn of history. It is also the antithesis of Islamic teachings, which state that no one is allowed to punish with fire except for God.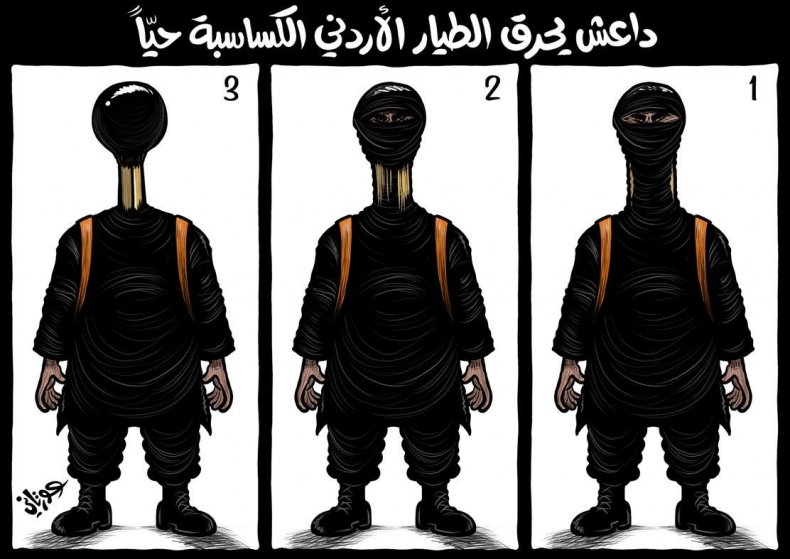 To me, those who burned Kasasbeh are nothing but fire matches set aflame by hidden hands. In the end, these matches will be consumed by their own fire. We, too, are all fuel in this battle. Through my drawings depicting this horrific incident, I show that this fire will not be merciful to anyone and no one will survive.
CG: What do you think of ISIS's destruction of artistic and cultural heritage in Iraq and Syria?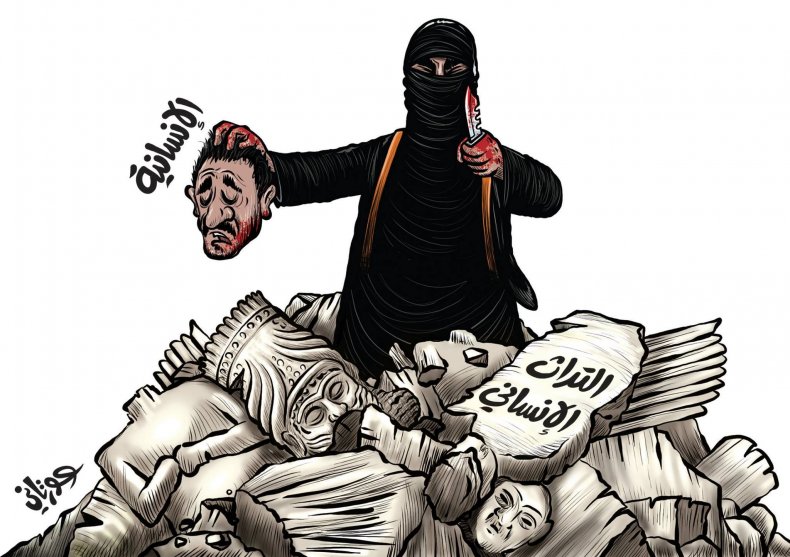 JA: ISIS's deliberate destruction of cultural heritage in both Syria and Iraq is part of a larger strategy that aims to eradicate the many cultures that have existed within the region for millennia. Much like their practices of decapitation, they purposefully "kill" important landmarks and artworks in order to instigate international and regional outcry. To no small extent, this practice seeks to remove all traces of civility and civilization, thus reinforcing the perception of ISIS as a barbaric entity.
CG: One of your cartoons spells the word "Daesh" within a puddle of oil. Tell us a bit about this image.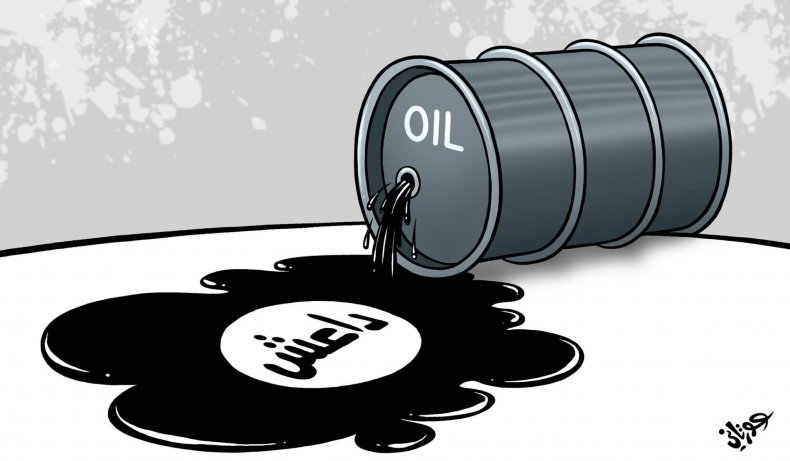 JA: No one can deny that oil wealth has wrecked havoc in this region. Rather than serving as a means for development, it has catalyzed a spiral of international conflicts. Many of the wars that have broken out in the Arab world have to do with the access to and control of oil.
ISIS and other groups are no exception to this rule. Along with other resources (such as kidnapping and the sale of antiquities), oil provides the basic financial support for the group. In my cartoon, the word "Daesh" floats in a muddy pond of oil in which all kinds of harmful bacteria breed and multiply to gnaw away at the body of the Arab world.
CG: At this critical moment in time, what are your hopes and fears for the Middle East?
JA: My greatest hope is for us to remember that the person against whom we now point our weapons was just a few years ago our brother, neighbor and best friend. I ask bitterly: What has happened to our collective memory and how can we salvage it?
Christiane Gruber is associate professor and director of graduate studies at the University of Michigan. Her primary field of research is Islamic book arts, paintings of the Prophet Muhammad, and Islamic ascension texts and images, about which she has written two books and edited a volume of articles. She also pursues research in Islamic book arts and codicology, having authored the online catalog of Islamic calligraphies in the Library of Congress as well as edited the volume of articles The Islamic Manuscript Tradition. Her third field of specialization is modern Islamic visual culture and post-revolutionary Iranian visual and material culture, about which she has written several articles. She also has co-edited two volumes on Islamic and cross-cultural visual cultures. She is currently writing her next book, titled The Praiseworthy One: The Prophet Muhammad in Islamic Texts and Images. Among her contributions to Newsweek is The Koran Does Not Forbid Images of the Prophet.