Film Crew Union Narrowly Approves Contracts With Producers to Avoid Strike
Film industry crew members voted to approve a pair of contracts with Hollywood producers, but the fight for more fair sets might not be over, according to the Associated Press.
Members of the International Alliance of Theatrical and Stage Employees passed new agreements 56 percent to 44 percent among 36 local unions. When brought to the popular vote, 50.3 percent of members voted yes to the agreements, with 49.7 percent voting no. Approximately 45,000 members of the IATSE members voted in the election from November 12 to 14.
"From start to finish, from preparation to ratification, this has been a democratic process to win the very best contracts," said IATSE International President Matthew Loeb in a statement. "The vigorous debate, high turnout, and close election, indicates we have an unprecedented movement-building opportunity to educate members on our collective bargaining process and drive more participation in our union long-term."
The narrow margin of votes provides a stark contrast to the union's last vote. 98% of union members voted in October to authorize a potential strike of Hollywood productions. The narrow margin could be attributed to disillusionment with the proposed contracts being voted upon, with some IATSE members saying that the conditions would not be enough.
"This is a version of the same deal that we're offered every three years," said veteran stagehand Jason Fitzgerald to the Associated Press. "If we do not take a stand now to try to change the culture of the industry, we will continue to be treated more like disposable parts of a machine and less like human beings."
The proposed contracts affect around 63,000 union members and will include wage increases and core safety measures.
For more reporting from the Associated Press, see below.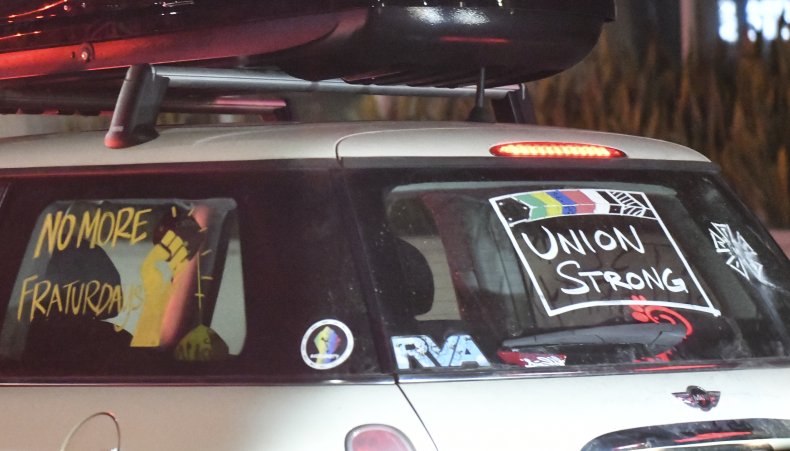 The new contracts come after a standoff that came within days of a strike that would have frozen productions across the U.S.
The voting system resembles the U.S. Electoral College.
A victorious "no" vote would have reopened negotiations and brought back the possibility of a strike.
There was joy and relief among many members when the three-year deal was reached with producers on Oct. 16, two days before a strike deadline.
The vote took place in the shadow of the shooting that killed cinematographer Halyna Hutchins and injured director Joel Souza on the New Mexico set of the film "Rust."
Alec Baldwin, the film's star-producer who fired the gun, called it a "one-in-a-trillion event," but many felt like the incident was emblematic of the industry's corner-cutting and critical flaws.
Streaming services had long been allowed lower pay rates, union leaders said.
IATSE represents about 150,000 behind-the-scenes workers, including stagehands, cinematographers, costumers and others employed in all forms of entertainment, from movies and TV to theater, concerts, trade shows and broadcasting.
One contract primarily covers film and TV production on the West Coast and applies to about two-thirds of those members; the other is for production hubs including New Mexico and Georgia.