Film Debut Of Atiq Rahimi's "The Patience Stone"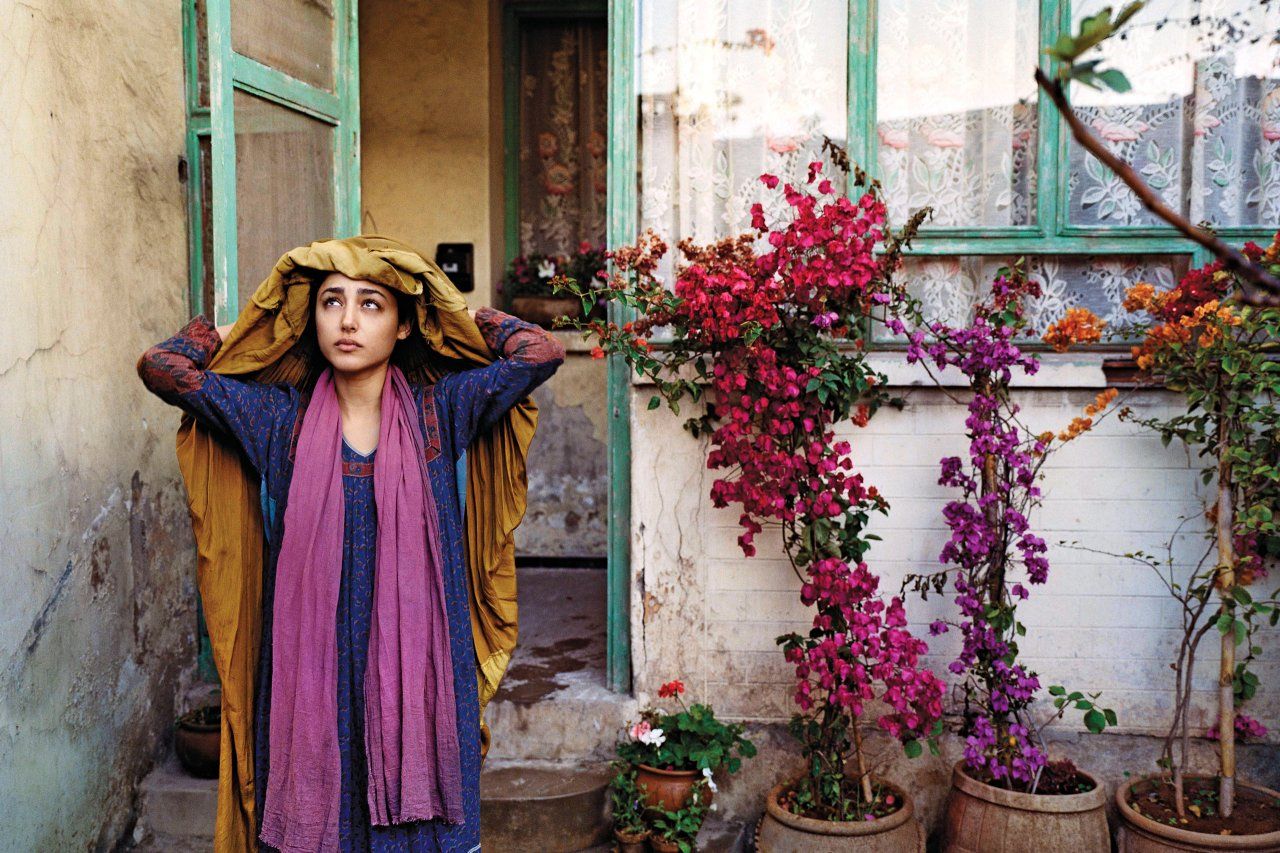 Credit the alchemy of exile—that nerve, candor, and wisdom that flare brightest with coerced distance—for The Patience Stone. In 2008, Atiq Rahimi's remarkable novel won the Prix Goncourt, France's most renowned literary award. No small feat for the Afghan-born, Paris-based Rahimi's first novel in French. The tale of an Afghan woman who flourishes when her comatose husband becomes an unexpected repository for her secrets is at once remote and familiar, timeless and urgent. Published in 33 languages, it is now a powerful film in Farsi, directed by Rahimi himself. A virtual one-woman show, the movie features a riveting performance by Iranian star Golshifteh Farahani—she, too, an exile in Paris. Premiering in French cinemas on February 20, The Patience Stone hits screens in New York and Los Angeles in June.
Somewhere in Afghanistan, in a concrete neighborhood on the front line of a war never named, one young woman (Farahani) keeps vigil for her gray-bearded spouse, 16 days unresponsive, a bullet lodged in his neck. She tends to his serum drip, strung from a nail in a turquoise wall, cement chipped white like a false sky. She catches herself asking his permission, absurdly, to run errands, slips into the street under a mustard burqa with two small daughters. The brutish, aging war hero hasn't fallen in battle, we learn, but in a brawl over an unforgivable insult. A comrade-in-arms dared declare, "I spit in your mother's p---y."A paradox, curiously selective, this showy defense of a woman's honor.
First despite herself and then with reckless élan, the warrior's wife unburdens herself upon his still body. Revealing jarring secrets, she comes into her own, spiritually, even sexually (she initiates a stuttering virgin militant steps from her comatose oppressor). Her husband becomes her patience stone, or syngué sabour in Persian lore, absorbing one's suffering and secrets until finally it shatters. Only then does one find deliverance, foreshadowing a dramatic climax.
"I was tired of always seeing the same discourse on Afghan women, as submissive, as victims," Rahimi, 50, says over espresso and macarons in the winter garden of a Paris hotel, his startlingly pale blue eyes lively behind black-rimmed glasses. "When I go to Afghanistan, I meet women of extraordinary might. They have a presence, socially, politically, culturally speaking," he says. "Even in Parliament, it is the women who call out all the war criminals."
Rahimi wrote The Patience Stone in memory of Nadia Anjuman, a 25-year-old Afghan poet killed by her husband in 2005. The writer knew her only through her "formidable, very daring poems," but traveled to Afghanistan to understand. He found her husband hospitalized—suicidal, he had injected his veins with gasoline in prison—in a coma.
And yet The Patience Stone's path to into existence was as sinuous as Rahimi's own. He was born in Afghanistan in 1962; his mother founded a girls' school in the storied Panjshir Valley, and his father governed the province. A coup d'état in 1973 saw his monarchist father imprisoned for three years while Rahimi attended Kabul's Franco-Afghan lycée. Even after his parents fled to India, and the U.S.S.R. invaded in 1979, Rahimi stayed on in war-torn Afghanistan. But with the Soviets poised to close the borders in December 1984, Rahimi, his future wife, and 22 other young Afghans struck out for Pakistan, walking nine days and nights, trudging over mountains in deep snow, tiptoeing through minefields in the dicey safety of hoof prints. In Islamabad, he requested asylum at the French Embassy. Rahimi wouldn't return to Afghanistan until 2002, a month after the Taliban fell. In Paris, he earned a doctorate at the Sorbonne, made documentaries, wrote novels. His daughter, 16, and son, 11, were born in France.
"Exile, despite everything, gives us a certain liberty, a certain distance with regard to our culture. And a critical eye," he says. "It's very creative." Rahimi's 2004 film Earth and Ashes, adapted from his own Persian novella, earned accolades at Cannes. But The Patience Stone, his fourth book, set him free in French. "One's mother tongue—already by the name 'mother tongue'—creates taboos, prohibitions. Writing in your mother tongue about sex creates scandal, even in the West," Rahimi explains. "The French language gave me this liberty to talk about taboos, to break them. And coming back to Persian [for the film], it's a way to keep that sort of provocative aspect of the story."
Still, Rahimi wasn't certain The Patience Stone—adapted with French screenplay master Jean-Claude Carrière—would work as a film. "I had trouble seeing an Afghan or Iranian actress not only accepting the part, morally or politically, but artistically, too," he says. The role is daring, with profanity and brief nudity, and almost a monologue.
Enter Farahani. A superstar in Iran, the sublime Tehran-born actress earned the ire of theocrats when she was pictured without a veil at a New York premiere for her part in Ridley Scott's Body of Lies (2008). After months of persecution, even a travel ban, she disobeyed authorities to shine in Asghar Farhadi's About Elly and at her first chance sought exile in France.
But she hasn't escaped Iranian scrutiny. Last year, in a playful promo clip starring up-and-comer nominees for Les Césars, France's top film awards, Farahani, 29, dared flash a breast, spurring new hardliner histrionics. Her films are banned in Iran, although pirated DVDs of The Patience Stone are already circulating. "There are movies coming with love scenes, and that is going to create another catastrophe for my family, for the society," Farahani predicts by phone from Los Angeles. "But in the end, it will be positive because it will open the way for the next generation."
Farahani draws parallels with her Patience Stone character, who "tries to be an individual in a society where individuals have no place." A common mark of prospective exiles, she opines. "They can break the limits up to a certain point, after that it's exile. Either you die or you should leave." With a laugh, she likens exile to Thelma and Louise. "They say, 'Let's do it, let's drive. We don't care what happens.'"
In The Patience Stone, Farahani's character first smiles after intimacy with the teen soldier. "She realizes, 'Oh, my God, maybe this body is not only for ... suffering, but I can take pleasure with it.' This becomes a door for her to know herself, her soul, better," Farahani says. "I hated to be a woman in Iran. I was a tomboy, always thinking that being a woman stopped me from moving forward." Feeling objectified, she even shaved her head. "When I came to France, for the first time, especially in Paris, I realized it's so beautiful to be a woman," she says. "I can be feminine and move forward."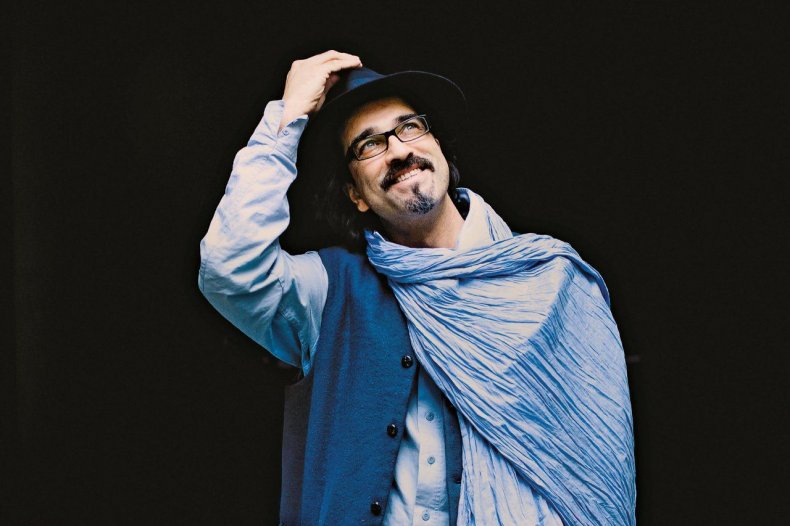 The actress is famous in Afghanistan, but has never been there. Security concerns saw Rahimi use a burqa-clad stand-in for outdoor scenes in Kabul. The bulk of the film was shot in Casablanca, Morocco, in a cement-factory compound that recalls Russian-built Afghan housing. "I tried not to locate this woman," the actress says. "I just tried to understand her as a person, like Antigone, like Eve, like all the women, all the characters in history, that you just play [without locating]." Afghanistan is an extreme, she says, but religious repression can happen anywhere, even the United States.
Still, the story wasn't chiefly written for Westerners, or even women. "It's not for me to say, 'You're like this.' Why bother?" Rahimi says. "It was important to me for men to know how women suffer, dream, feel, desire."
Even War and Peace didn't end war, Rahimi muses, and The Patience Stone won't change minds that aren't ready. Some Afghan women have tsk-tsked that he depicts them all as prostitutes. One man applauded his purported point that demons hide inside women, to justify keeping them cloistered lest they become whores. "I can't awaken sleeping souls," Rahimi concedes. "But at least I disturb their slumber."