Filmmaker David Cronenberg is Selling His Kidney Stones As An NFT
Canadian filmmaker David Cronenberg, who has been credited with pioneering the genre of "body horror," will debut a photograph of his kidney stones as an NFT.
This artwork, titled Kidney Stones and Inner Beauty, will be released through the CryptoArt marketplace SuperRare on March 28. NFTs, or tradeable digital assets that contain information proving the holder's ownership, have become an increasingly popular way to buy and sell digital art. According to CoinDesk, a total of $25 billion has been spent on NFTs since June 2017, with another $21 billion spent on secondary sales.
Cronenberg told Newsweek that he originally took the photo of his kidney stones for a friend, who was suffering from the ailment for the first time. The filmmaker had saved his kidney stones in a pill bottle.
"I thought this photo is quite beautiful, in such a weird way," he said.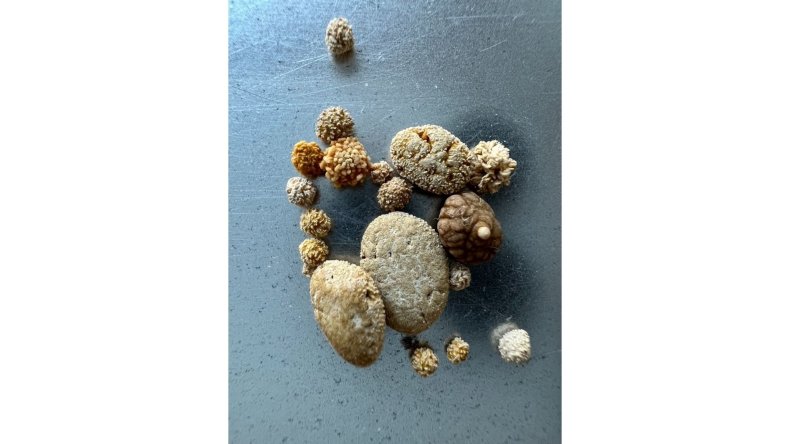 Although film critics have used the term "body horror" to describe the intersection of science fiction, technology and bodily transformation in Cronenberg's work, he said that he did not find the body's insides to be horrifying, but rather fantastic and beautiful.
"My body has gone to great lengths to create these amazing shapes," he said, noting that one person who saw the photo compared the unique aesthetic of each stone to "strange sea creatures."
Cronenberg said the NFT also references his upcoming film, Crimes of the Future, starring his frequent collaborator Viggo Mortensen as a performance artist whose art involves surgically removing organs from his own body in front of an audience.
Cronenberg's first NFT, a short film titled The Death of David Cronenberg, debuted in September 2021. The minute-long video depicted the 78-year-old filmmaker facing his own corpse and crawling into bed with his dead self. The artwork sold for 25 ether, or approximately $90,000, according to The Canadian Press.
The artist said he was introduced to the digital collectible marketplace by his daughter, Caitlin, a photographer who was creating her own NFTs.
Proponents of the crypto asset argue that digitally selling artwork directly to a global audience can allow artists to keep a much larger portion of their profits from sales, compared to the proceeds they would gain by going through an auction house or a gallery.
Cronenberg said he supports the introduction of NFTs to the art world, telling Newsweek: "The ownership of an NFT is a very abstract thing. That honestly appeals to me—it's a really new approach to what art is."