One week after Election Day, almost all U.S. states have tallied and reported enough ballots necessary to call their respective races. Joe Biden maintained his lead over President Donald Trump on Tuesday morning, having secured roughly 5 million more votes than the incumbent Republican candidate, according to the Associated Press. Still, the outcomes of individual races in three states have not yet been determined, as Georgia prepares for a mandatory recount and deadlines to receive absentee ballots in Alaska and North Carolina remain ahead.
Local election officials continued to tabulate votes into the weekend, with results prompting major news outlets to declare Biden and California Senator Kamala Harris the projected winners for president and vice president. The AP announced the Democratic ticket's anticipated victory on Saturday, when it called Pennsylvania's race for Biden. His win in the critical battleground state gave Biden 20 electoral votes, pushing him past the required 270-vote minimum nationwide.
Trump declared himself the presidential election's winner soon after polls closed last Tuesday and continued to insist the same during subsequent public addresses, falsely claiming that Democratic corruption and "illegal" ballots tabulated in key swing states that voted Biden were responsible for his opponent's projected triumph. His campaign filed a number of lawsuits alleging that elections officials in Georgia, Michigan, Pennsylvania and elsewhere conducted tabulation procedures improperly. Many pointed to the legal proceedings' lack of merit, and several judges went on to dismiss claims soon after their filings.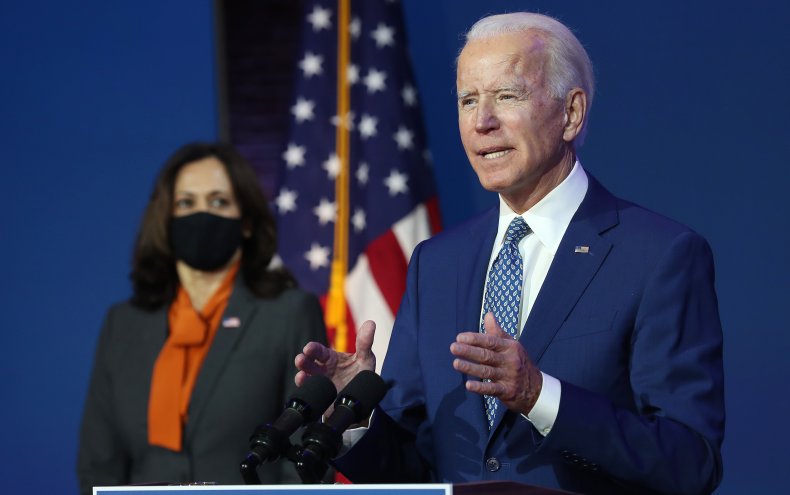 Trump requested a recount in Georgia, where state law permits the losing party to do so if ballot counts indicate their opponent won by a margin of less than 0.5 percent. Given the state's tight race this year—Tuesday's tally showed Biden ahead by about 12,000 votes, or 0.2 percent—Secretary of State Brad Raffensperger said Georgia would implement a recount in comments to reporters last Friday. Georgia was one of several states where initial ballot tallies gave Trump an early lead, which diminished steadily as mail-in votes continued to be collected and counted throughout the week.
The president and his campaign accused Georgia of tabulating illegitimate ballots in a lawsuit filed after Election Day. A judge later dismissed the suit, but the state's Republican senators still backed Trump's claims and subsequently called for Raffensperger's resignation Monday. The secretary of state said "that is not going to happen" and noted the outcome of Georgia's election is "unlikely" to change after investigations into alleged unlawful voting, and the state's ballot recount, are complete. Trump's campaign has demanded the state conduct its recount by hand rather than machine.
In Alaska and North Carolina, where advisory boards oversee election processes, races remained uncalled on Tuesday. Both states' deadlines to receive absentee ballots have yet to pass. In North Carolina, elections departments can tabulate ballots received by November 12, as long as they are postmarked by November 3. County elections boards will complete final ballot counts on Friday, a spokesperson from the North Carolina State Board of Elections confirmed to Newsweek. The board is scheduled to certify results on November 24.
Alaska had only reported 50 percent of its votes as of Tuesday morning, and elections officials have until November 18 to complete their count. Ballots collected so far indicate Trump leads in both states, which would offer him 18 electoral votes upon certification. Biden's electoral vote count stood at 290, compared with Trump's 214, early Tuesday.
Newsweek reached out to Raffensperger's office and the Alaska Division of Elections for additional comments but did not receive replies in time for publication.