Final 'Black Widow' Trailer Sheds New Light on Natasha's Past
Marvel Studios has revealed the final trailer for Black Widow, shedding new light on Natasha Romanoff's past.
The trailer is the strongest yet for the film, with a focus on Romanoff's past, her family and her enemies. The film is set to close the arc of Black Widow, who sacrificed her life to save the world in 2019's Avengers: Endgame.
Black Widow is set to be the first film of Marvel's Phase 4, the evolution of the studio's storytelling after the completion of the Infinity Saga. While the film is the start of the new slate, it takes place in Marvel's Phase 3, with a story that falls between Captain America: Civil War and Avengers: Infinity War.
The trailer featured Black Widow going back to her family, coming into contact with her sister, Yelena Belova, played by Florence Pugh. Belova has been the Black Widow in the Marvel comics before and it would not be a surprise if Marvel Studios is grooming Pugh to take the mantle of the character for future Marvel films.
A glimpse at Romanoff's past is something viewers are craving. Audiences have only gotten bits and pieces of her origin story in prior films like The Avengers and Avengers: Age of Ultron, but Black Widow will finally flesh out the story of the spy who eventually became a hero.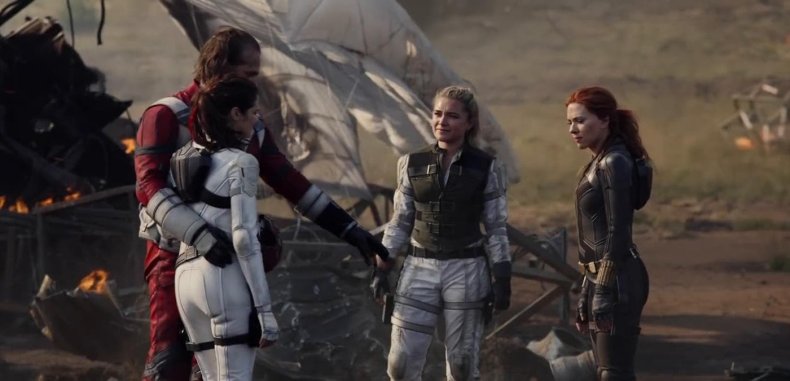 The new trailer teased more of the Red Room, the Soviet training program that turned young women into assassins and spies. The program that turned Natasha into the Black Widow will be further explored, likely tying into the main villain of the movie, Taskmaster. The trailer revealed that Taskmaster is brainwashing new soldiers and it is up to Black Widow and her family to stop him.
Black Widow is set to be the second female-led superhero film to come from Marvel Studios, following the success of 2019's Captain Marvel. The film stars Scarlett Johansson as the title hero, Natasha Romanoff, for what could be the last time. The actress has played Black Widow for ten years now, starting her run in 2010's Iron Man 2. While she has popped up in numerous films since then, the character has been missing a solo film of her own, something every other leading Avenger has had.
Black Widow will release worldwide on May 1, 2020.