The Final Days of Alexander McQueen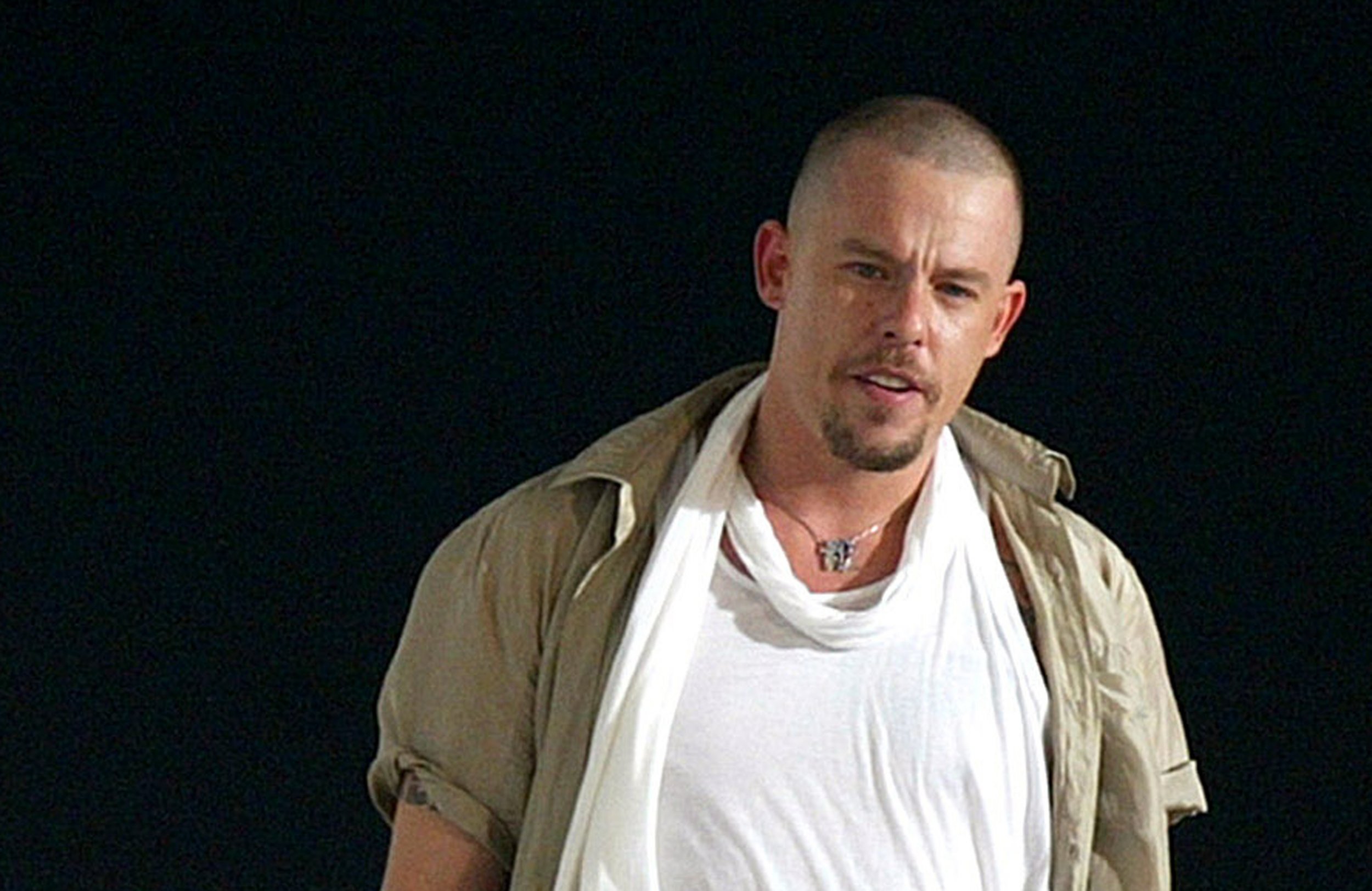 Warning: Please be aware this excerpt contains graphic language.
The hottest ticket in London right now is to "Savage Beauty," the exhibit of Alexander McQueen's fashion at the Victoria & Albert Museum. Just as at New York's Metropolitan Museum, where the exhibit first opened, demand to see McQueen's extraordinary sculptural fashion is intense, with lines around the block. Bowing to public pressure, the V&A has opened its doors 24 hours a day until the exhibit closes on August 2.
McQueen committed suicide, leaving behind an extraordinary legacy in fashion. A new biography of the designer by Andrew Wilson, to be published in the U.S. in September—it has already been published in the U.K.—attempts to describe the often difficult character from humble origins who soared to become the master of sharply tailored women's fashion.
In this excerpt from Alexander McQueen: Blood Beneath The Skin, below, Wilson describes McQueen's final days. In a second, found here, Wilson attempts to unravel McQueen's extraordinary character. A selection of McQueen's fashion in the exhibit can be found here.
On 3 February, via his Twitter account, McQueen wrote, "I'm letting my followers know my mother passed away yesterday if it she had not me nor would you RIPmumxxxxxxxxxxxxxxxxxxxxxxxx . . ." A few moments later, he added, "But life must go on!!!!!!!!!!!!!!"
On Sunday, 7 February, he wrote, "been a fucking awful week but my friends have been great but now i have to some how pull myself together and finish with the HELLS ANGELS & PROLIFIC DAEMONS!!!!!!!!!!!!!!!!!!!!!!!!!!!!!!!!!," a reference to his latest collection.
This was inspired by early Netherlandish artists such as Hans Memling, Hugo van der Goes and Hieronymus Bosch, Byzantine imagery, Grinling Gibbons and Jean Fouquet, whose Virgin and Child Surrounded by Angels Lee had used as a reference in Joan.
However, McQueen could not face the thought of work and locked himself in his flat.
"A few days before he died he called me and I could tell that he had been taking drink and drugs," said Archie Reed. "'My dog has been diagnosed with cancer and I have to make a choice about whether to put her to sleep.'"
Archie felt annoyed by what he saw as McQueen's self-centered attitude and, during the conversation, called him a "selfish cunt."
"I've got my own problems to deal with, go and take a fucking sleeping pill," he told him. "I'll come around tomorrow, I'll cook dinner and we'll sort this out properly." He never heard from McQueen again.
Using small, subtle gestures, McQueen started to say his goodbyes. On February 8, he spoke to his nephew Gary James McQueen and asked him to create a gravestone for his mother that incorporated the design of an angel. "He said he wanted it to be uplifting," Gary said.
Then McQueen phoned his sister Janet and told her that he loved her. He gave Annabelle Neilson his wallet, explaining that he needed a new one, and a photograph of him with one of his dogs.
On February 9, at seven in the morning, he sent a tweet to Kerry Youmans, in a spirit of fun: "I'm here with my girl annie tinkerbell [Annabelle Neilson] wishing kerry the slag, happy birthday in NY, your [sic] 40 now girl time to slow it down we think."
The same day, he managed to drag himself into work, where he spoke to Trino Verkade about his mother's funeral. "Make it late," he had said, when Trino had asked him about the time he wanted a table at J. Sheekey's restaurant on the night of the funeral. He also spoke to Janet again, telling her that he was going to make his mother an old-fashioned pink winceyette nightgown, which he would then have biked to the funeral home.
He wrote a handwritten note to Kerry which said, "I want to thank you for always being a good friend to me. Love, Lee," which he sent by FedEx and which arrived in New York soon after the news of McQueen's death had broken.
On 10 February McQueen had dinner at Scott's with some members of his studio—"apparently he was very together at dinner," said Daphne Guinness—and then he and Annabelle Neilson returned to his flat in Green Street.
McQueen had always promised Annabelle that he would never follow Isabella's suicide, "but who will ever know what was going on in his mind, what he was dealing with?" she wondered.
McQueen knew he could not bear to attend the funeral of his mother, which had been scheduled for February 12. His much-loved dog Minter had been diagnosed with cancer. Death for him seemed like an escape, a blessed relief, a step towards the kind of thought-free existence that he had craved for so long.
"I wonder now if things would have been different if I hadn't left that night, but a part of me knows that there is nothing anyone could have done to change anything," said Annabelle.
In the early hours, and in a desperate state of mind, McQueen took hold of a book, Wolfe von Lenkiewicz's The Descent of Man, and on the back cover wrote the words, "Please look after my dogs. Sorry, I love you, Lee. PS Bury me at the church."
He then started to use the Internet to research suicide methods. He tapped into the search engine Yahoo, "When someone slits their wrist how long does it take for them to die?"
He would have read answers such as, "that's a carzy [sic] *** question but I've heard it takes 4 to 5 hours," "THIS IS A VERY SERIOUS MATTER. GOD BLESS YOU AND WHO EVER IS CUTTING THEIR WRIST!" and "It wouldn't make them die. It just leaves large gashes in their arms, which may turn into scars. Slitting your wrists isn't enough to kill you."
The exact chronology of McQueen's actions that night is unclear, but there was no doubt of his intentions; this was no "cry for help." He took zopiclone, a prescription sleeping pill, and midazolam, a tranquilizer, both of which were found in his bloodstream, as well as a "significant" amount of cocaine.
He tried to slit his wrists with a dagger in the en-suite shower room of the second bedroom; there, police found a chopping board together with a knife sharpener, a large kitchen knife and a meat cleaver.
His family regarded this as completely out of character: Lee hated the sight of real blood and would scream in shock and distress if he so much as nipped his finger with a pair of scissors. Then he tried to hang himself in the shower by using the cord of his dressing gown, but failed when the head buckled due to his weight.
Finally, he removed the clothes from the guest bedroom closet, took his favorite brown leather belt, looped it around the rail and then used it to hang himself. As he died, the scented candle that he had lit earlier continued to burn throughout the night.
Excerpted from Alexander McQueen: Blood Beneath the Skin by Andrew Wilson. Copyright © 2015 by Andrew Wilson. Published by Scribner, a Division of Simon & Schuster, Inc. Originally published in 2015 in Great Britain by Simon & Schuster UK Ltd. Reprinted with permission.