'Final Fantasy XIV' Cosplayers Talk Bringing Eorzea to Life at Paris Fan Fest 2019
It's a drizzly winter Saturday in La Villette, a neighborhood in northeastern Paris with romantic drear seeping from every doorway and windowpane. It seems like the perfect day to wile away the hours in a cafe with strong coffee and a book. But the thousands-strong legion of fans in town to celebrate Square Enix's long-running MMORPG Final Fantasy XIV have more ambitious plans: plans which demand a steady hand with a soldering iron, an eye that sees creative potential in a length of PVC pipe, and glitter. Lots of glitter.
Final Fantasy XIV was savaged by critics and fans upon its debut in 2010, so Square Enix brought in Naoki Yoshida (then known primarily for his work on the Dragon Quest franchise) as producer and director to help correct course When A Realm Reborn launched in 2013, it was essentially an entirely new game with reworked servers, gameplay and story. Since then FFXIV has been a runaway train, boasting steady subscriber growth and cultivating an ardent fan following. In July, Yoshida and his team will launch the third major expansion to the game since 2013, titled Shadowbringers.
Fan Fest is a thrice-yearly occasion for the game's robust online community to hang out in person and celebrate all things Final Fantasy. The events take place in North America, Europe and Japan. In addition to elaborate fun-fair amusements inspired by the in-game world of Eorzea—like Chocobo Races and the Bucking Behemoth ride—all Fan Fest 2019 attendees were free to throw their hats in the ring for Saturday afternoon's cosplay contest. Of the pool of participants, 30 finalists got the chance to show their stuff onstage before a panel of three judges: Yoshida, Global Community Producer Toshio Murouchi and Character Concept Artist Ayumi Namae.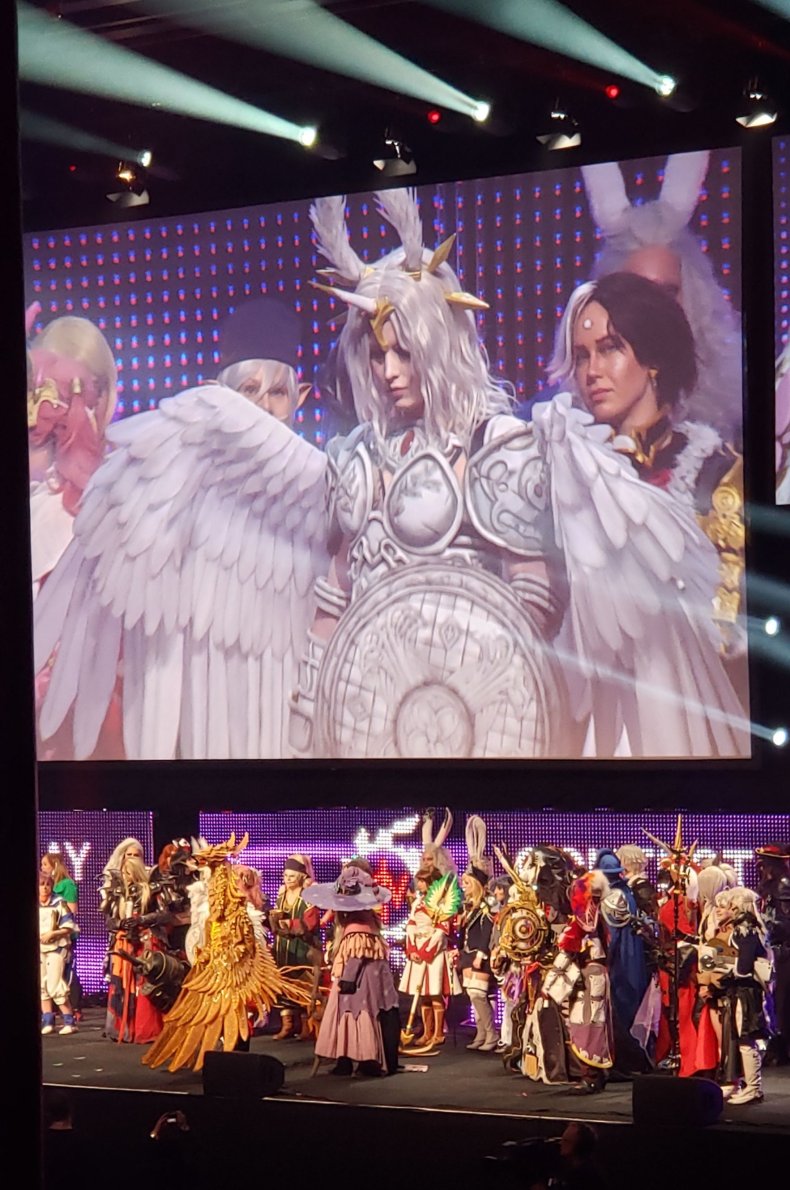 Even if you aren't an expert on the lore and world of FFXIV, if you've seen shows like Project Runway and RuPaul's Drag Race, it's impossible not to admire the ingenuity and outside-the-box thinking that goes into these remarkable, ensembles. Newsweek spoke to a handful of the competitors about the process of making their creations and the game's tight-knit community.
Contest winner Faust hails from Russia, and played a Kuribu in elaborate white armor and massive wings. A longtime cosplayer, it took her just two-and-a-half months to construct her ensemble after she was inspired by the initial teaser trailer for the Shadowbringers expansion. "It was my first time making armor, this is my first time making wings... the weapons... everything was the first!" she explained with a laugh.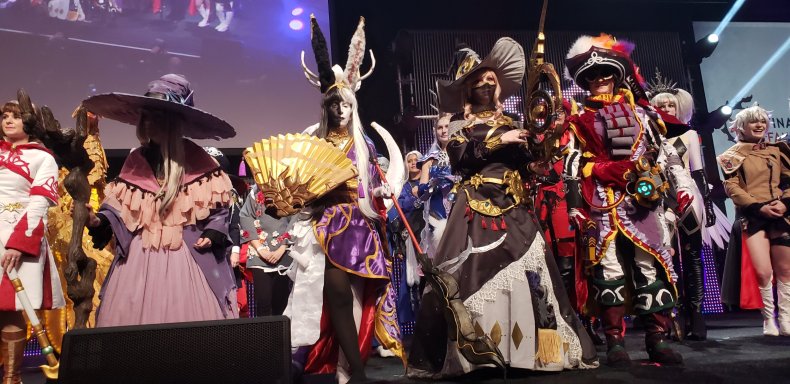 Others competitors devoted even more time to their projects. Top-three prize winner Calley McCloud from the U.K. spent many late nights over the course of 13 months on her jaw-dropping Firebird cosplay. It uses roughly 3,000 LED lights powered by 17 batteries, and was as intricate to assemble as you'd imagine.
"I was soldering on my kitchen floor at stupid o'clock in the morning," McCloud explained, pointing out that each wing contains eight soldered joints, allowing them to flap realistically. 'Some mornings my husband came down and said, 'What are you still doing up?' And I said, 'Don't be a hypocrite, you're supposed to be up for work in the morning.' Then he said, 'I'm getting up for work in the morning, It's half-seven.' I just worked straight through the night!"
While some of the contest participants had years of experience, others did not. But across the board, those we spoke to saw their Fan Fest projects as a chance to try something completely new or strengthen a fledgling skill. McCloud explained she's only made about "three or four" outfits before the Firebird and described herself as "a complete noob." Lily, from Little Brittany in France, said she had only been sewing for eight months prior to making her intricately embroidered Astrologian costume. "That sewing machine," she recalled with a sigh, "programming the thing was quite long."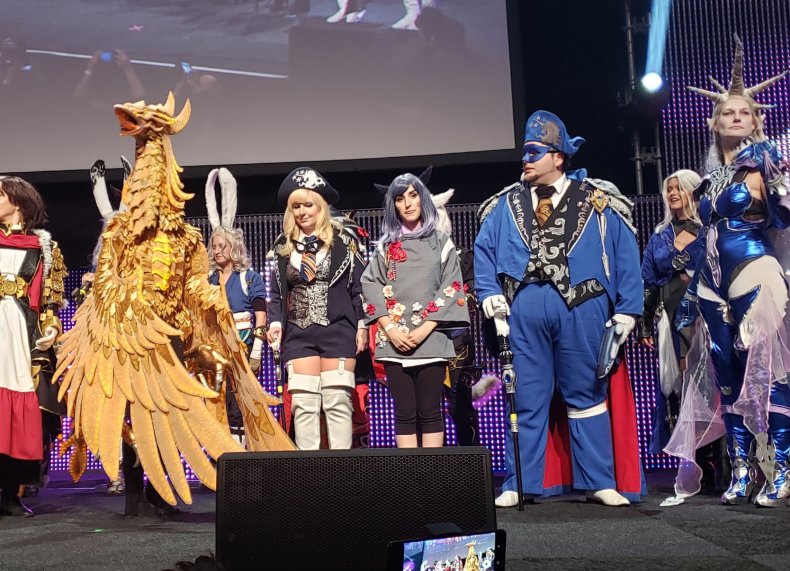 Prize-winning cosplay doesn't necessarily need to be expensive, though many of the ensembles showcased at Fan Fest certainly appeared to be. McCloud said most of her Firebird costume was crafted from "just cheap stuff, most of it came out of a skip." (Note for our American readers: this is Britspeak for "dumpster.")
She added, "I like to use recycled materials, so the tail is held up with old curtain poles. The head and the feet are made from newspaper and PVA. The wings are made from a honeycomb material which is like 95p a metre from Fabric Land. That's the thing... I have no money, so I make budget cosplays. I think the most expensive part was all the glitter."
Beneath the gilding and lavish patterns, however, is a palpable sense of fellowship among the Final Fantasy XIV community. McCloud said finding the franchise through Final Fantasy VIII "saved my life, because it was when I was going through bullying at school. It was a perfect escape."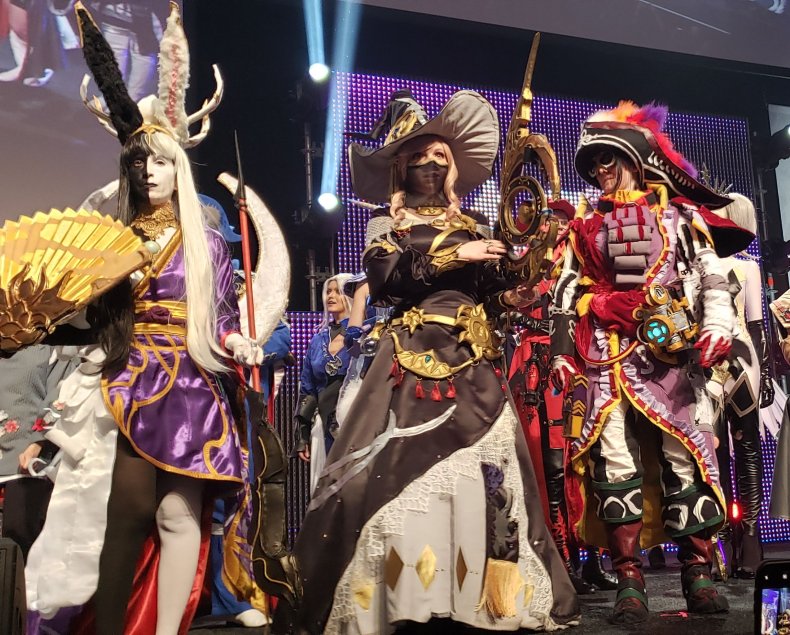 Faust explained, "To be honest, I started to play Final Fantasy because of cosplay. Then I thought, I need to play the game I made a cosplay for. So I started to play the game and I really like it. The people are keeping me there, for sure."
When asked about their tips for cosplay newcomers, nobody recommended a particular online merchant or crafty YouTuber to follow. Instead, they suggested people jump right in with confidence.
"Don't listen to haters, and push through difficulties. Nothing is impossible when you just believe it strong enough," said Lily.