'Final Fantasy XIV' and 'XV' Collaboration Coming in April; Fresh New Details on 'FFXIV' Patch 4.55 and Roadmap
The second day of Final Fantasy XIV Fan Fest 2019 kicked off on a gray Paris morning with even more fresh details about the planned updates for the game ahead of the launch of Shadowbringers and version 5.0 in July, and a surprise second collaboration event between Final Fantasy XV and XIV that sees Noctis on a road trip to Eorzea.
Naoki Yoshida, Michael-Christopher Koji Fox and Toshio Murouchi took to the stage Sunday morning to reveal the roadmap for the 4.5x patches, share further details about the February 12 update, and offer a sneak peek at the new XV-meets-XIV mashup.
Upcoming schedule for 4.5x patches
Patch 4.55 February 12
Hidden Gorge and Eureka Hyadtos
Patch 4.56 Late March 2019
New Main Scenario Quests – The Stormblood storyline comes to a shocking conclusion.
Even Further Hildibrand Adventures – The Inspector Extraordinaire makes a return.
Stormblood Beast Tribe Quests – A new quest series bringing together the beast tribes from Stormblood.
Patch 4.57 World Visit System
Patch 4.58 Various adjustments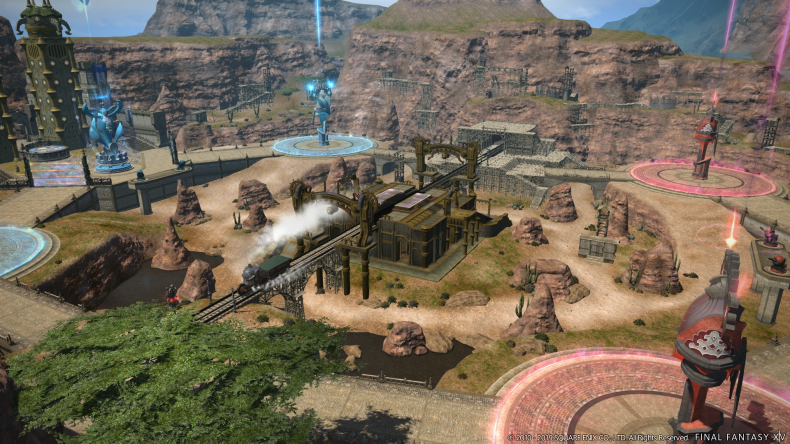 Rival Wings – Hidden Gorge Rules
The basic rules for this challenge are similar to those used in the existing PVP content Astralogos: two teams vie to take the other's "core," using machine powered with Ceruleum tanks gathered around the field.
"Gobtrains" will speed through the area. In the center of the area is a station, and the team who controls it will obtain the cargo that is on the train. If everyone on one team is focusing on the core, the other team may gain powerups from focusing on the trains. Paying attention to the Cerulean Engines is important, as they can damage your party if you're caught unaware.
Goblin Mercenaries also roam the Hidden Gorge area as a third force. It straddles the line between PvP and raids. The team who deals the most damage to the Goblin Mercenary will gain his support as an ally.
The Hidden Gorge map has a feel reminiscent of the southwestern United States, with soaring red crags. Supernatural features like the cores are juxtaposed against elevated rail tracks, lots of wooden crates.
"We've made this map perfect to bring both teams together quickly, so there will be a lot of action," Yoshida explained. He added that if mechs are destroyed in battle, it will now be easier to bring new ones onto the field.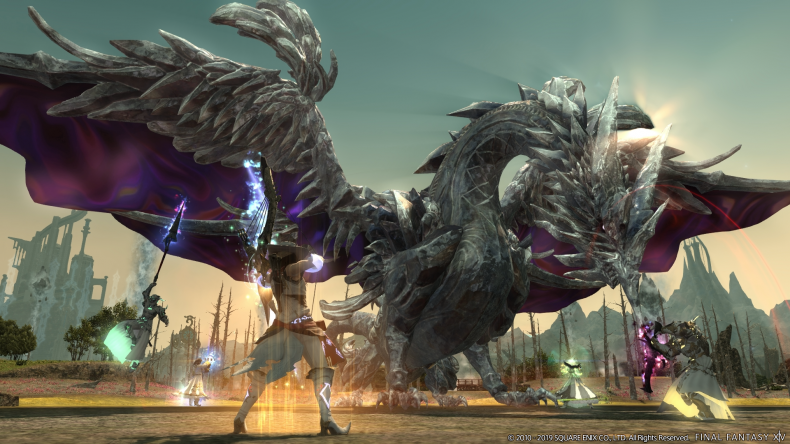 The Forbidden Land, Eureka Hydatos Expedition
This is the fourth and final chapter of the Eureka storyline. The level cap will be raised to 60. Gear and weapons enhanced in Pyros can be further upgraded. All-new logograms and logos actions will be introduced.
The map features multiple levels of rocky fields and plains. "The elemental theme for this area is water. As you can see, the water moves in the opposite direction to normal. It's not a waterfall, more like a water… rise?" Yoshida explained with a laugh.
At the center of the map is a large blue building with soaring spires and spindly curving bridges; this is called the Baldissian Arsenal.
(It's at this point during the presentation that despite being in invincible mode, Yoshida provokes an enemy while exploring the map and manages to die an inglorious death, much to the delight of the Fan Fest crowd.)
"For the most part, the fourth and final part of this story will be wrapped up nicely, but we want to talk a little bit about what happens after," Yoshida said, before turning into a detailed rundown of the Baldesion Arsenal.
The Baldesion Arsenal is an ultra high-end, public instanced dungeon, which can be challenged by 56 adventurers at once. Access is restricted to those who fulfill certain requiremens, such as witnessing the conclusion of the Eureka storyline. But it's not that easy. Getting into the Arsenal is tricky, and you'll need to have certain items and visit at specific times. The dungeon features a powerful boss from Final Fantasy XI, and many of the enemies there will enfeeble players. Revive magic will be prohibited inside.
"You'll need that trust in you companions, that perseverance, and a whole lot of time, wisdom, bravery, strength, perseverance. And a lot of luck," Yoshida explained. "I will repeat, this is very, very difficult content. The risks are great for when you fail. But those who are crazy enough to want to take that challenge – and when you start, there are extra pop-ups, like do you really want to do this?—There are a lot of secrets in here and we hope players talk about them. We want players to get to gether and communicate about how to clear this content."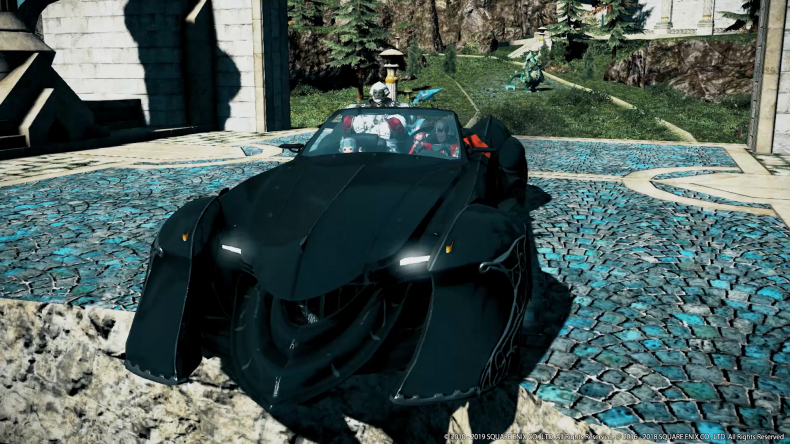 Final Fantasy XV and XIV Mashup
"A Final Fantasy after 14 has been released, right?" Yoshida teased, before showing footage of a new XV and XIV mashup, where Noctis makes a road trip to Eorzea. The team is planning to have this collaboration live by mid-April.
The footage shown at Fan Fest includes some much-loved FFXV staples, including camping, magitek armor, warp strikes… and most surprising of all, the Regalia Type-R! It will be a four-player map.
So far there's no sign of Prompto, Gladio and Ignis and the rest of the XV cast, but hopefully they'll make an appearance at some point. Check out the trailer below.
What are you most excited about in the upcoming updates to Final Fantasy XIV? Let us know in the comments!