'Final Fantasy XV' Season 2 DLC Plans Curtailed, Hajime Tabata Resigns From Square Enix [UPDATE]
The second anniversary of the release of Final Fantasy XV brought with it a host of unexpected and unfortunate surprises. Most viewers of the anniversary livestream had anticipated a perfunctory infodump about the four previously announced story DLC, focusing on Noctis, Ardyn, Aranea and Lunafreya. Instead, Square Enix announced only one of those four episodes would see the light of day, Episode Ardyn.
During the stream, Final Fantasy XV global brand director Akio Ofuji issued an official statement on the matter, excerpted below:
The Final Fantasy XV development team had been planning to release four new DLCs, together titled "The Dawn of the Future," in spring 2019. This refers to Episode Ardyn, Episode Aranea, Episode Lunafreya, and Episode Noctis. That said, the company has made an important directional change, and the decision has been made to re-examine these projects, concluding that production will be cancelled for Episode Aranea, Episode Lunafreya, and Episode Noctis, three out of the four DLCs planned. We are still developing Episode Ardyn, which continues to aim for a March 2019 release. I believe many fans have been eager to play these episodes, and the entire development team is regretful that we are unable to meet everyone's expectations.
Allow me to provide additional insight into what we mean by a directional change for the company. A new company called Luminous Productions was formed, centered around the staff who had previously been developing the main game as part of Business Division 2, and the have continued to work on the project since. The main purpose of establishing Luminous Productions was to create a studio that can deliver a completely new AAA title to the global market. And due to this directional change, the company has decided to focus our resources on the development of this AAA title. This resulted in the decision to cancel the production of three out of the four DLCs originally planned and introduced.
Although this is extremely regretful, we hope everyone will continue to look forward to Episode Ardyn, which is still being developed in earnest. As for the new title currently in the works at Luminous Productions, we wish everyone will hold high hopes for our upcoming title as well.
Episode Ardyn takes place three decades before the main story of FFXV (and, sadly, looks super awesome). It will be released in March 2019. Check out the trailer below:
Square Enix intends to follow through on previously announced plans to release the multiplayer Comrades expansion as a standalone for Xbox One and PS4 on Dec. 12. The new version will include new weapons, bosses and costumes. It will be available free of charge for those who have already purchased a previous version of Comrades, or $9.99 for new players.
FFXV Director Hajime Tabata resigned from Square Enix on Oct. 31, issuing the following statement:
Hello, this is Tabata.
It's almost going to be two whole years since the release of Final Fantasy XV. I honestly believe the reason we were able to get this far is because of all you loyal fans. I thank you from the bottom of my heart.
Today, I have a personal announcement to make to all of you. I, Hajime Tabata, will be resigning from Luminous Productions and the Square Enix Group as of October 31, 2018.
I was able to gain so much experience with my time at Square Enix. Every title I was able to be a part of means a lot to me. However, Final Fantasy XV stood out from that group as it was a special project for me which I went all-in on.
Therefore, I decided to take this opportunity to officially announce my departure from Final Fantasy XV to all the fans who have supported the title across the globe.
In regards to my next endeavors and near future, I have a project that I truly wish to solidify as my next challenge after Final Fantasy XV. For that reason, I have decided to leave my current position and start my own business in order to achieve my goal.
As production of "Episode Ardyn" continues and Luminous Productions works on new projects, I felt that it was time for me to hand over the torch to the next generation group of talented and trustworthy colleagues and believe that they will create something amazing.
From this day on, I will cheer on and support Square Enix and Luminous Productions together with all of you fans.
I would like to thank everyone who continue to support Final Fantasy XV and those who have also supported myself personally.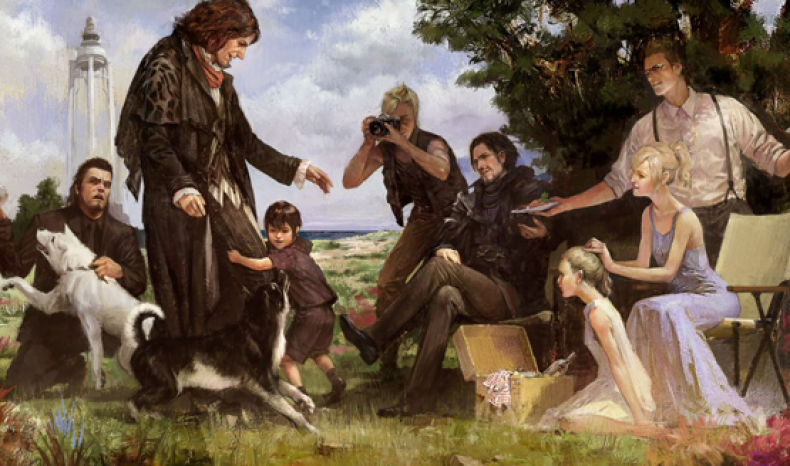 While Tabata has chosen to move in a different direction, the announcement comes amid reports Square Enix suffered $33 million in losses in the last six months. Subsidiary development studio Luminous Productions, which Tabata had headed since March, plans to shift focus to developing "large-scale, high-quality AAA game titles" going forward.
UPDATE (Nov. 8, 1:53 p.m. EST): Square Enix had no comment about why Episode Ardyn and Comrades took priority among the previously announced content. A company rep did confirm to Newsweek that Tabata-san's departure was for "presonal reasons," adding that "Luminous Productions is a studio established with a goal to create a new IP, so we are now working to develop a completely new title."
Are you disappointed you won't get the chance to see the alternate ending to the FFXV saga we were promised in April? (We definitely are.) What are your thoughts on Tabata's departure and what's next for Square Enix? Let us know in the comments.