'Final Fantasy 7' Remake' The Power of Music Quest: Where to Find Tracks
The Final Fantasy 7 Remake is massive, with over 30 hours of content and side quests to keep you coming back for more. Like every RPG, FF7 is full of side quests and simple missions to keep you engaged and forgetful about the actual situation in the outside world. In the Sector 7 slums once you get to chapter 14, you'll need to collect some music discs for Betty. You may remember this young girl from early in the game when she lost all three of her white cats and it was up to Cloud and Tifa to find them. Finding cats with a giant sword isn't very practical, but you take the work when it's offered to you.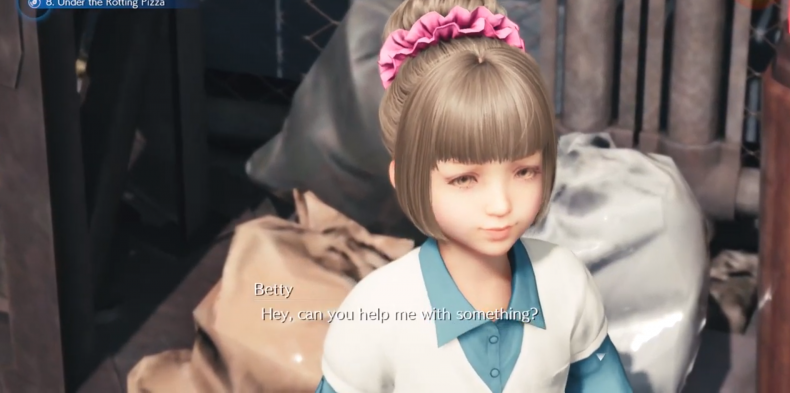 This time around, Betty is sad that the jukebox doesn't have enough music on it so it's up to your giant sword and Barrett's gun arm to find three tracks to soothe the savage middle schooler. Betty can be found at the Wall Market, hanging around all the other riff-raff that mull around in these areas.
The first disc you need to find is for "Good Night Until Tomorrow" and can be found at the hotel in Wall Market. From Betty's location, leave the alley and turn right onto the street where you will find the hotel. The disc holder is waiting in the right corner next to the door and is very happy to give you a spare copy of the song. Head back to the jukebox and play it for Betty who enjoys the calming tones of it all.
From there, you'll need to get the "Fight On" tape which can be found in the souvenir shop in the Coliseum in Wall Market for 50 gil. This shop is covered in very ugly plushies which sadly you cannot purchase, I'm sure Betty would love a terrifying doll to cuddle while she listens to your music.
Now there's only one more song to obtain before you can go back to planting bombs and making Shinra really angry with your work. The "Stand Up" music track can be found in the back alley to the left of the Honey Bee Inn. Climb under a fence and talk to the woman near the metal scrap and she will hand over the disc.
Once you have completed all three, you can head back to the jukebox and play each individual song. You'll know it's the right one because Betty will make a comment or a passer by will say something inspirational.