Square Enix revealed new details about Final Fantasy VII Remake during its E3 2019 press conference on Tuesday evening. After a brief teaser featuring new footage of Aerith, producer Yoshinori Kitase thanked the fans for their patience, and promised a version of FFVII that is "more beautiful and captivating than ever before."
"Remaking Final Fantasy VII has allowed us to dive much different into the characters and the world than ever before," Kitase added, before noting that the remake would be split into two discs, and will include an expanded version of the Midgar storyline.
"We will not dissappoint your expectations," Kitase promised, before showing a detailed video showcasing the game's spiffed-up new combat system. Judging from the footage, it seems to bridge the gap between the beloved turn-based combat of the early Final Fantasy games with the more action-oriented battles of recent entries like XV.
Tactical Mode seems to be the new version of Limit Break. After filling a gauge by causing enemy damage in battle, Cloud and his companions can trigger the mode and dole out special attacks, including eye-grabbing versions of old favorites like Cross-Slash and Braver. The footage also hinted at the return of the Materia system, though it's not clear whether it will work exactly like the older version.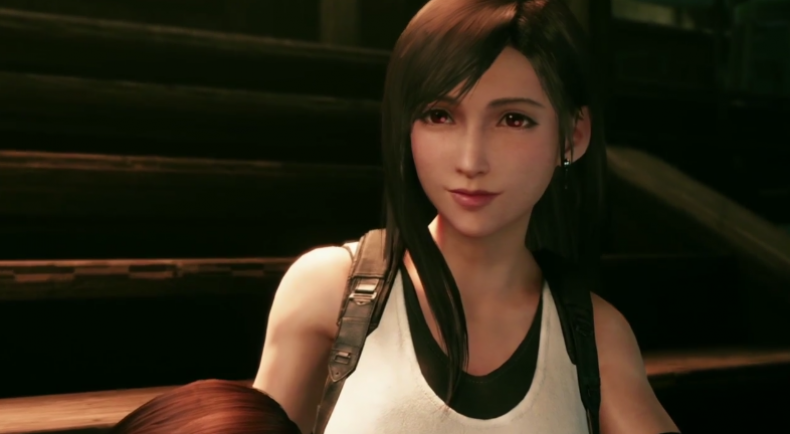 The presentation concluded with a longer version of the trailer shown at the FFVII concert earlier this week, which featured footage of the iconic motorcycle battle that was a centerpiece of Cloud and friends' escape from Midgar. We also got to see our first glimpse of Aerith and Tifa in battle.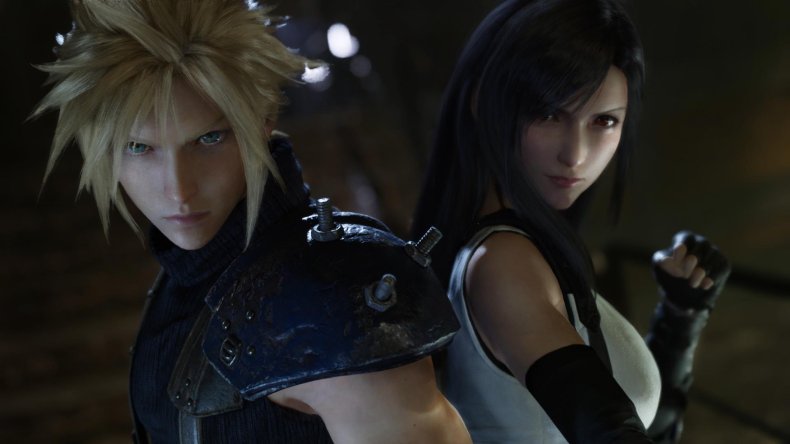 In one particularly gorgeous scene, we see Tifa and Cloud having a quiet chat in her bar, Seventh Heaven. In the final moments, we also see a tense encounter between Cloud and Sephiroth, hinting that we'll learn a lot more about their connection in the Midgar sections of Remake than we did the first time around.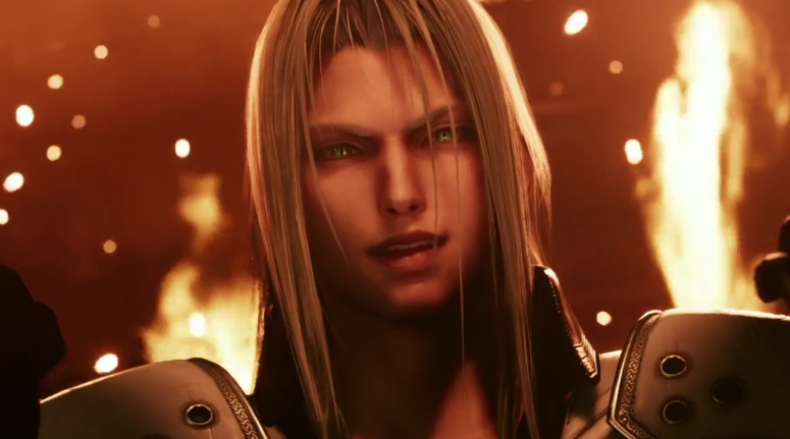 The remake was first announced with a shocking reveal during Sony's 2015 E3 press conference, which sparked a million histrionic reaction videos. Square Enix has shared precious little new footage about the game in the intervening four years, until last month's State of Play presentation from Sony. Still, all we've seen of FFVIIR comes from the earliest moments of the story, and we haven't gotten a glimpse of the world beyond the urban dystopia of Midgar. It now seems like we won't for some time.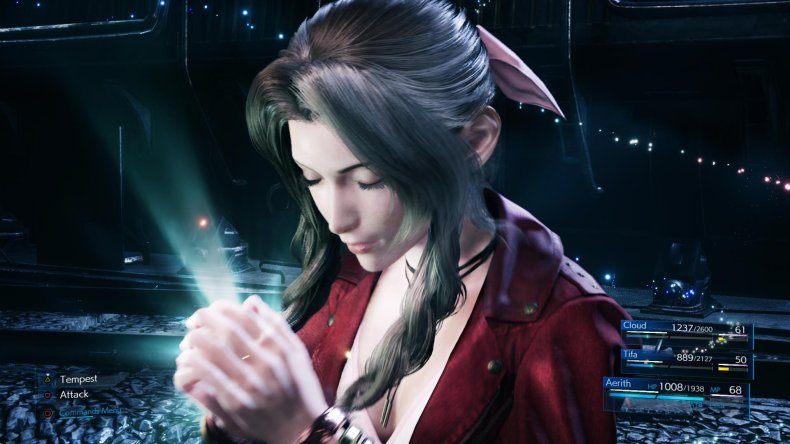 Final Fantasy VII tells the iconic⁠—if often rather nonsensical—tale of Cloud Strife, a spiky-headed boy who joins a corporate-funded military group to impress a cute girl. Joining forces with a mutant tiger, a dude with a gun where his hand should be, a lovesick vampire and several other weirdos, Cloud must thwart the evil ambitions of a silver-haired fellow named Sephiroth, who might be an alien (and also might be dead).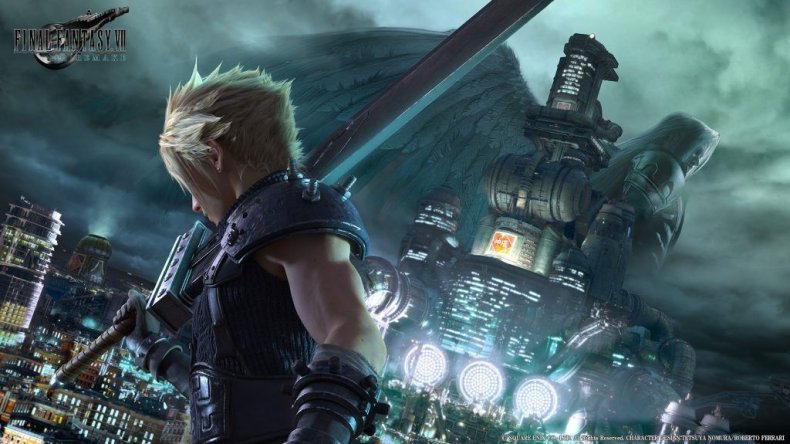 At this point, it's not clear how closely Remake's story will hew to that of the original game. It's likely the game's core story elements will stay the same, but also reasonable to expect that certain twists and turns along the way—like the role of Jenova, for instance—will see some refreshed translations and a more up-to-date script. Back at E3 2015, game director Tetsuya Nomura told Japanese gaming weekly Famitsu that "there will be more plot devices in the story" and that the remake would be more than just a visual overhaul.
Final Fantasy VII Remake debuts March 3, 2020. There is a playable demo of the game available at E3 2019 this week at the Square Enix booth. The game is available for pre-order in three editions. The standard edition includes the game for $59.99. The deluxe edition includes a splashy Sephiroth steelbook cover, hardback art book, a mini-soundtrack CD and two DLC summons for $79.99.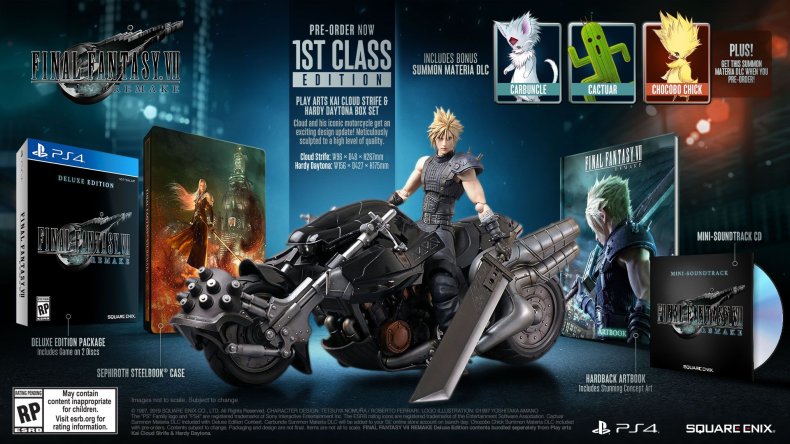 The super-fancy 1st Class edition includes all the goodies from the deluxe edition, but adds a Play Arts Kai figurine of Cloud and the Harley Daytona motorcycle he steals from Shinra Headquarters. The 1st Class edition retails for a hefty $329.99, and is available exclusively through the Square Enix online store.
Update (10:48 p.m. ET): An earlier version of this post and the summary incorrectly stated that the game would be split in two, with the second half to be released at an unspecified later date. The complete game will consist of two discs and release on March 3, 2020. Further details have been added regarding the 1st Class edition.
Update 2 (6/11 5:08 p.m. ET): Kotaku editor Jason Schreier reports that the game will, in fact, be spread over multiple releases, with the March 2020 release date just for the first of several installments to debut at later dates. The team at Square Enix doesn't even know how large the project will be just yet. The first part of Remake is a two-disc game and will take place entirely in Midgar.