'Final Fantasy VII Remake' Theme Revealed in New Trailer & Cloud Is Standing There
A new trailer for Final Fantasy VII Remake premiered Friday, timed to the PlayStation original's 1997 release date. While highlighting 2020 takes on FFVII enemies and allies like Red XIII, Jenova and Sephiroth, the Final Fantasy VII Remake "Theme Song" trailer also debuts "Hollow," an ending theme to the game byseries composer Uematsu Nobuo, with vocals by Morita "Yosh" Yoshiya of Japanese emo rock band, Survive Said the Prophet.
A behind-the-scenes video of the recording sessions for the new theme was also released alongside the Remake theme song trailer, offering insights into the new approaches Uematsu is taking and the dramatic evolution of video game music since he first scored the 1997 version of Final Fantasy VII.
"Rather than being proper, maybe it can be a bit more of an outlaw," Uematsu tells Yosh. "Like Cloud, I think his character is like that."
Throughout, Uematsu indicates how much he wrote the theme song to fit most closely to Cloud, who even features in the visual inspiration Uematsu describes for "Hollow."
"There's a rain pouring over a barren, empty place," Uematsu describes. "And Cloud is standing there."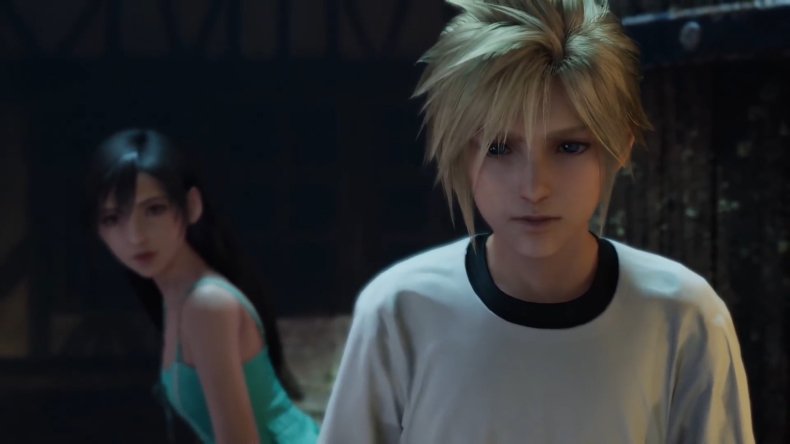 When Uematsu composed the original FFVII he was limited to the PlayStation's internal sound sequencer, since CD-quality music tanked the game's performance and increased loading times too much. But Uematsu pushed the limits of MIDI regardless, particularly in the game's final battle, where the song "One-Winged Angel" included digitized vocals.
"The things he wants from music, you know, what engineers would call analog," Yosh said of Uematsu's approach. "He really looks for that human touch."
Uematsu was also narratively inventive for the era in video games, moving beyond the Mario approach by composing a game's score like a movie soundtrack, rather than writing cohesive, game-wide themes.
"Nobody could have possibly known what the right answers were back then. I just sat alone in my room each day and wordlessly took on musical challenge after new musical challenge, setting no final goal for the finished game, and without even listening to the opinions of others," Uematsu said in composer comments released by Square Enix Friday. "And the result of that was the soundtrack to Final Fantasy VII."
Beginning with 1987's original Final Fantasy, Uematsu has scored many of the games in the Square Enix series, but frequently split duties or stepped back entirely after Final Fantasy IX. Final Fantasy VII Remake will be scored by Suzuki Mitsuto and Hamauzu Masashi, with Uematsu indicating in the composer comments that "Hollow" was his only new composition for Remake.
"I think we've managed to create a historical collaboration of Japanese music and Japanese games, so please check it out!" Yosh said.
"Hollow" also features lyrics by Nojima Kazushige, translated by Ben Sabin and John Crow.
Final Fantasy VII Remake releases on PlayStation 4 April 10.