'Final Fantasy XIV' Fan Fest 2019: Yoshida Keynote Revals Shadowbringers Release Date, 'NieR'-themed Raid, New Game Plus and More
A dreary, drizzly day in Paris wasn't enough to deter legions of Warriors of Light from showing their love for Square Enix's long-running smash MMORPG, Final Fantasy XIV, on Saturday morning. The first day of FFXIV Fan Fest 2019 kicked off with an extended teaser trailer for the Shadowbringers expansion keynote address from the game's director, Naoki Yoshida, during which he revealed that Shadowbringers will launch July 2, with early access beginning June 28. Preorders will begin February 6. (That's soon, guys!)
Yoshida also revealed a ton of other details and surprises about Shadowbringers, so let's jump right in to all the announcements from Fan Fest 2019!
New Gunbreaker Job Class
One of two new job classes coming to FFXIV is the Gunbreaker. (Yoshida's attire for the keynote was inspired by the job class, and he had a few hiliarous complaints about how heavy and hot the ensemble was. "I want a beer," he said in English at one point.) "The Gunbreaker will be our fourth tank," he explained, adding that the class's main weapon will be the gunblade. "But this gunblade will be different from the ones the Garlean Empire uses. The design for these gunblades will be closer to that used in FFVIII."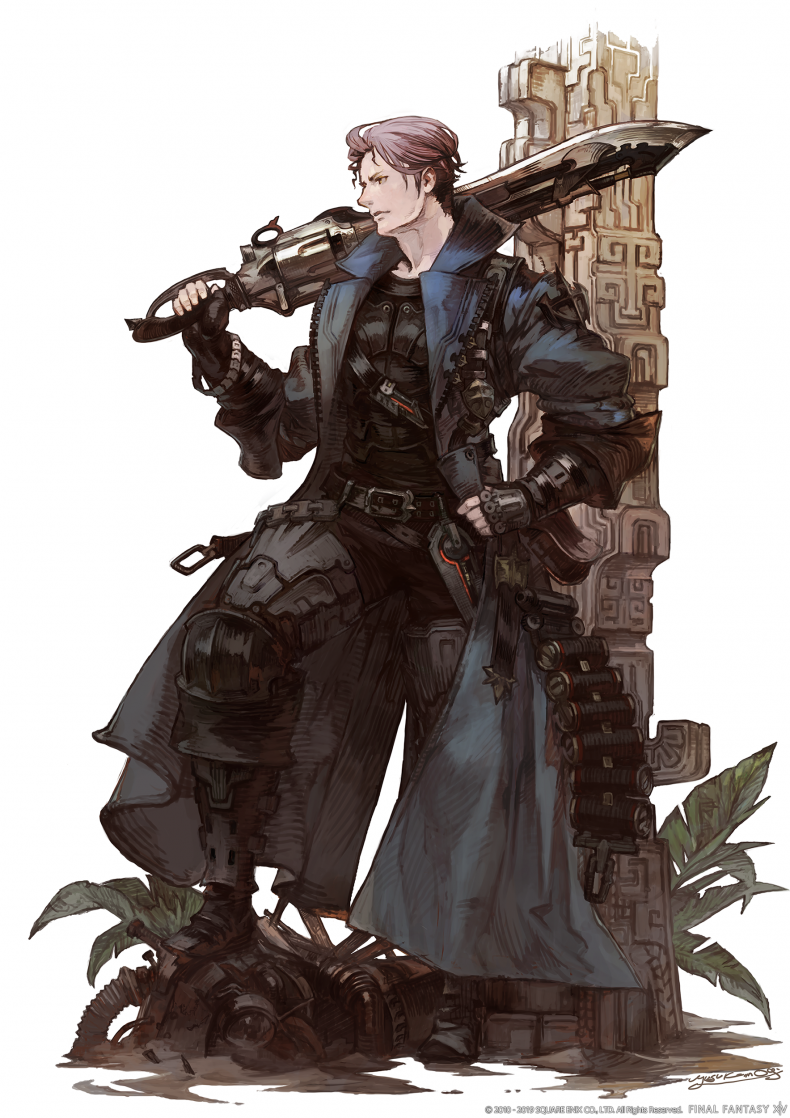 The gunblade will not fire projectiles, but instead deal slashing damage. Their weapons are loaded with magicked ammunition, and the job quest will begin in Gidania. Players must be level 60 or higher and have the Shadowbringers expansion to access the class.
Version 5.0 Update
As the keynote shifted to the Version 5.0 update, Yoshida asked crowd where they expected the Warrior of Light to head next. When one fan answered "the moon," he responded, "Maybe that's 7.0!"
Yoshida then revealed new information about two new areas coming to the game. "With every expansion, one thing we can always expect is massive new areas, and in that respect Shadowbringers will not diasppont," Yoshida said.
The game's director then shared new footage of two new areas coming to the game. "These two areas are very different and unique from what we've seen in Final Fantasy XIV before," he said.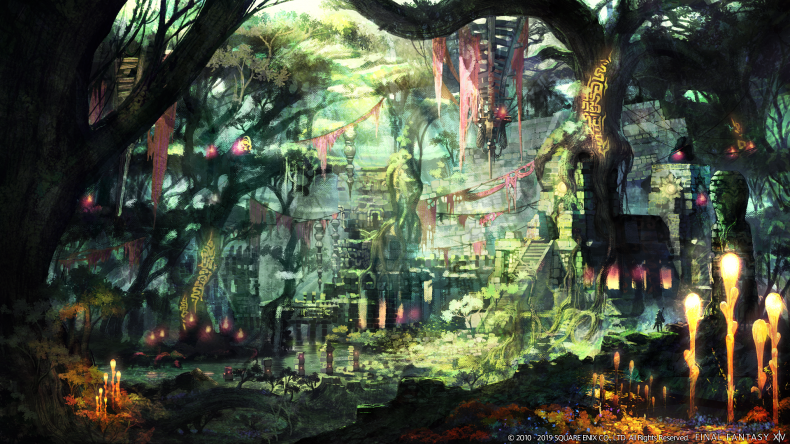 The Rak'Tika Greatwood is verdant forest with wooden structures and winding trees, amongst which are scattered illuminated temples. "Massive trees, these towering sentenels, create a canopy above the forest floor. Flying mounts will allow you to navigate." Yoshida said, adding that this is where the events of the trailer take place. "Rak'Tika is home to some unique residents," he said, prompting murmurs from the crowd. "Let's move on to the next area," he said cheerfully, declining to elaborate.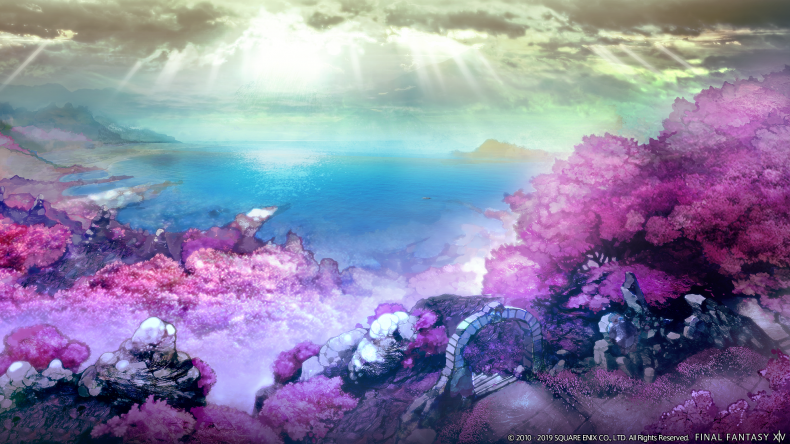 Il Mheg, the Realm of the Pixies, features soaring grassy mountains and cascading waterfalls towering above apple-green plains. Spindly, art nouveau-inspired bridges and structures bask beneath pastel skies and sorbet-hued foliage.
Yoshida explained that the Pixies are known to be tricksters: "they bring lots of strange things to the warrior of darkness' adventures," he said, adding, "they're not as much a pain in the ass as the moogles."
New Level Cap
Shadowbringers will raise the level cap from 70 to 80. Yoshida says the development team also plans to conduct major battle system maintenance. This includes potentially removing and combining actions, and possibly removing TP from the game.
"The original plan was to talk about some of those things here, but it would have extended the keynote by at least an hour, so we will reveal that information at a different time," Yoshida said. An announcement on changes for the battle system is planned for May.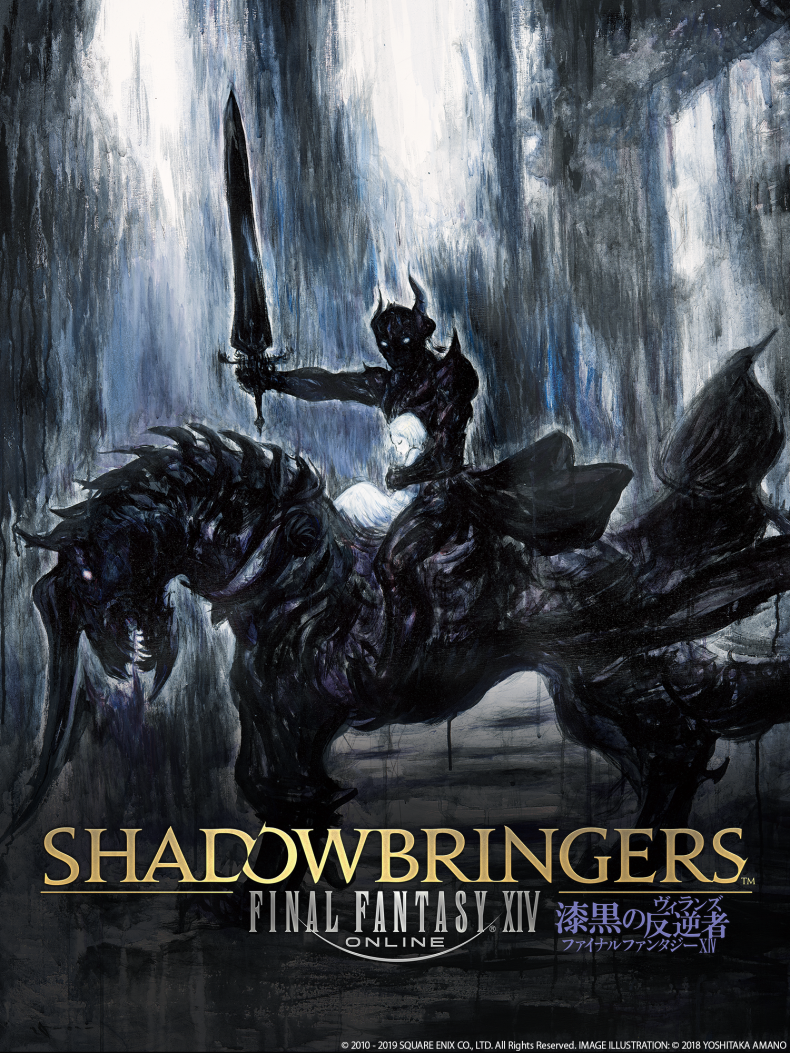 Nine New Dungeons and High-End Raids
"We're currently in the process of creating" nine new dungeons, Yoshida explained, but could not provide more specifics on that because "one very important part is not finished." He added that they had hoped to announce it today, but that did not turn out to be the case. "We plan to make it very excting and have an intense Final Fantasy feel. Please look forward to the announcement in Tokyo."
Restoration of the Holy See of Ishgard
This endgame story content for Disciples of the Land and Hand will continue throughout the game's 5.x updates. "Of course, this won't just be doing tasks, there'll be a storyline attached to it. So perhaps you'll get to see some of those characters you loved from Ishgard," Yoshida teased.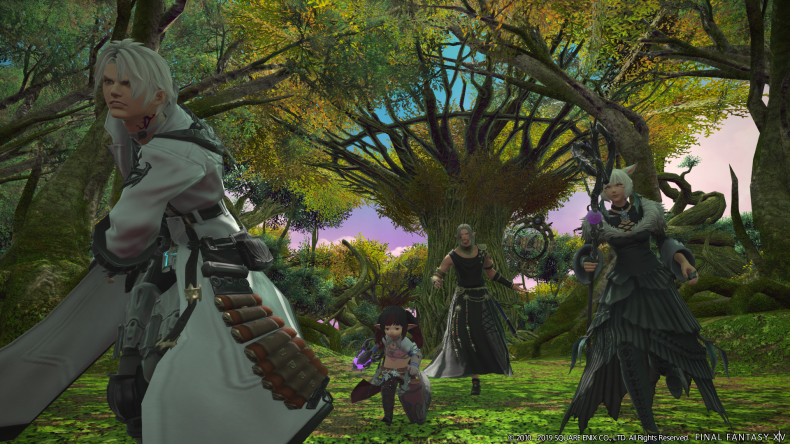 Trust System - NPC Battle-Assist System
Final Fantasy XIV will also be adding a new feature to appeal to solo gamers. Based in part by the system of the same name from FFXI. Shadowbringers' version of the Trust System "allows you to partner up with some of the main NPCs in the story and battle together," Yoshida explained. The existing party matching system will remain in the game, this tweak merely aims to expand the appeal to those who prefer to explore Eorzea solo.
New Game Plus
Among the most surprising reveals of the Fan Fest 2019 keynote was the announcement of a New Game Plus mode, which doesn't exist in any other MMORPG. "With New Game Plus, players can replay past main story events, or job quest events, with their current gear and level. Then they can go back to the main story with nothing having changed," Yoshida said. "This is something you're not going to see in other MMORPGs, that is unique to Final Fantasy, because it's such a story-rich game."
World Visit
This feature will allow players to move freely between servers and travel anywhere in the Final Fantasy XIV world, including to in-game areas that had previously been region-locked. The dev team plans to release this feature in patch 4.57.
"Final Fantasy XIV is not about just adding new content, but about improving the feel and systems of the game," Yoshida explained.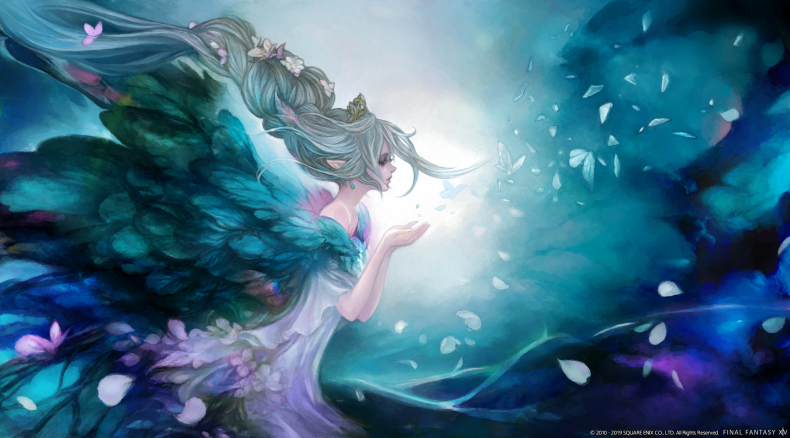 New Beast Tribe and Primal
Pixies are the new Beast Tribe coming with Shadowbringers. Yoshida described them as "extremely talented in magic and notorious for being tricksters, but not as bad as the moogles." Pixies speak a new language known as Fae, created by Yoshida for the game.
Titania is the new Primal coming to the game in Shadowbringers. With gorgeous blue wings reminiscent of a monarch butterfly, she looks rather different from other Primals in FFVIV. Yoshida explained that "one of the major plot points in Shadowbringers" is why you will need to challenge this primal. "In only five months, you can find out the truth behind it," he teased.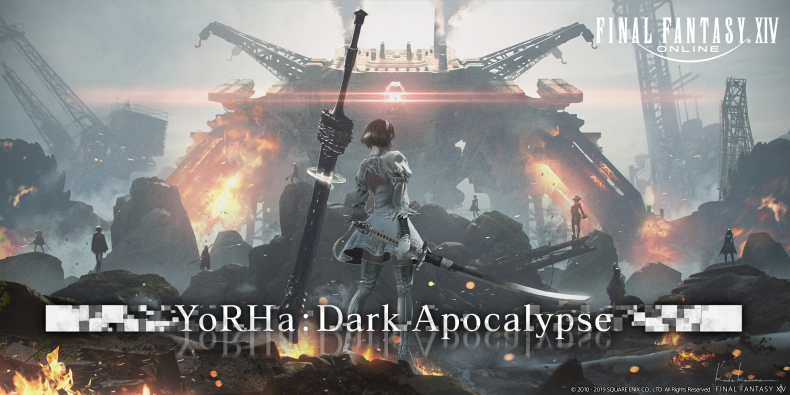 New Alliance Raid -- YoRHa: Dark Apocalypse
The most surprising announcement from Yoshida's keynote came with the announcement of a collaboration with two guest creators: Yosuke Saito from the NieR and Dragon Quest series, and Yoko Taro from NieR. The NieR-themed raid will be known as YoRHa: Dark Apocalypse.
Yoshida then played a special message from Saito and Taro. "I suppose you could say Yoshida-san has lost his mind." said Taro, of the planned collaboration. Taro also said the only Final Fantasy games he's played are XII and II. Yoshida insisted he will make both collaborators play all of the XIV expansions.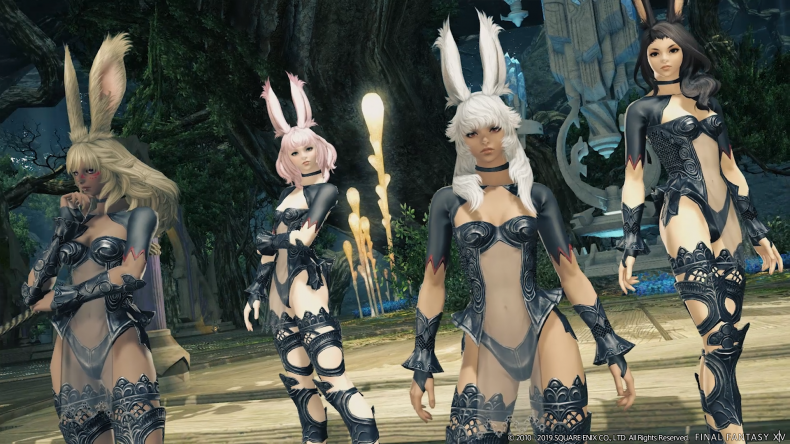 New Race
Yoshida announced the new and "most likely final playable race" for Final Fantasy XIV is the Viera, from Final Fantasy XII and the Ivalice series. Yoshida explained that their long ears will require changes to how helmets work in the game, before showing a in-game clip of the new race in action. (They're pretty much the sexiest bunny girls you've seen in your life, with lots of exposed flank and cutout bustiers. Sure, they're a little fanservicey, but gorgeous, too.)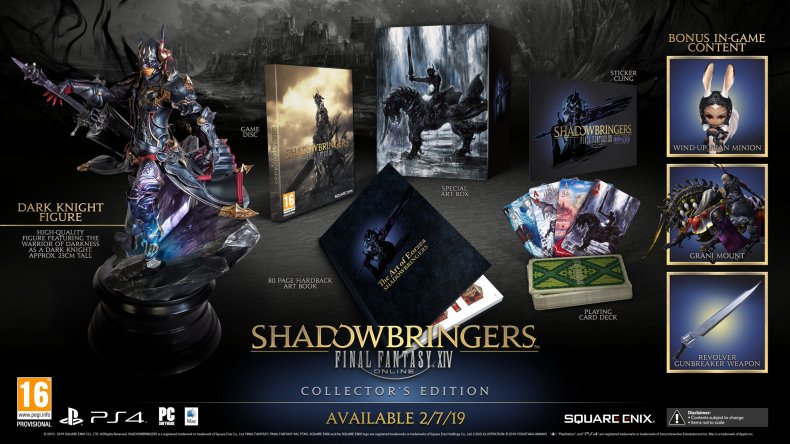 Collectors Edition
Yoshida wrapped up the keynote with details on the Collector's Edition of the upcoming expansion. Among other goodies, the bundle will contain The Art of Eorzea: Shadowbringers hardcover book. "All the secrets of Shadowbringers are contained within!" joked Yoshida, before opening the book to reveal a swath of blank pages. "They're still doing the art, OK?!"
The Shadowbringers collector's edition will also include a high-quality figurine of the Dark Knight, who wields a large sword stands astride a jagged lavender crystal. The bundle also includes an exclusive deck of playing cards, with unique key art--some by Yoshitaka Amano--for all iterations of the game. The presesntation box for the Collector's Edition also features imagery of the Warrior of Darkness by Amano.
Fans can get exclusive in-game items with Collectors Edition, too. These include the Wind-up Fran minion, the Grani mount and the Revolver (like Squall's weapon in FFVIII and a Gunbreaker main arm).
Preordering any edition of Shadowbringers gets you the following in-game bonuses the Baby Gremlin minion and Aetheryte Earring, which grants a 30 percent experience bonus. It will not affect your item level, no matter which level you equip it at. These items will be available before the launch of Shadowbringers, during the 4.x update series, allowing players to prepare for the launch of the new expansion.
Yoshida acknowledged there were still unanswered questions about Shadowbringers: which town will be the new expansion's hub? What is the second job class? Where will Warrior of Light head next? Yoshida said fans can expect new info and the final details about the upcoming expansion March 23, in an event to be broadcast live from Tokyo.
Which of the announcements are you most excited about? Let us know your thoughts on all things Final Fantasy XIV in the comments.