Play 'Final Fantasy XIV' Expansion Pack 'Heavensward' Free, Here's How
Owners of Square Enix MMORPG Final Fantasy XIV Online Starter Edition will be able to download the game's first expansion pack, Heavensward, for free, for a limited time.
First released in 2015 Heavensward follows directly from the main Final Fantasy XIV campaign, A Realm Reborn, which came out in 2013 as a reboot of the original, poorly received Final Fantasy XIV released in 2010. Set in the world of Hydaelyn, Final Fantasy XIV takes place in a region called Eorzea. Final Fantasy XIV has more than 15 million players worldwide as of April 2019, according to FFXIV Census.
In Heavensward, you play as the Warrior of Light, journeying to Ishgard, a city-state of Eorzea built high in snow-covered mountains. The gates to Ishgard were previously sealed. There, you'll work to end the thousand-year conflict —the Dragonsong War— between the Ishgard theocracy and the dragon horde of Dravania.
Heavensward lifts the Final Fantasy XIV level cap to 60 and adds new areas to the existing game. Heavensward also adds flying mounts and a new playable race (the Au Ra, who have dragon-like horns). Heavensward also includes new PvP modes. But beyond new environments and maps, the biggest Heavensward addition to FFXIV 's base game are three new jobs: Dark Knight, Machinist and Astrologian.
The Dark Knight wields a greatsword and can use MP-draining skills to enhance their combat damage. They also have a buff called The Living Dead, which will let the tank-class Dark Knight remain at 1 HP and keep fighting, soaking damage that will likely kill them once the buff wears off. The Astrologian uses a deck of cards to support other players, dealing out healing and buffs. Finally, there's the Machinist, who can set up turrets.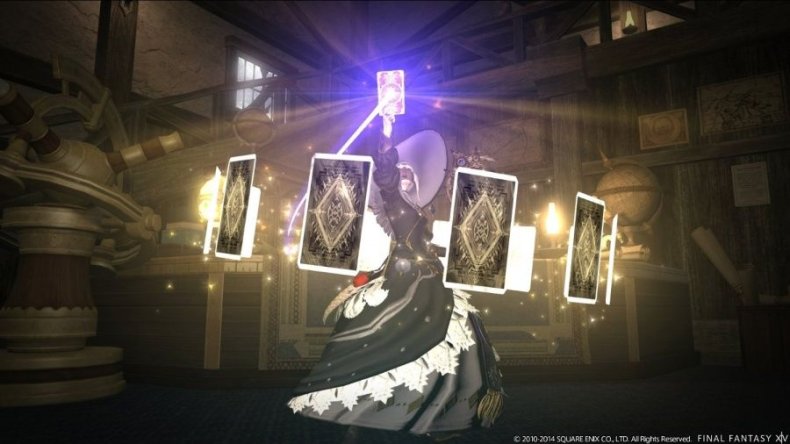 The free Heavensward release includes all additional content added via updates as well, such as dungeons, trials, raids and new quests. A substantial expansion, Heavensward approximately doubles the game content introduced in A Realm Reborn. To play Heavensward, you'll first need to beat the main story quests from A Realm Reborn.
The Heavensward expansion was followed by 2017's Final Fantasy XIV: Stormblood. A third expansion pack, Shadowbringers, is expected out July 2 and will take players to the new world of The First Star and raise the FFXIV level cap to 80.
Anyone who owns Final Fantasy XIV: A Realm Reborn for Windows, Mac or PS4 will be able to add Heavensward to their account for free until June 27. Lapsed players are also encouraged to return to Final Fantasy XIV with Square Enix's "Free Login Campaign," which allows former players of the game to login and play for free for a seven day period. The free login offer ends June 17.