'Final Fantasy XV' Justice Monsters Five Reward List: Every Item and Accessory You Can Win From the Pinball Minigame (PC Version)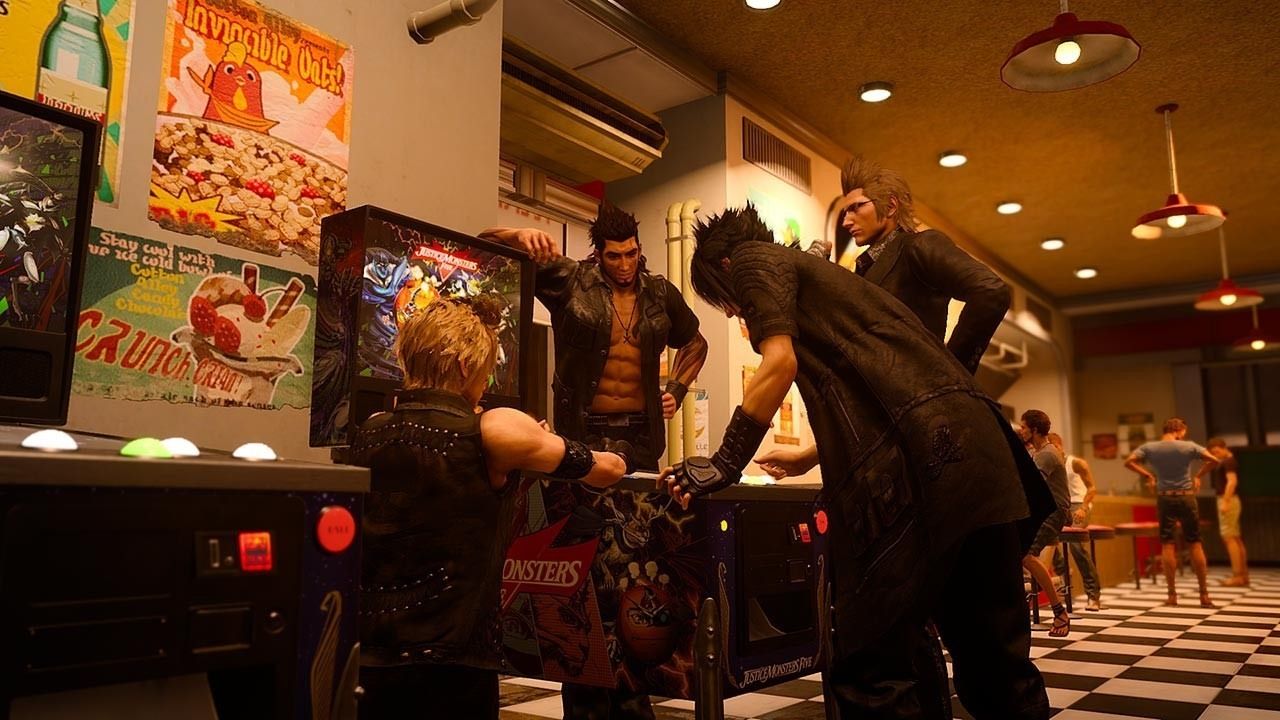 Looking for a way to get powerful equipment for Noctis and his friends in the early hours of Final Fantasy XV? Investing a little time playing the Justice Monsters Five minigame at the Crow's Nest and in Altissia will let you get some seriously OP items quickly. Here's a full list of all the prizes you can win.
Justice Monsters Five is a pinball minigame in Final Fantasy XV where you "fight" against enemies and bosses, depleting their HP with shots and combo hits for prizes like curative items or equippable accessories.
The rewards you obtain by playing Justice Monsters Five depend on the number of Chocobo Chests you manage to collect. (They're the golden rectangles that pop up in the slot-machine reels when you clear a round.) You can only get one prize per game, so if you earn 99 treasures you will only get the top prize, not every reward up to and including 99.
FFXV Justice Monsters Five Machine Locations: Where To Find Them
All of the Justice Monsters Five Machines are easily found in each Crow's Nest Diner. There are five outposts of the restaurant in Lucis: Longwythe Rest Area, Coernix Station - Alstor, Cauthess Rest Area, Talepar Rest Area and Old Lestallum.
The sixth, most costly version of Justice Monsters Five can be found in the Alessio cafe in Altissia. This swanky pinball machine will set you back 10,000 Gil per game, so we'd recommend only advanced players hit this one.
FFXV Justice Monsters Five 10 Gil Rewards List (PC)
2 Chests = Potion
5 Chests = Hi-Potion
10 Chests = Elixir
15 Chests = Hi-Elixir
20 Chests = Garnet Bracelet (Strength + 30)
25 Chests = Carbon Bangle (Max HP +150)
30 Chests = Amethyst Bracelet (Strength + 35)
35 Chests = Titanium Bangle (Max HP +200)
40 Chests = Mega Phoenix
45 Chests = Sapphire Bracelet (Strength + 45)
50 Chests = Gold Bangle (Max HP +500)
60 Chests = Oracle Earring (Magic +200)
70 Chests = Ruby Bracelet (Strength +50)
80 Chests = Platinum Bangle (Max HP +700)
90 Chests = Emerald Bracelet (Strength +60)
99 Chests = Celestriad (reduces elemental magic damage by 30 percent)
FFXV Justice Monsters Five 10,000 Gil Rewards (PC)
With the high-roller pinball machine in Altissia costs a whopping 10,000 Gil per game, it's no surprise the rewards significantly exceed those pulled from the regular machine.
5 Chests = Hi-Potion
10 Chests = Mega Phoenix
15 Chests = Ruby Bracelet (Strength +50)
20 Chests = Platinum Bangle (Max HP +700)
25 Chests = Emerald Bracelet (Strength +60)
30 Chests = Centurion Bangle (Max HP +1000)
35 Chests = Mystic Circlet (Magic +250)
40 Chests = Moogle Charm (EXP +20 percent for equipped member only, doesn't stack)
45 Chests = Legatus Bangle (Max HP +1200)
50 Chests = Blue Diamond Bracelet (Strength +80)
60 Chests = Gigas Bangle (Max HP +1500)
70 Chests = Assist Suit (Strength +30, Max HP +500, Vitality +20)
80 Chests = Dark Matter Bracelet (Strength +100)
90 Chests = Onion Bangle (Max HP + 2500)
99 Chests = Wind-up Lord Vexxos (sell for 500K Gil, or use to craft Maxicast spells, which "limit break" damage from 9,999 up to 99,999)