The last day on the job as president would typically be a prime opportunity for members of the outgoing commander-in-chief's party to tout policy achievements and celebrate accomplishments.
But for President Donald Trump—consistent with his four years in office—his departure from public service has been anything but normal.
The GOP that Trump was leaving behind was caught in a civil war of its own making, faced with a choice between defending the outgoing president against impeachment charges or using the opportunity to distance themselves from a politician exiled from social media with a suddenly toxic presence for many in his party.
"The mob was fed lies," Senate Majority Leader Mitch McConnell (R-Ky.), once a staunch ally to Trump, said in a floor speech Tuesday. "They were provoked by the president and other powerful people."
In the waning days of his presidency, Republicans on Capitol Hill were forced to field questions about his alleged dangerous conduct that helped fuel an attack on their very institution as Trump prepared to break yet another norm: flouting calls for unity by snubbing his successor's inauguration.
In contrast to the first Trump impeachment, when they dismissed the charges as "dead on arrival," GOP senators have been far less willing to reject outright the single charge of "incitement of insurrection" sent by the House. The willingness to even entertain the notion was yet another sign of the diverging views within the party as members grapple with how to handle Trump's exodus from the nation's capital.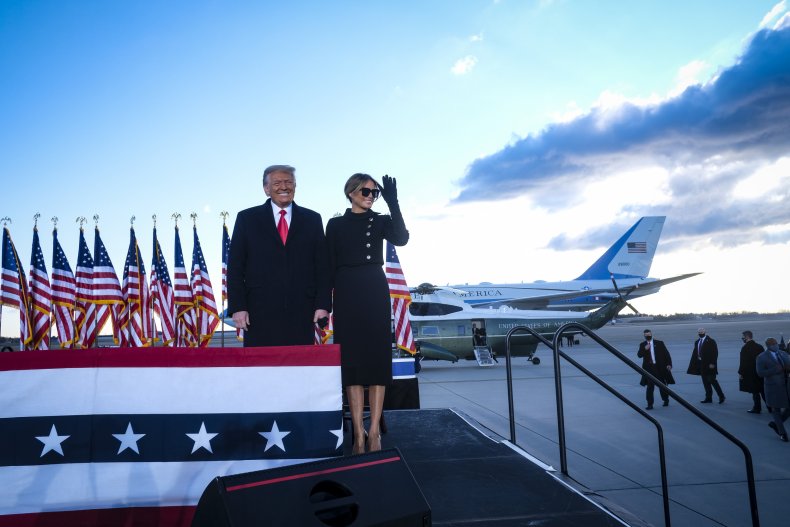 "I've heard people talk about a vote of conscience," said Sen. John Cornyn (R-Texas), a top member of the Republican Conference. "I think that's a good way to put it."
Sen. Roy Blunt (R-Mo.), a leadership member who is among those in charge of the inauguration, steered clear of any topics other than those related to that event, which is being held amid heightened security threats after the Jan. 6 riot that occurred on the very stage where President-elect Joe Biden was about to be sworn in.
"I have no thoughts on anything except the inauguration tomorrow that I'm in charge of," he said Tuesday.
Trump will not attend Biden's inauguration, marking the first such time in more than 150 years that a president will spurn his successor's inauguration. Instead, he and first lady Melania Trump embarked from the White House one final time and flew on Air Force One to their South Florida Mar-a-Lago residence hours before the ceremony. Meanwhile, McConnell and House Minority Leader Kevin McCarthy (R-Calif.) were among bipartisan congressional leaders who attended church service with Biden.
Trump offered remarks to supporters at Joint Base Andrews prior to disembarking. Although his prepared speech mentioned Biden and Vice President-elect Kamala Harris, he ultimately did not reference either by name.
"I wish the new administration great luck and great success," Trump said. "Goodbye. We love you. We will be back in some form."
Many Democrats have in essence said good riddance. Biden has said Trump's decision not to attend his inauguration was "one of the few things we have ever agreed on."
The cordial inauguration process is meant to represent the peaceful transfer of power from one commander-in-chief to another. Given the heightened tensions in the wake of the Capitol riot—for which many Republicans have said Trump is at least partially responsible for—refusing to show a basic sign of unity was another aspect of his tenure that did not sit well with some in the GOP.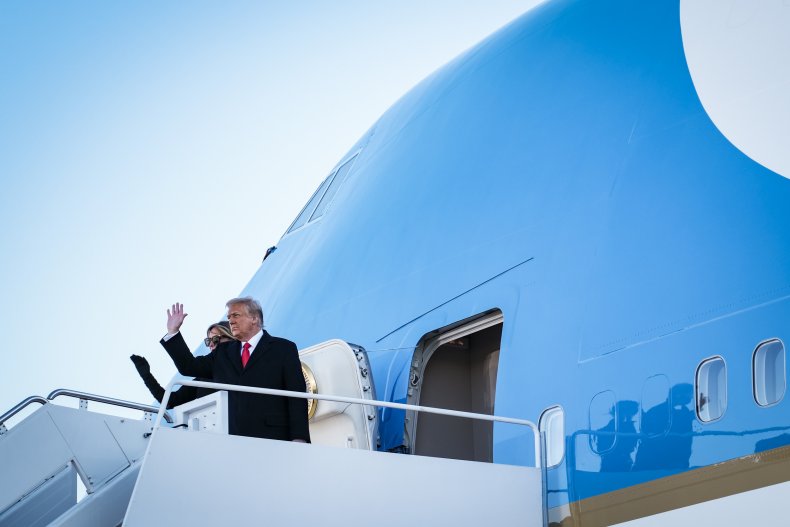 "I had publicly said he should attend," Sen. Roger Wicker (R-Miss.) said. "The powerful image of one chief executive and one commander-in-chief freely bowing to the will of the people is a powerful signal that we like to send to the rest of the world."
Other Republicans offered full-throated defenses of Trump, aligning themselves with those who feel impeachment is splitting the country further apart—far more than Trump could ever do by simply skipping the inauguration or through his words.
Sens. Joni Ernst (R-Iowa) and Roger Marshall (R-Kan.) labeled the forthcoming post-office impeachment trial "unconstitutional."
"The only reason I can say is that Democrats want to further divide the nation," Ernst said. "I'm asking President-elect Joe Biden: Please, let's move forward."
Democrats' endeavor to convict Trump is twofold: hold him accountable for his bombastic rhetoric leading up to the riot—not only in the hours before, but the days and weeks prior, too—and bar him from ever holding federal office again.
It remains to be seen whether enough Senate Republicans will vote to find the departing president guilty. But it's clear that although the party he leaves behind is bitterly divided as it charts a new path in a post-Trump era, he will continue to have allies in Congress who will undoubtedly make conviction a tough selling point for many.
"Not only is it unconstitutional to impeach a president after he leaves office," Marshall said in a statement, "I firmly believe an impeachment effort at this juncture will only raise already heated temperatures of the American public and further divide our country at a time when we should be focused on bringing the country together and moving forward."