The Final Solar Eclipse of the Decade Will Create 'Ring of Fire' on December 26: How to Watch Live Online
The last solar eclipse of the decade will take place the day after Christmas, when stargazers will be able to watch the sky light up with a "ring of fire."
A solar eclipse is where the moon passes directly in front of the sun, blocking out its light.
The celestial event can be viewed in person from locations across Africa, Asia and Australia—or on live stream by those watching from other parts of the world. Things will kick off in the early hours of December 26, 2019, or if you are watching in the U.S., the evening of December 25, 2019.
It is expected to start around 2:30 a.m. UTC (9:30 p.m. EST) above the Pacific, east of Japan and Papua New Guinea, and end around 8:05 a.m. UTC (3:05 a.m. EST) above Saudi Arabia.
The path of the eclipse will also cross Indonesia, Singapore, Sri Lanka, India and Oman. A partial eclipse will also be seen from northwestern Australia and northeastern Africa, as well as parts of Turkey and Russia.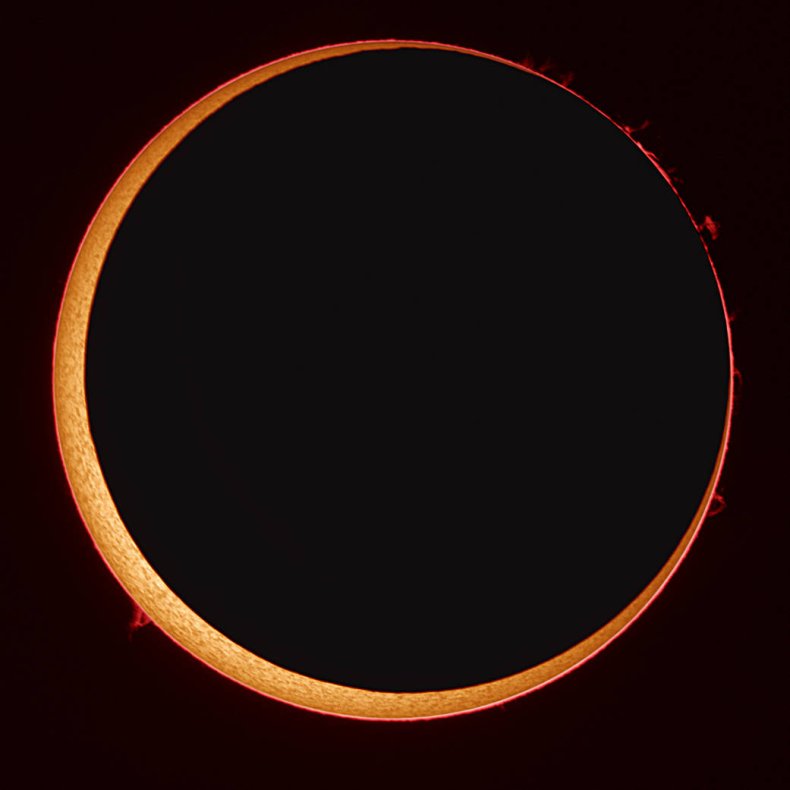 What is an annular eclipse?
The eclipse due to take place on December 26 is what astrologers call an annular eclipse.
For an annular eclipse to take place, certain conditions must be met. There must be a New Moon. This is when the moon is in its first lunar phase and it's least visible. The eclipse also has to take place when the moon is further away from Earth. This means it does not block all of the light from the sun, and instead leaves a thin ring of sunlight visible.
These are relatively rare events—the next annular eclipse is not due to take place until June 21, 2020, when it will be visible from parts of Africa and Asia. The next eclipse that will be visible from the U.S. will be on June 10, 2021.
Where can it be live streamed?
The Slooh Observatory, based in the Canary Islands, will be streaming the event as it takes place with commentary from Chief Astronomical Officer Paul Cox. The streaming is due to begin at 10 p.m. EST on December 25.
It can also be viewed through the Tharulowa Digital YouTube channel.
What next?
Solar eclipses like these occur in tandem with a lunar eclipse, preceding the latter by around a fortnight.
In this case, the eclipse will be followed by a penumbral lunar eclipse, which is due to take place on January 10-11, 2020. This event will be visible across Asia, Africa, Europe and Australia.
A penumbral lunar eclipse occurs when the moon passes through the Earth's outer shadow—and often looks like a Full Moon.