Sexy Bras for Everyone! Model Launches Lingerie Line for the Women Fashion Forgets
"The girl in this photo has not been retouched. The real you is sexy." It was 2014, and the black woman seductively lounging in a tangle of white bedding on a billboard over New York's Times Square was introducing Aerie, American Eagle's lingerie brand for teens and 20-somethings. What made the image newsworthy was the shape of the model: Rather than impossibly thin and Photoshopped, this young woman had attainable beauty—boobs and hips, even cellulite. The model was Amber Tolliver, and we'll get back to her in a minute.
A brief history of the plus-size revolution: Back in the '90s, People magazine twice featured plus-size model Emme on its 50 Most Beautiful People list. Since then, celebrities like the Kardashians, Tina Fey, Demi Lovato and Amy Schumer (among many others) have normalized curves and spoken out about their struggles with body image.
How has that good publicity for size diversity changed plus-size fashion? Not much. In fact, if you wear a size 16 or 18 (the average sizes of American women), you are shit out of luck—the selection of what you can buy (in style and quality and comfort) decreases with every number you go up. And that goes double for lingerie. The average American woman wears a size 34DD bra, but few options deliver the whole package: style, comfort and affordability.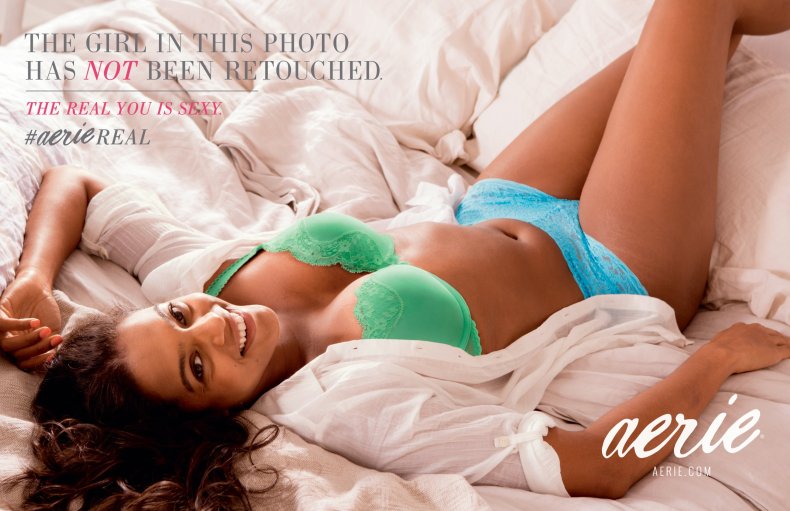 Which brings us quickly back to Amber Tolliver, the face that inaugurated the Aerie Real campaign. There she was with "boobs and hips and cellulite and stretch marks, and I was being put up in Times Square!" she says. "It was a beautiful representation of what girls should look like when you're a real person, not an airbrushed version of a real person."
Three years later, Tolliver is capitalizing on that feeling with the launch of her new high-end lingerie line for "feminine figures," Liberté, featuring bras ($75) and panties ($45) made from Italian fabrics that wick away sweat, prevent bacteria from growing, feel soft and actually fit women of all shapes and sizes. Her Kickstarter campaign was selected as a Project We Love.
If you're reading this and wondering why she doesn't start with, say, pants, then you're clearly not a woman with a large chest. "My real human size—not my model size—is a 32E. When I go into a lingerie store and ask, 'What do you have in my size?' They're like, 'Oh, nothing,'" says Tolliver, 31, who's spent the last 16 years modeling regular and plus-size lingerie for everyone from Spanx and Jockey to clients across Europe. "Or the bras are heinous and look like you dug them out of your grandmother's closet… Or I'm escorted to a dusty corner, and they pull out this drawer with an array of amazing options—in black, white and nude. Is that it? I get one drawer, black, white and nude? And the bras cover my clavicle because I guess if you're an E cup, you stop caring?"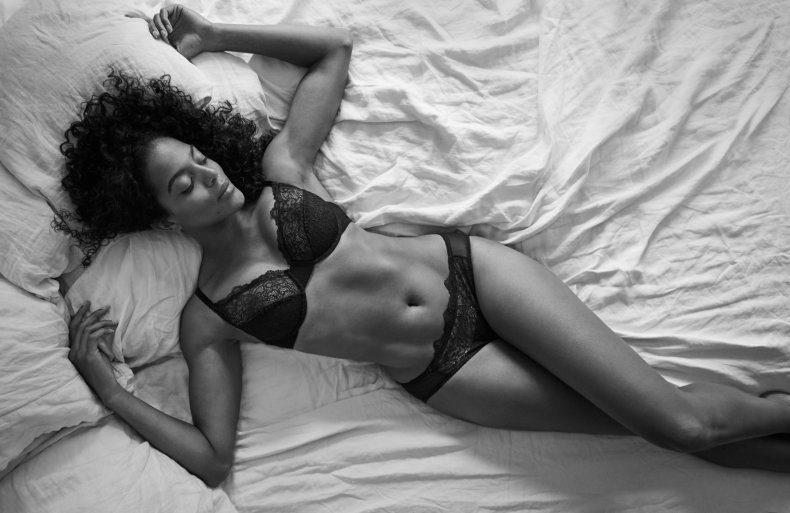 Designing and manufacturing bras that are sexy and fit diverse body types is more complicated than than it might sound. "Bras are architecture. You have to draft a blueprint. They are literally load-bearing structures," says Tolliver, who studied at Columbia College Chicago and the Fashion Institute of Technology. "When you go from a 32C to a 38F, there's a significant difference, style-wise. Larger cups require a wider band to support the girls, and that just looks different. On a 32C, a bra might have two hooks in the back, but a 38F will have three or four."
Materials pose another challenge. "The dilemma is, If I make a larger size and smaller size, what do I price the larger size at? It costs more to make it, so why don't you charge more for larger sizes? That's a slippery slope, because it gets into bias against bigger women."
Liberté bras, which range from size 30C to 38G and come in onyx, blush and midnight, have arrived at just the right time. Last year, sales of women's plus-size clothing rose 6 percent to $21.4 billion, double the rate of overall apparel sales, according to NDP Group. And in the next three years, plus-size sales could hit $24 billion. Other lingerie companies have entered this market, like Third Love (known for basics and T-shirt bras) and Adore Me (fast fashion), but as Tolliver says, "What makes Liberté different is that we're elevating lingerie's fit, style and craftsmanship—without compromising one for the other."
Tolliver financed the company out of her own pocket, passing up investors, twice. "I found myself in conversations with guys who'd say, 'Can I be the fluffer at the photo shoot? Can I be your quality control manager? Are you wearing your lingerie—can I see it?' I was like, 'Are these words coming out of your mouth? Check please! I gotta go.' Navigating the field of bringing on money and investments as a black young woman, it's like, Jesus!"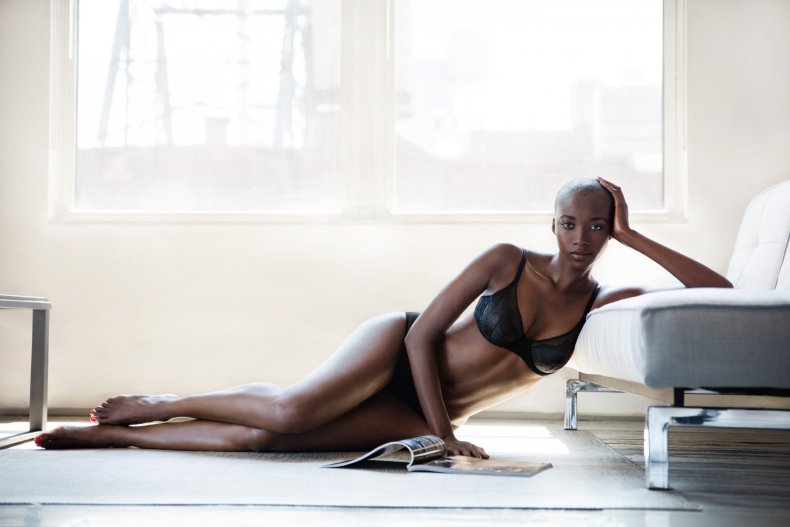 Tolliver grew up in the suburbs of Chicago, where her father, a mechanical engineer at Siemens, took her to casting calls. Her mother worked as a systems manager at the insurance company Willis. Tolliver signed with Ford Models at 15, then moved to New York City in 2008, when she was 22, right around the time her father was diagnosed with Stage IV throat cancer. (He's cancer-free today.) The news hit her hard, and she wound up gaining weight. That's when Ford's plus-size division noticed her. "I wasn't plus-size in the real world—I was probably an 8 or 10 at the time," she says. But she gave the market a try, and before long she was working more than she ever had, traveling to Germany, Croatia, Berlin and South Africa for jobs.
Then, in May 2013, her brother suddenly died. "I was a hot, flaming mess, and I didn't tell anyone," she says. Five days after his funeral in Chicago, she had to fly back to New York for a photo shoot for Target. Six months later, the Aerie Real campaign launched, and in the midst of those dark days, she became a national symbol. When emails from fans started pouring in, Tolliver realized she had to do something. "I woke up one day, and I was like, 'My brother is gonna haunt my dreams until I wake up and stop acting like the world is over!" Three years later, after conducting extensive market research and learning to navigate the Italian manufacturing world, she launched Liberté, along with a series of panel discussions about body image and women's empowerment.
"I'm a 36DDD, and having an uncomfortable bra is like having uncomfortable shoes. You just don't want to move around or engage or be in a good mood," says Melle Hock, a senior vice president at communications marketing firm Edelman, who worked on Dove's Real Beauty campaign and spoke at Liberté's inaugural event at Soho House in Manhattan. "Women don't want to do things when they're that uncomfortable—being athletic, standing up in front of a board room, sitting on a panel."
Tolliver chose the name Liberté for an obvious reason: It means "freedom" in French. "If a woman is uncomfortable, you can see it. You can feel it. It's like, Damn! Can I get you a jacket? But a woman who can sit, not pull and tug an article of clothing, and just engage and not worry about herself, because it's handled, that's the feeling that I want to give," she says. "I've never felt more free than when I stopped worrying about my body, my look, and could just be. Like, I'm good. I love how I am."