Fingerprint for Alien Life May Be Hiding in Earth's Atmosphere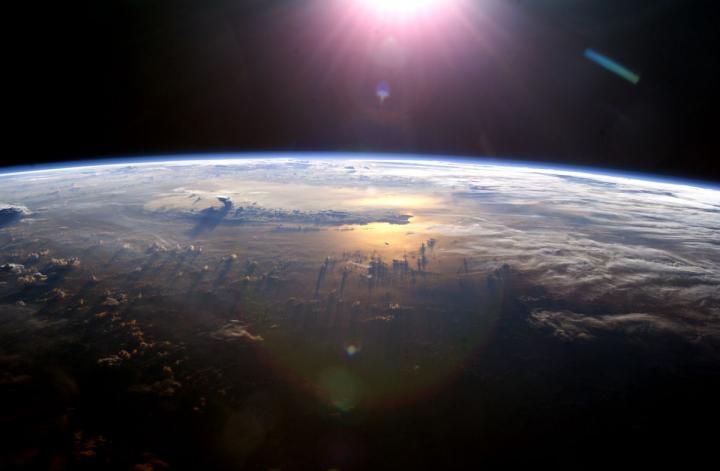 There's something weird happening in Earth's atmosphere because of life on Earth—and scientists think it could be the key to finding life lurking on other planets. That's the conclusion of a new study published in the journal Science Advances, which analyzes different types of nitrogen in the air.
Although humans are pretty partial to oxygen, the gas we need to breathe to survive, it's actually far outweighed in the atmosphere by nitrogen. That element comes in three different flavors; the most common is the lightest and the rarest is the heaviest. But, according to the scientists behind the new paper, that rare, heavy nitrogen isn't nearly as uncommon as they had thought it should be.
"We didn't believe the measurements at first, and spent about a year just convincing ourselves that they were accurate," lead author Laurence Yeung, an atmospheric scientist at Rice University, said in a press release.
But no matter what Yeung and his colleagues did to test the results, they kept finding more of the heavy nitrogen than our current knowledge of how the element is produced at the Earth's surface (like by bacteria and fungi) could explain. Those tests included running experiments with bacteria that create and use it to see whether they were responsible for the extra amounts of heavy nitrogen in the atmosphere. They were not. In fact, those bacteria didn't really produce much heavy nitrogen, but they did consume some of it, tipping the proportions in the other direction.
So instead, the team turned to the upper layers of the atmosphere to see if something happening there could be producing such high levels of this heaviest nitrogen flavor. They ran an electrical current through a mix of gases like that found in our atmosphere, the easiest way to mimic the upper atmosphere here at the surface. According to their findings, this simulated upper atmosphere does produce extra heavy nitrogen, at least when pressure is low enough.
Read more: When Will We Find Aliens? NASA Is Studying Earth to Find Signs of E.T. On Distant Planets
The finding has direct relevance on the search for life on other planets. The same process simulated for the study is happening at around the same height the International Space Station orbits Earth, Yeung said. Some of that heavy nitrogen then sinks and is broken down by bacteria on the planet's surface, lowering the overall value a bit in a balance Yeung describes as a tug-of-war.
And that means that if they were looking at Earth as an alien planet, scientists could see just the proportion of heavy nitrogen and know that life was pulling down that rate a bit from what was being produced naturally, a sort of fingerprint of life etched in the atmosphere. The atmospheres of other life-bearing planets might not match ours precisely, but they could be displaying a similar dynamic, giving scientists another clue to look for when evaluating potentially habitable exoplanets.