Finland's imminent accession to NATO will strengthen the alliance's control of the Baltic Sea—a strategic body of water in northern Europe bordered by Russia—and bolster the bloc's deterrence of Moscow, according to NATO officials and military commanders.
Newsweek spoke with several officials and commanders in Estonia—which shares a 182-mile border with Russia—about the significance of Finland's announcement this week, in which both the president and prime minister called for NATO membership "without delay."
The decision will end decades of official neutrality in Helsinki, a seismic shift spurred by Russia's invasion of Ukraine in February. Sweden, also historically neutral, is widely tipped to follow Finland's lead. The pair are expected to become the 31st and 32nd NATO nations, coinciding with the alliance summit in Madrid in June.
At a press conference at the Estonian Defense Ministry in the capital Tallinn, Undersecretary for Defense Policy Tuuli Duneton told journalists her compatriots "would welcome our dear neighbors to NATO, and of course are more than keen to continue our very good bilateral cooperation with those two countries in the context of NATO as well."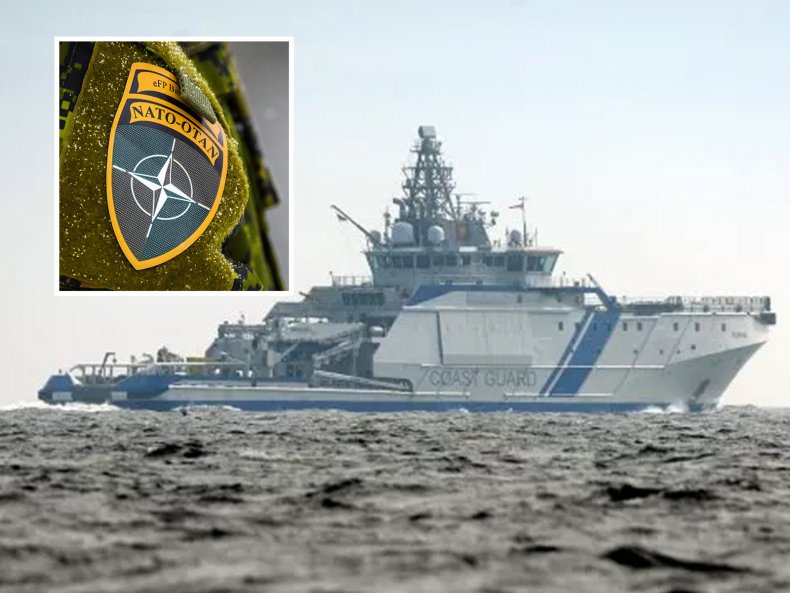 "It's going to be a very positive step for the whole of the security around the Baltics," Duneton explained at the press conference, on the sidelines of the Lennart Meri Conference, an annual event focused on foreign and security policy issues in eastern and northern Europe. "We think that we could do even better military and defense cooperation, as we have been doing so far."
"It is clear that [with] the accession of those two countries, the Baltic Sea region airspace and maritime space will become a new, coherent space that is belonging to NATO nations," Duneton said. "So there is much room for future cooperation. And I think we will be stronger together against Russia."
Brigadier General Enno Mõts, the chief of staff of the Estonian Defense Forces' headquarters, said at the press conference that Finnish—and possible Swedish—NATO membership would improve the alliance's operational ability in the Baltic Sea.
"Today we're not sharing information as much as needed," Mõts said of NATO cooperation with the two potential new members. Aerial and maritime awareness, he said, would be enhanced if Finland and Sweden joined the alliance.
"Most important as we see it, frankly, is situational awareness in the maritime domain," Mõts said. "Obviously, in Finland for instance, they have really strong military capability as well."
Expanded NATO presence in the Baltic Sea would frustrate Russian efforts to control and operate from the narrow Gulf of Finland, through which Russian vessels must sail to reach the key port of St. Petersburg. Likewise, the Russian enclave of Kaliningrad would be surrounded in all directions by NATO eyes.
"This is a great opportunity," Mõts explained. "We'll have a shared picture about what is going on in the maritime domain. Having awareness of what is going on, we can react in the proper time."
Commanders at an Estonian military base in the town of Tapa, some 70 miles from the Russian border, also expressed their support for Finland joining NATO.
The base at Tapa is home to the British-led enhanced Forward Presence NATO force, which was doubled in size in February amid tensions with Russia. French and Danish troops are also part of the force, which on Thursday celebrated the fifth anniversary of the eFP rotation in Estonia.
Colonel Dai Bevan, the commander of the British contribution to the eFP rotations in Estonia and Poland, told Newsweek that the broader NATO mission would be boosted by the two potential new members.
"Both the Finnish and Swedish have really impressive defense forces, and they are really credible," Bevan explained. "And so I think what they will bring to the lines is of huge benefit. But that is for the Swedish and Finnish people to decide."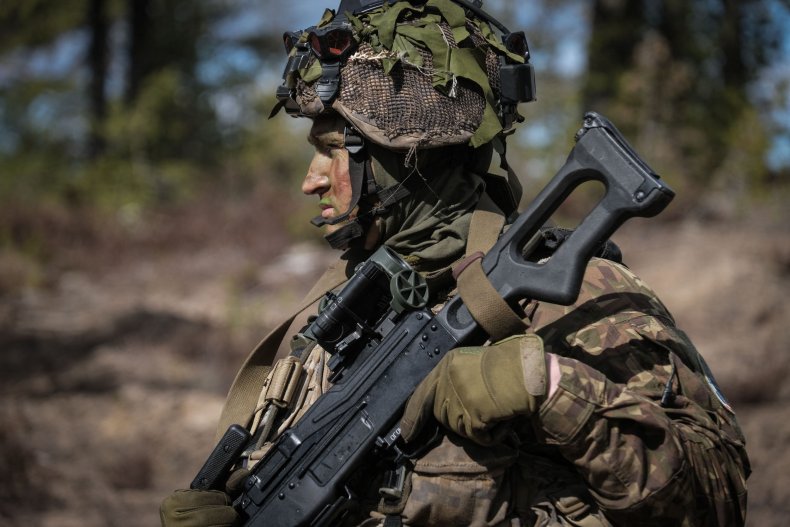 Colonel Andrus Merilo, the commander of Estonia's 1st Infantry Brigade at Tapa, said Finnish and Swedish accession "will make everything, looking at least at the map, different."
Membership would open "additional access to the Baltic Sea region," Merilo told journalists at a briefing at the Tapa base. "But I think the most important question is not about when and how Finland and Sweden will join NATO, but why those nations have decided to join NATO."
"This is clear evidence that Russia is a threat not only for the Baltic states anymore…but it's also considered a real threat for Finland and Sweden. This is a significant change in the security environment."
Merilo noted that Finnish and Swedish accession would likely prompt some action by Russia. Moscow has already threatened additional military deployments in response.
"Most likely they will do something, at least to disrupt the joining process of Finland and Sweden," Merilo said. "Most likely in the future, they will deploy additional forces closer to the borders, this just militarily makes sense. But I would say it's maybe an illusion to think that all this joining goes peacefully, and Russia just sits and waits for it to happen."
Newsweek has contacted the Russian Foreign Ministry to request comment.