Finns Stock Up on Food, Check Bomb Shelters After NATO Move
Finnish residents in regions bordering Russia are rushing to buy food and touring bomb shelters in preparation for a potential conflict with Moscow, after the Kremlin said it would take "retaliatory steps" in response to Finland's NATO bid.
Shortly after Finland's President Sauli Niinistö and Prime Minister Sanna Marin issued a statement saying that their country must apply to join the military alliance "without delay," Russia's foreign ministry said the Kremlin "will be left with no choice but to respond."
"Russia will be forced to take retaliatory steps, both of a military-technical and other nature, in order to stop threats to its national security arising," the ministry said.
Some residents are now stocking up on food and mentally preparing for a potential conflict with Russia, which shares a more than 800-mile border with the Nordic country, the BBC's Russian news service reported.
"Many people are buying food for 72 hours, at the city level we have checked our bomb shelters, we are prepared for possible hybrid attacks," said Kimmo Järva, the mayor of the city of Lappeenranta, in the South Karelia region, located about 19 miles from the Russian border.
Support for Joining NATO
Järva said that the Finns aren't afraid, but they are getting prepared.
The mayor said that he supports his country joining NATO.
"A small country like Finland needs friends, especially when there is a war going on in Europe," he said, referring to Russia's invasion of Ukraine, which began in February.
Finland and its neighbor Sweden have been weighing applying for NATO membership since the invasion began. The countries joining the military alliance after decades of military non-alignment would mark a major change in their security policy and a dramatic shift in Europe's security landscape.
Should Putin decide to take "retaliatory steps" of a "military-technical" nature, Finland has bunkers in more than 54,000 locations to shelter 4.4 million people, with more than 5,500 in Helsinki alone.
Petri Parviainen, Helsinki's civil defence unit chief, told the National News that the Ukraine war made Finns "think about preparedness for themselves and their families."
Finland is also preparing for Russia to cut off its gas supplies by Friday in response to the NATO bid, according to local newspaper Iltalehti, which cited unnamed sources.
Newsweek has been unable to independently verify the report.
Finland relies more on Russian gas than other European countries, as it has direct pipeline connections with Russia.
Newsweek has contacted Finland's foreign ministry and Russian authorities for comment.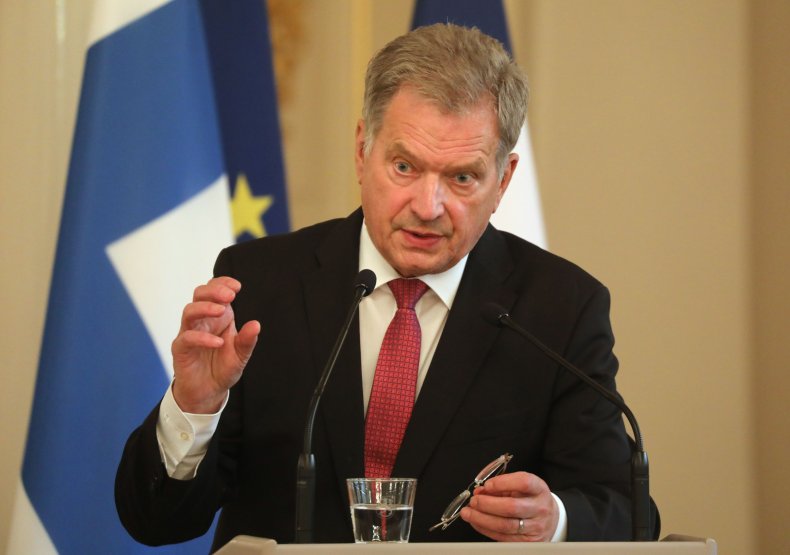 Update 5/13/22 at 10:36 a.m. ET: The headline on this article has been updated