Finland President Says He Is 'Confused' About Turkey's Position On NATO
The President of Finland has said he has been left confused about NATO member Turkey's position on their ascension to the defensive alliance after the country raised concerns about the Nordic country.
President Sauli Niinistö told reporters at a Sunday press conference that Instanbul's position had left him perplexed and said Turkey's President Recep Tayyip Erdoğan had previously appeared favorable to Finland joining NATO following Russia's invasion of Ukraine.
But in a statement shared on Friday, May 13, Erdoğan raised concerns that Finland and Sweden's membership had large numbers of people supporting the Kurdistan Worker's Party (PKK), which Turkey regards as a terrorist group.
According to the Guardian, he added: "We don't want to commit a mistake. Scandinavian countries are like guesthouses for terrorist organizations. To go even further, they have seats in their parliaments too.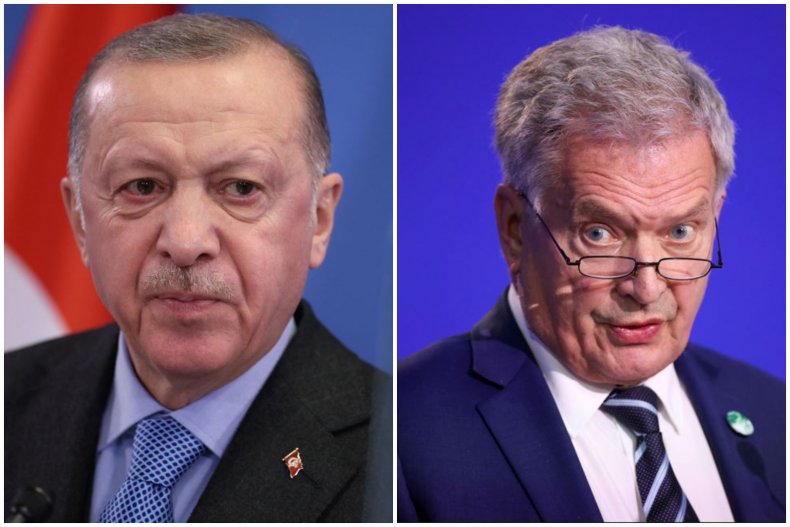 Contrary to Erdoğan's claims, terrorist organizations do not hold any positions in either Sweden or Finland's parliament and no evidence was produced to clarify or support his claim.
In response to the claims, Niinistö said: "To be frank, I am a bit confused. Because I had a telephone discussion with the President Erdoğan, that is approximately a month ago, and actually he took up, himself, before I had the possibility to do 'that you're applying for NATO membership and we will assess it favorable.'
"I thanked him and he was very pleased to [be] receiving my thanks. So you can understand that I am a bit confused. What we heard two days ago was different than yesterday we again heard that Turkey is open to our membership, but it turned back to no or, let's say, negative side.
"I think what we need now is a very clear answer. I am prepared to have a discussion with President Erdoğan about the problems he has raised."
Countries seeking to join NATO need the unanimous support of members who are already part of the defensive alliance.
Since 1949, NATO's membership has grown from 12 to 30 countries through multiple enlargement processes.
Finland's Prime Minister Sanna Marin appeared positive that the country would be able to join NATO, despite Erdoğan's comments.
In the joint press conference with Niinistö, Marin added: "We haven't had any indication in NATO that we would have any problems for Finland's or Sweden's membership. In NATO we have all the capabilities and are already very interlinked with NATO and we are close partners to NATO. We haven't had any indications that there would be any problems.
"Then we have seen some statements out [in the public] that there are some questions still, but I think it's very important that we will have these discussions with the countries, with the ministers and with the other leaders that we have. And [in a] very calm manner, discuss all the issues that there might be. I don't think there will be any problems but our interest is that the process will be very fast."
Newsweek has contacted the office of the President of Turkey for comment.
Finland and Sweden have gone through a monumental foreign policy shift in a matter of months, abandoning opposition to NATO membership following Russia's invasion of Ukraine, a country not part of the alliance.
In response to the Nordic countries' membership ambitions, Russian lawmaker Aleksey Zhuravlyov, chair of the nationalist Rodina party, told the news outlet Ura.ru earlier this month that Finland would endanger its existence if it joined NATO.
He said: "When you create problems for someone, you must understand that you will get them yourself."