Finland's Trying to Convince Turkey to Support NATO Membership
As Turkey remains defiant in its plans to reject Finland's application to join NATO, the Nordic country is hopeful it can convince Turkey to change its position and join the alliance's other members in approving Finland's membership bid.
"We are open to discussing all the concerns Turkey may have concerning our membership in an open and constructive manner. These discussions have already taken place, and they will continue in the next days," Finnish President Sauli Niinistö said from the White House on Thursday.
Niinistö and Swedish Prime Minister Magdalena Andersson had met with President Joe Biden to help advance both countries' formal application to join NATO.
Their NATO bids have been largely hailed as a blow to Russian President Vladimir Putin, but Turkish President Recep Tayyip Erdoğan has stalled the possible memberships by refusing to accept the bids while accusing Finland and Sweden of harboring individuals connected to the Kurdistan Workers Party (PKK). That group has been designated a terrorist organization by Turkey, the U.S. and the European Union.
A NATO application would require an approval from all 30 existing members. Any one member country has the power to veto a bid.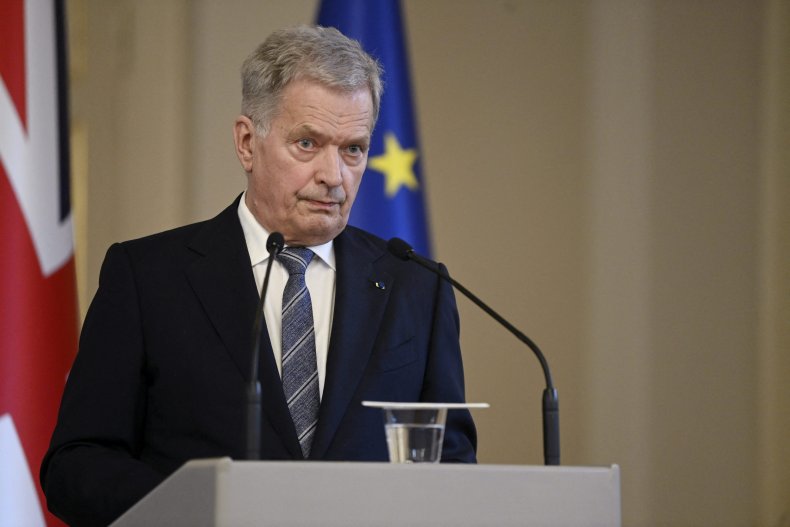 On Thursday, Niinistö denied Turkey's claims, saying, "We take terrorism seriously. We condemn terrorism in all its forms, and we are actively engaged in combating it."
"Finland has always had proud and good bilateral relations to Turkey," he said. "As NATO allies, we will commit to Turkey's security, just as Turkey will commit to our security."
His remarks came less than a day after Erdoğan said Turkey plans to "continue on our path" to flatly reject Finland and Sweden's NATO bids.
"We have told our relevant friends we would say 'no' to Finland and Sweden's entry into NATO, and we will continue on our path like this," he said in a video released Wednesday.
Turkish foreign minister Mevlüt Çavuşoğlu said the two countries should cease supporting terrorist groups, provide security guarantees and lift export bans on Turkey, Reuters reported.
"This is not a threat, this is not a negotiation where we're trying to leverage our interests," he said on Sunday, adding that Turkey does not oppose NATO's open door policy, according to Reuters.
On Thursday, Andersson said that Sweden was also engaging in conversations with Turkey about its pending application.
"We are, right now, having a dialogue with all NATO member countries, including Turkey, on different levels to sort out any issues at hand," she said at the White House.