Donald Trump Says Finland's President Told him They Prevent Forest Fires with Raking. He Didn't.
President Donald Trump's bizarre advice on "raking and cleaning" forest floors to prevent wildfires may not have originated with Finnish President Sauli Niinistö as he claimed.
In an interview published Sunday with Finnish newspaper Ilta-Sanomat, President Niinistö said he does not recall ever speaking with Trump about "raking" forest floors. Trump suggested to reporters Saturday that wildfires were not an issue in Finland because Niinistö had told him about how the Finnish people are constantly "raking and cleaning and doing things" to prevent wildfires in their "forest nation."
Trump made the comments standing alongside California Gov. Jerry Brown and Governor-elect Gavin Newsom while on a visit to a charred portion of a Northern California town hit by the wildfires. "You've got to take care of the floors. You know the floors of the forest, very important. You look at other countries where they do it differently and it's a whole different story," Trump told reporters.
"I was with the president of Finland and he said, 'We have a much different—we're a forest nation.' He called it a forest nation, and they spent a lot of time on raking and cleaning and doing things," Trump said, making a motion with his hand. "And they don't have any problem."
The Finnish president told the Ilta-Sanomat newspaper Sunday he did speak briefly with Trump about forest management when the two were in Paris for Armistice Day on November 11. But he recalled the conversation focusing on the California wildfires and a new surveillance system Finland uses to monitor potential fire threats.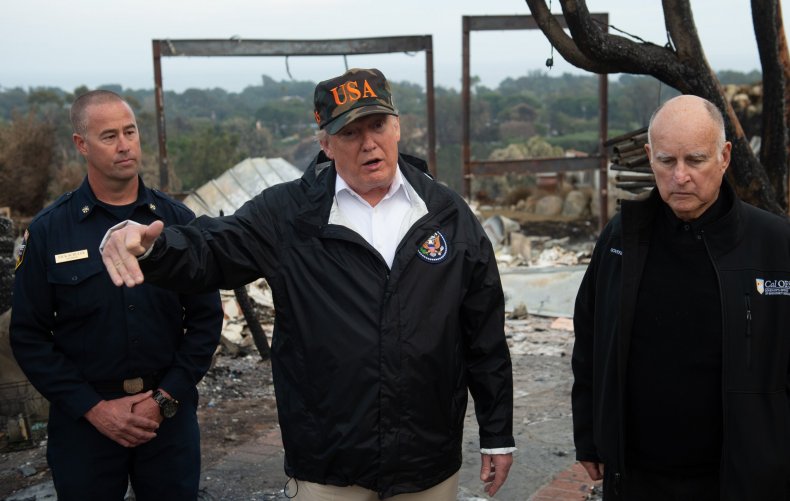 But Niinistö said he does not recall any discussion of "raking" forest floors as something he would have suggested in any way. He confirmed that he'd made the comment about Finland being able to "take care of our forests."
According to the Finnish Forest Association, forests cover 75 percent of Finland's total land area. And noted that for every Finn, there are more than 10 acres of forest. But Finland, which extends to the Arctic Circle, has a vastly different climate to that of California.