In Finland, a Win for Free Speech Everywhere | Opinion
A Finnish member of parliament has won on all charges in a groundbreaking free speech trial involving a Bible tweet. While far away in Finland for now, the magnitude of this victory promises to have a ripple effect across the world. In a unanimous ruling, announced March 30, 2022, the Helsinki District Court held that "it is not for the district court to interpret biblical concepts." Free speech is a fundamental human right that no government can take away.
The ruling represents a resounding rejection not only of censorious cancel culture, but also of the growing trend of criminalizing speech. Longtime civil servant and former minister of the interior, Dr. Päivi Räsänen, was brought to trial on three criminal charges for sharing her faith-based beliefs, including on Twitter. Finland goes so far as to criminalize any "expression of opinion or another message" deemed to be "threaten[ing], defam[ing]" or even just "insult[ing]" with the penalty of up to two years jail time.
Dr. Räsänen expressed her deeply held beliefs about marriage and sexuality in a 2019 tweet, accompanied by an image of Bible verses. For almost three years, the committed public servant, medical doctor and grandmother faced invasive police investigations, onerous legal proceedings and the threat of imprisonment for the "crime" of a tweet. She was subjected to lengthy interrogations about her Christian beliefs—including frequently being asked by the police to justify her understanding of the Bible. A church official, Bishop Juhana Pohjola, stood trial alongside her for publishing a 2004 pamphlet.
Free speech itself was on trial, with Dr. Räsänen heading to court in January and February of this year. The stakes were inconceivably high—she faced serious criminal punishment, and the integrity of free speech as a fundamental human right was in jeopardy. Even U.S. senators weighed in on the immense human rights implications. "It is our understanding that Finnish authorities believe that these actions constitute hate speech," read a joint statement by five senators. "It could open the door for prosecution of other devout Christians, Muslims, Jews and adherents of other faiths for publicly stating their religious beliefs that may conflict with secular trends."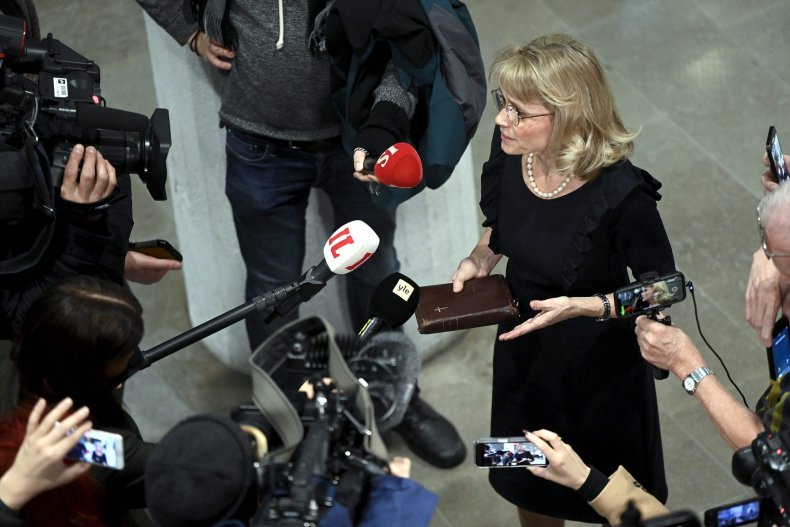 In no way isolated to Finland, this case is a stark example of the dangers of pervasive "hate speech" laws sweeping the globe. We must not let this win obscure the reality that the day has arrived in which expressing an opinion on social media could conceivably land someone in jail. As this dystopian day dawns in Europe, Americans should take note. The U.S. is far from immune to the insidious trend of silencing—cancel culture is closing in around us everywhere, and the looming threat of jail time has already arrived on our shores.
The right to freedom of speech defines who we are as Americans. But let us not fall prey to the delusion that what happened to Dr. Räsänen could never happen here. Social media giants are quick to censor and ban accounts with "wrong" opinions. Free speech issues are hitting our courts as well. Small business owner Emilee Carpenter faces fines of up to $100,000, a revoked business license and up to a year in jail if she violates a New York state law that requires her to create photographs and blogs celebrating same-sex weddings. In January, her case was appealed, asking the Second Circuit to protect her from New York's draconian laws. What happened in Finland isn't so far off.
Following her victory, Dr. Räsänen stated, "although I am grateful for having had this chance to stand up for freedom of speech, I hope that this ruling will help prevent others from having to go through the same ordeal." Every person possesses the inalienable right to freely express their ideas. In international law, this right is spelled out as a person's "freedom to seek, receive and impart information and ideas of all kinds, regardless of frontiers, either orally, in writing or in print, in the form of art, or through any other media of his choice." Countries are obligated to respect and protect this fundamental right, central to any free society.
The situation that befell Dr. Räsänen transcends ideological divides over the oft-debated social issues of our time. This isn't about whether you agree with what she said—this is about her freedom to speak at all. If politicians in the public eye are silenced, private citizens will be sure to think twice before they voice their own opinions. Everyone loses in an Orwellian reality where people are too scared to speak for fear of ending up in jail, and once governments start policing legitimate speech, there is no clear line where they will stop.
Bolstered by this victory, now is the time for a renewed commitment to the great Western tradition of free speech for the sake of all our fundamental freedoms.
Elyssa Koren is director of United Nations advocacy for ADF International. Follow her on Twitter: @Elyssa_ADFIntl.
The views expressed in this article are the writer's own.