The U.S. and its Western allies have been in a state of war with Russia since at least 2004, according to former presidential adviser Fiona Hill, who said Friday that Vladimir Putin's decision to invade Ukraine opened a new "kinetic" phase of the historic conflict.
Hill—a former National Security Council official and expert in Russian and European affairs who held posts in the Bush, Obama, and Trump administrations—told a webinar the West could question whether there was a state of peace at the end of the Cold War.
"We're in the kinetic phase of the war now, in terms of the hot war, the military conflict that we usually think about," Hill said of the ongoing Russian invasion of Western-backed Ukraine that began on February 24.
"But we've been in a state of war...for quite some time, certainly going back to at least 2004 in the wake of the Ukrainian so-called Orange Revolution and Russia's reactions to it," Hill told a European Council on Foreign Relations event.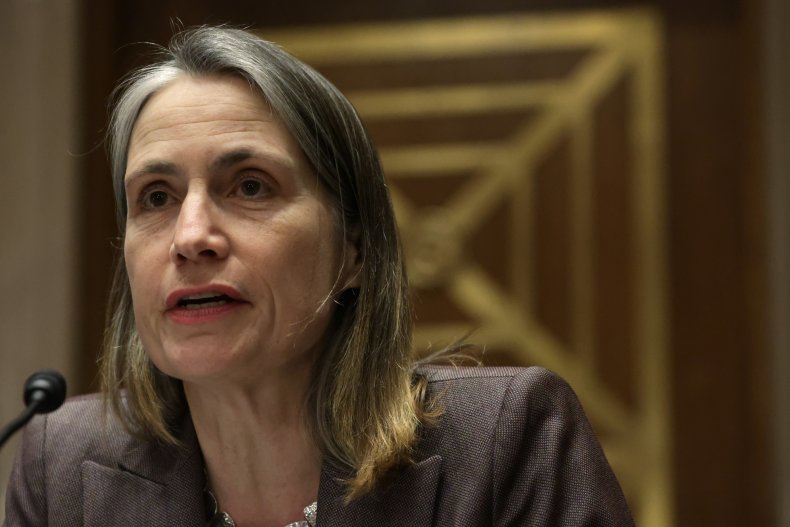 The revolution was formed by protests after the 2004 Ukrainian presidential election, initially won by Moscow-aligned candidate Viktor Yanukovych—later deposed by the 2014 Maidan Revolution—amid claims the contest was rigged. Results were annulled, and a second run-off brought victory for pro-European candidate Viktor Yushchenko.
Russia has often interpreted it as a Western-sponsored coup, enabled by far-right Ukrainian groups and coordinated by the CIA. Putin, Belarusian President Alexander Lukashenko, and top Kremlin officials have repeatedly cited the Orange Revolution as proof of Western meddling in the post-Soviet space.
Vehement public opposition to such "color revolutions" has become a key element of foreign policy for Putin and his allies.
After Russia helped squash recent unrest in Kazakhstan, for example, Putin said in January: "We will not allow the situation to be rocked at home and will not allow so-called 'color revolutions' to take place."
Newsweek has contacted the Russian Foreign Ministry to request comment.
Hill—discussing new book The Age of Unpeace by ECFR Director Mark Leonard—said Friday the West should perhaps look even further back than 2004 to understand the ongoing conflict with Moscow.
"I think we actually could probably even question whether we really were in the state of peace that we thought we were at the end of the Cold War, when we did still have a lot of contestation of the outcomes of that period," she said.
Looking ahead, Hill continued, the West should pay close attention to China's influence.
"China spoke out against NATO, in that rather shocking joint statement between [Chinese President Xi Jinping] and Putin on February 4, on the margins of the Beijing Olympics," she said. "China is worried that there will be the expansion of NATO-like security arrangements into the Asia Pacific."
"China has made now its hand very clear in Europe, seeing itself more as a security actor," Hill explained. "We have a big question mark about what China's role was in facilitating the war in Ukraine, percolating now throughout Europe as well."
As for Putin's own future, Hill said the West should focus on the coming presidential elections in 2024. Putin amended Russia's constitution in 2020 to allow him to stay in office until 2036 if he so chooses. With no successor in sight, there is little doubt that 2024 will bring a new term for the dictator.
But the faux election, Hill said, is significant nonetheless.
"2024, we should be thinking ahead to that," she explained. "Putin is supposed to put himself up for reelection in 2024, in March, which is before the U.S. election. This also happens to be the election in the same timeframe in Ukraine, which in this wartime capacity also has a different shape."
"We have to think very carefully about how Russia is looking at that moment, and 2024—whether Putin likes it or not—is an inflection point," Hill said. "I think he was trying to get ahead of it with the war in Ukraine as well."