Five Things to Know About Dr. Fiona Hill, the Russia Expert at the Center of the Impeachment Inquiry
Dr. Fiona Hill is set to testify Thursday at 9 a.m. before a panel of House impeachment investigators about the president's efforts to condition a coveted White House meeting on an investigation into former Vice President Joe Biden and his son, or the Democratic National Committee, and perhaps both.
Hill is a central figure in the Ukraine affair, having borne witness to at least two instances in which President Donald Trump's close advisor appeared to lay out a quid pro quo exchange with Ukrainian officials.
Born to a working-class family in northern England
Born in 1965 to a coal miner and nurse in northern England, Hill went on to obtain degrees from the University of St. Andrews in Scotland and Harvard University, where she received a doctorate in history in 1998.
One decade prior, Hill was in Moscow during the historic summit between President Ronald Reagan and Soviet Union leader Mikhail Gorbachev.
During the tail end of the George W. Bush administration, Hill served on the National Intelligence Council—a component of the Office of the Director of National Intelligence which provides foreign policy analyses to the White House—focusing on Russia and Europe.
Following her stint on the council, Hill joined the Brookings Institution, a pre-eminent Washington, D.C., think tank, as the director for its Center on the United States and Europe.
Hill writes book about enigmatic Russian president
In 2012, Hill co-authored "Mr. Putin, Operative in the Kremlin," a book attempting to examine the inner-workings of Russia's iron-fisted leader.
"Who is Vladimir Putin," a press release about the book asks. "In Mr. Putin, Russia experts Fiona Hill and Clifford Gaddy argue that Russia's President, Vladimir Putin, is in fact a man of many and complex identities. Drawing on a range of sources, including their own personal encounters, they describe six that are most essential: the Statist, the History Man, the Survivalist, the Outsider, the Free Marketeer and the Case Officer."
The release states that "understanding Putin's multiple dimensions is crucial for policymakers trying to decide how best to deal with Russia."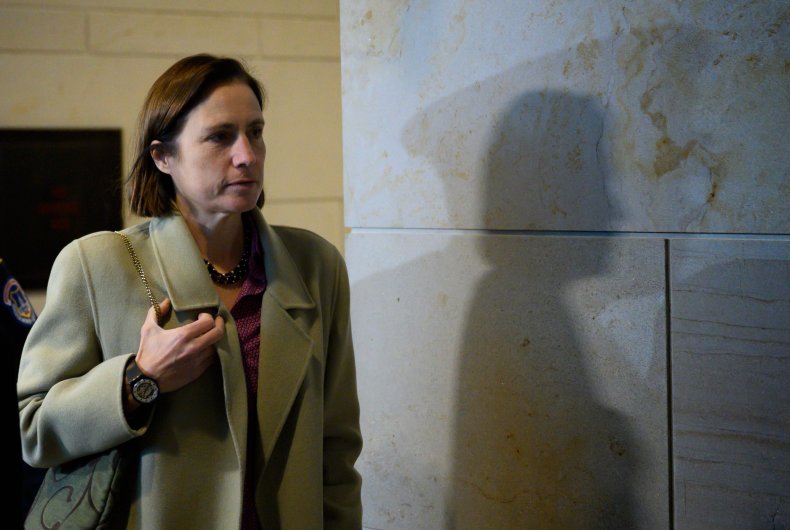 Hill joins the Trump administration in 2017 as a Russia advisor
In 2017, she was tapped for a role on Trump's National Security Council, serving as the senior director for Europe and Russia.
The Russia expert was present at the White House for at least two key meetings under scrutiny by House impeachment investigators. During a closed-door deposition in mid-October with the House Intelligence Committee, Hill testified that she observed a direct proffer for a meeting from Trump's European Union ambassador when Ukrainian officials visited the White House on July 10.
During an initial gathering that day attended by Hill, two of Ukrainian President Volodymyr Zelenskiy's top advisors, U.S. Energy Secretary Rick Perry, then-National Security Advisor John Bolton, then-Ukraine envoy Kurt Volker and E.U. Ambassador Gordon Sondland, among others, she witnessed Sondland outline a quid pro quo offer to the Ukrainians.
If they were to open an investigation into the Bidens, Trump would receive Zelenskiy in the White House, according to Hill and observers of the scandal.
"Well, we have an agreement with the Chief of Staff for a meeting if these investigations in the energy sector start," Sondland told Zelenskiy's delegation, according to Hill.
Hill's testimony could bring the Ukraine scandal close to President Trump
By implicating Trump's chief of staff Mick Mulvaney in the scheme, Hill's testimony brought the arrangement ever closer to the Oval Office.
Later in the deposition, Hill would attest that the investigation in "the energy sector" was widely understood to be a euphemism for Burisma, the Ukrainian gas company on whose board Hunter Biden, son of the former vice president, sat.
Hill recalled that after the offer from Sondland, Bolton "immediately stiffened" and abruptly cut off the meeting.
Bolton dispatched Hill to attend a subsequent meeting in the Ward Room that Sondland had been appearing to organize. As she walked in, Hill observed Sondland laying out for the Ukrainians point blank that there was an "agreement" with Mulvaney to host Zelenskiy "if they were going to go forward with investigations."
Hill says that John Bolton compared Ukraine affair to "drug deal"
She described the expression of her Ukraine director as "completely alarmed" and proceeded to break up the meeting, conveying to the Ukrainians that any such trip would have to go through normal channels.
Hill claimed that Sondland attempted to countermand her, telling the Ukrainians that "we have an agreement that they'll have a meeting."
According to Hill, Sondland "was clearly annoyed with this."
Hill left to confer with Bolton about what Sondland appeared to be orchestrating, at which point Bolton told her to report the event to the National Security Council's lawyer. Bolton told her to tell the lawyer he wasn't part "of whatever drug deal Sondland and Mulvaney are cooking up."
Hill's testimony is occurring during the second week of the public phase of the House impeachment inquiry. She will be the eleventh witness to testify publicly before the Intelligence Committee Thursday morning, alongside Ukraine-based American diplomat David Holmes.