24-year-old Cancer Researcher Beats Male Rivals to Become First Woman to Win 2,500 Mile Transcontinental Cycle Race Across Europe
A cancer researcher from Germany has become the first female to win a cycling race considered to be the ultimate test of endurance. Fiona Kolbinger, 24, survived on only four hours of sleep a night during her 2,500 mile (4,000 kilometer) journey from Burgas, Bulgaria to Brest, France.
She bested the 200 men and 40 women who had entered the Transcontinental Race and had to navigate icy rain, scorching heat and thunderstorms. She finished on Tuesday morning in a time of 10 days, two hours and 40 minutes, at least 124 miles ahead of Briton Ben Davies in second.
"I am so, so surprised to win. When I was coming into the race I thought that maybe I could go for the women's podium, but I never thought I could win the whole race," she said, according to Cycling Weekly.
On day four she covered nearly 300 miles and rode at an average speed of around 17 miles per hour. "I think I could have gone harder. I could have slept less," she said.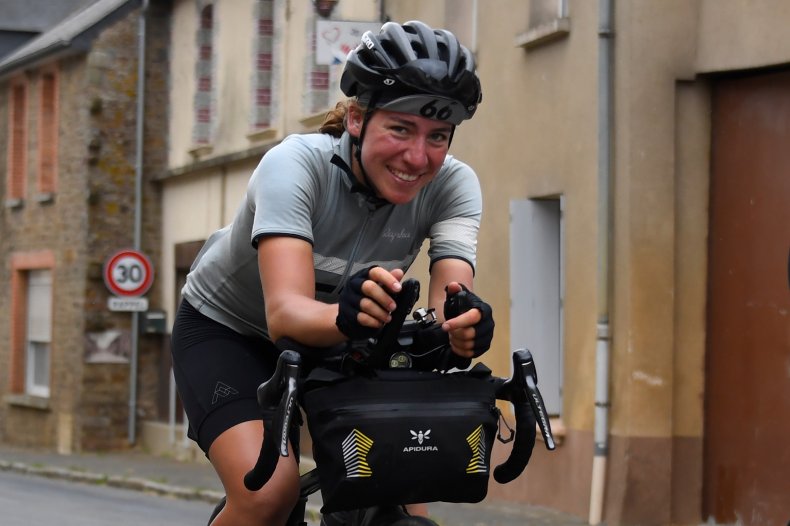 The Transcontinental Race was founded in 2013 by the late ultra-distance cycling legend, Mike Hall. Its website describes it as "the definitive self-supported bicycle race across Europe" and says that "factors of self reliance, logistics, navigation and judgement burden racers' minds as well as their physiques."
It is a truly solo effort as racers are unable to ask for directions or technical support and they have to find their own food and accommodation as they wend their way through seven or more countries. These include Austria, Bulgaria, Bosnia, Croatia, France, Italy, Kosovo, Serbia, Slovenia and Switzerland.
Riders can choose their own route but must pass through four control points and have to endure gravel tracks and tough climbs such as the tortuous Timmelsjoch pass at an altitude of 2,474 meters in the South Tyrol between Italy and Austria.
Björn Lenhard, who was the favorite but had to pull out on the third day due to saddle sores, had trained with Kolbinger. He told the Transcontinental website: "Fiona is so strong, she really is. What's more, she is a complete rider. Yes, you need to be strong but in this race you have to be able to think, to plan, to fix your bike if you have to. She is also one of the strongest climbers in this race, much faster than me."