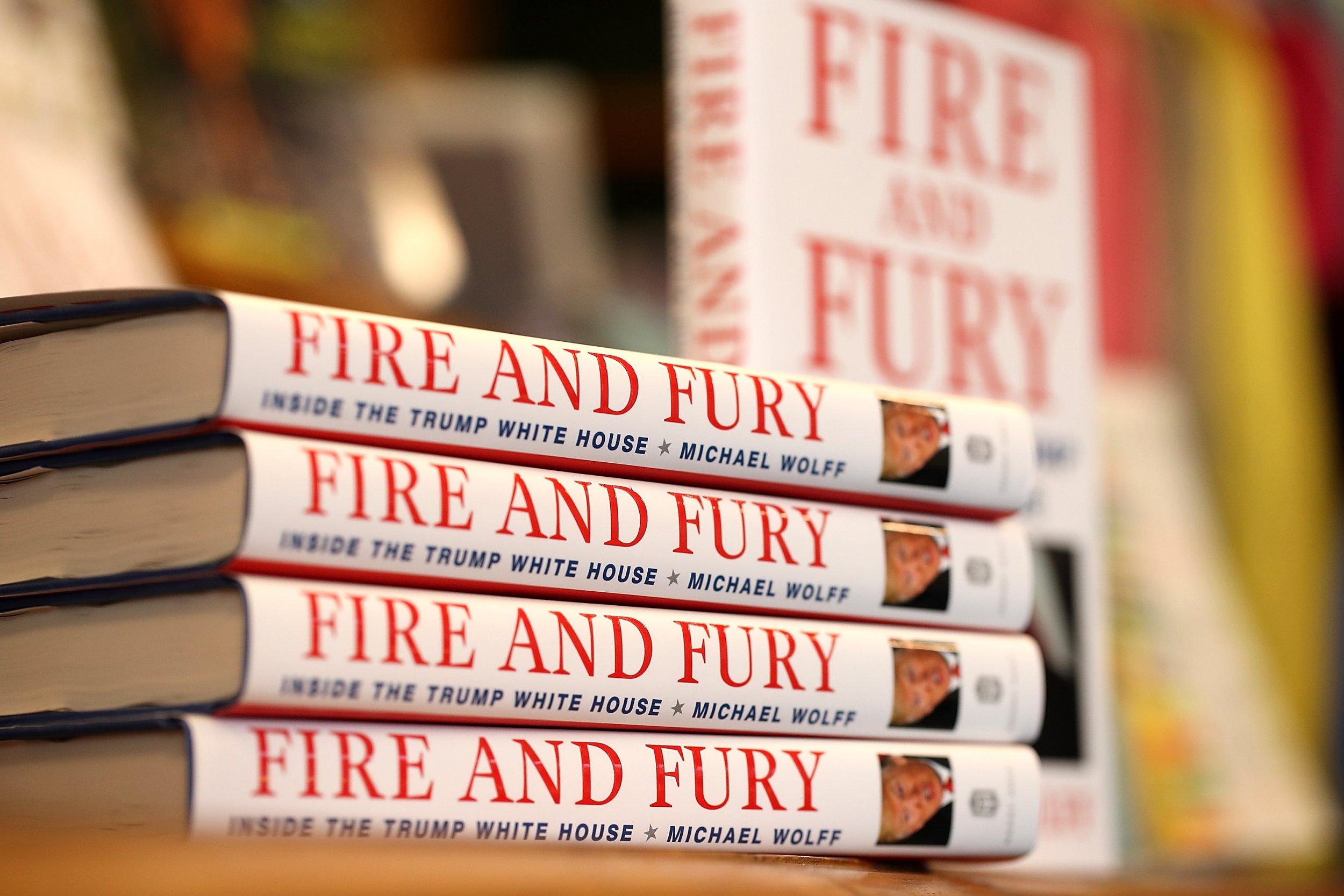 Supporters of the Islamic State militant group (ISIS) are disseminating the explosive tell-all book about President Donald Trump's first year in office that he has derided as "fake" and "untruthful."
Pro-ISIS channels on the encrypted messaging app Telegram are sharing multiple e-book download links to Fire and Fury, essentially pirating Michael Wolff's book.
They are sharing it with glee, too, calling the book an account of the "scandals of infidel Trump and apostate Arabs," according to a screenshot shared by cyber-monitoring company Jihadoscope on Twitter.
Jihadis are using Google Drive, Dropbox and other file-sharing platforms to share the book.
Since Trump's inauguration in January 2017, ISIS has regularly included him in its propaganda output, calling him an "idiot" and using his recent decision to relocate the U.S. embassy in Israel from Tel Aviv to Jerusalem as fuel for its slick video productions.
Trump has waged a war on what he calls "radical Islamic terror" since he became president, increasing airstrikes against the group and taking credit for the group "giving up" and losing its two largest cities last year: Raqqa, in eastern Syria; and Mosul, in northern Iraq.
On Sunday, Wikileaks posted the full text of Michael Wolff's book, tweeting a link to a Google Drive containing Fire and Fury in its entirety.
As excerpts of the book trickled into Western media, the book accumulated buzz ahead of its release, so much so that it was released days early because of what publishers called "unprecedented demand"—despite Trump's lawyer's attempts to have the book shelved.
Fire and Fury proved so popular upon its release that it reached the number one spot on Amazon's best-seller list. The book, according to Wolff, lays bare internal conversations with members of the Trump administration and even Trump himself.
It includes criticism of Trump's former chief strategist Stephen Bannon, whose rift with Trump has led the president to refer to his former ally as "Sloppy Steve."
Trump said that Bannon had "lost his mind," and as questions arose about the president's own mental fitness for the job, he fought back and tweeted that he was a "very stable genius."
Bannon tried to qualify his comments in the book on Sunday, saying his description of the meeting between Trump campaign officials and a Russian lawyer at Trump Tower as "treasonous" was a reference only to campaign manager Paul Manafort and not Trump's son Donald Trump Jr., who also was present at the meeting.
Special counsel Robert Mueller is leading an investigation into alleged collusion between Moscow and Trump's presidential campaign to influence the outcome of the 2016 election.