Dozens of People Die Trapped in Blazing Apartment Buildings After Chemicals Catch Fire in Bangladesh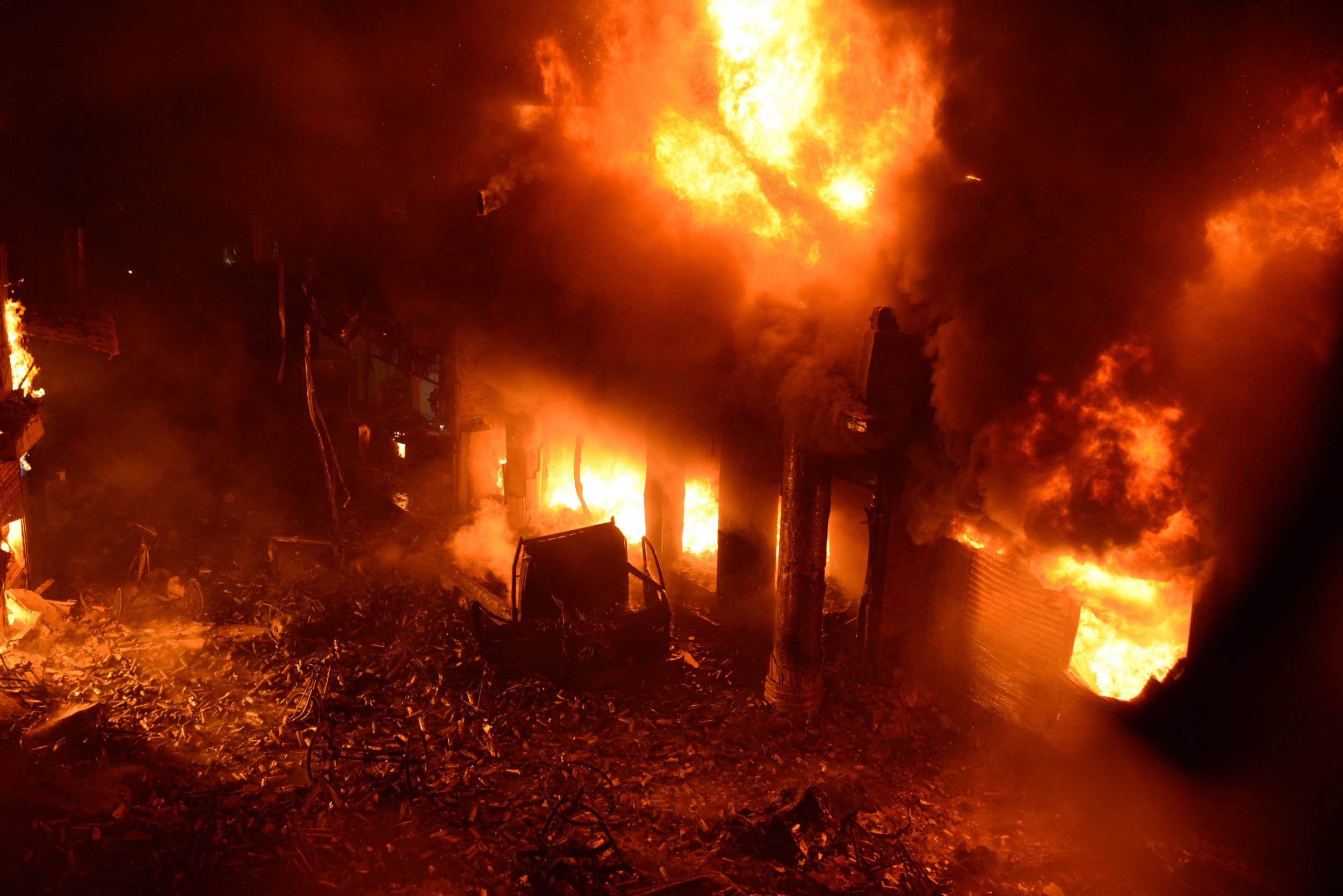 At least 81 people have been killed by a blaze that tore through apartment buildings in the Bangladeshi capital of Dhaka after chemicals being stored in tightly packed buildings caught fire. Dozens were trapped in the buildings in Dhaka's congested old city on Wednesday night as the fire broke out around 10:40 p.m. local time, The Associated Press reported.
The fire was brought under control after 10 hours. Authorities said the death toll was expected to rise as emergency services made their way into the ravaged buildings in the city's ancient Chawkbazar area. At least 50 people were also thought to be injured, though this number was also likely to rise. Some of those hurt suffered critical burns, AP noted.
Mahfuz Riben, a control room official for the Fire Service and Civil Defense in Dhaka, said that many people had been trapped in the affected buildings.
"Our teams are working there but many of the recovered bodies are beyond recognition," he told the AP. "Our people are using body bags to send them to the hospital morgue. This is a very difficult situation." Fellow control room official Russel Shikder confirmed that 81 bodies had been recovered so far.
The Guardian reported that a nearby community center was hosting a bridal party when it too caught fire, trapping people inside and resulting in many injuries.
The fire is thought to have started when gas cylinders—either stored in cars or nearby buildings—caught fire and exploded. The exact order of events remains unclear, but a chain reaction of explosions spread flames to nearby residential and commercial properties, where flammable products were being kept. Witnesses described constant explosions as the fire raged, with additional combusting gas canisters and vehicles adding to the inferno.
Some of the warehouses consumed by the flames stored dangerous products, including highly combustible chemicals, body sprays and plastic granules, all of which exacerbated the fire, The Guardian reported. Images from the scene showed hundreds of deodorant and perfume containers lying in the streets among the debris with multiple buildings burned out and cars destroyed.
The winding streets of Chawkbazar hindered the efforts of emergency responders, who struggled to reach the site of the disaster, because of road closures and traffic linked to national holiday celebrations. Around 200 firefighters responded to battle the blaze, Reuters reported.
The people of Chawkbazar are no strangers to devastating fires. In 2010, at least 123 people died in a large fire in the district, after the government had vowed to improve regulation and separate chemical warehouses from residential buildings.