Fire Breaks Out at Greek Refugee Camp Amid Riots After Asylum Seeker With Fever Dies
A fire tore through one of Greece's largest refugee camps on Chios island late Saturday night following protests over the death of a 47-year-old Iraqi asylum seeker who had reportedly been suffering from a fever.
Speaking with the Agence France-Presse, Boris Cheshirkov, the United Nations refugee agency's spokesperson in Athens, said the damage caused by the blaze was still being evaluated, but it was likely that many migrants, asylum seekers and refugees had been left homeless. With the fire brought under control by Sunday morning, Cheshirkov said "authorities are still assessing the damage but a few hundred people are likely affected because their shelters have burned down."
"We have donated tents to the authorities which can quickly be put into use and we will assist in replacing the warehouse tents," he said.
The blaze began amid protests over the death of a woman who had fallen ill, but had tested negative for the novel coronavirus.
According to a report from Al Jazeera, the woman had been taken to a hospital with a fever earlier this week. After her negative test, she was brought back to the camp, where she later died. It is not yet clear what the cause of her death was.
"This woman did not die of coronavirus, but perhaps the hospital should have done a more thorough examination of her, because she was sent back to the camp and she died there of other causes that are still being investigated," said Al Jazeera's John Psaropoulos.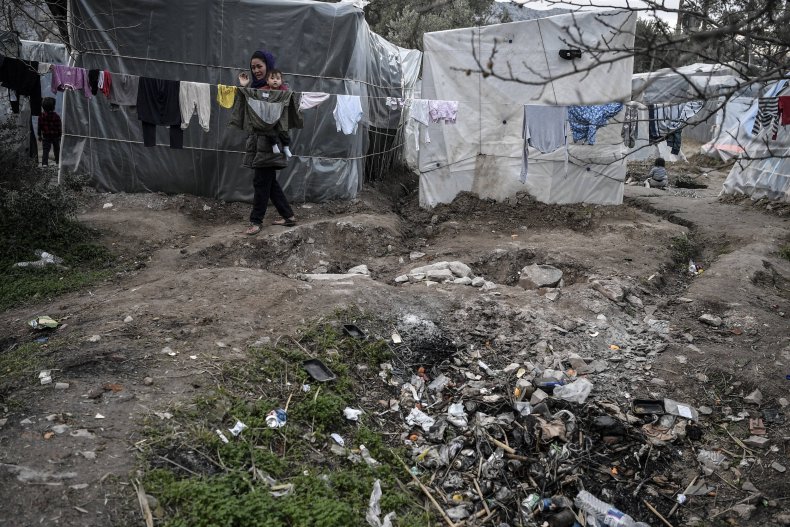 "It appears that the fear that what she did die of may have been coronavirus is what triggered the rampage, the riots overnight," he said, according to the news site.
It is still unclear exactly how the blaze began.
In recent months, a number of fires have broken out amid protests at Greek refugee camp, with migrants and asylum seekers frustrated by increasingly strict immigration policies introduced under Greece's relatively new government.
In the wake of the coronavirus pandemic, there has also been widespread concern for the safety of migrants and asylum seekers held at camps across Greece, with many sites suffering from severe overcrowding and a lack of sufficient access to sanitation.
Camps across the country's islands have been placed under quarantine in a bid to prevent the spread of COVID-19.
So far, the virus has affected 2,235 people in Greece, with 110 cases resulting in death, according to an online tracker maintained by the Johns Hopkins University. None of the confirmed cases have been reported from island camps, however.
Newsweek has contacted the Greek government and UNHCR in Greece for comment.