Fire Breaks Out on Roof of Caesar's Superdome in New Orleans, 1 Injured
A fire broke out on the roof of Caesar's Superdome in New Orleans on Tuesday, leaving one employee injured.
Emergency services responded to reports of a fire at the home of the New Orleans Saints football team at around 12:30 p.m. local time, Fox 8 Live reported. The New Orleans Fire Department (NOFD) dispatched 23 units carrying 51 personnel members to handle the situation. Around a dozen firefighters had to climb up the side of the building in order to reach the flames.
Employees, who did not report smelling smoke while the blaze was active, were evacuated from the building at around 12:40 p.m. as a precaution. They were able to return inside when the NOFD gave the all-clear at 1:10 p.m. There were said to be approximately 70 employees on the premises at the time.
Locals began posting images of the fire while it was active. Thick plumes of black smoke could be seen rising from the Superdome, with some people reporting that they had seen workers on the roof near where the fire broke out.
It was later confirmed that these employees had been doing maintenance and clean-up work on the roof when a pressure washing machine is believed to have accidentally malfunctioned and caught fire in the "gutter tub" portion of the roof. An official cause of the fire and the extent of the damage it caused are not known at this time.
EMS spokesman Jonathan Fourcade told WDSU that only one person was injured by the fire, suffering minor burns on their face and arms. They were taken to a hospital for treatment.
Newsweek has reached out to the NOFD for more information about this incident.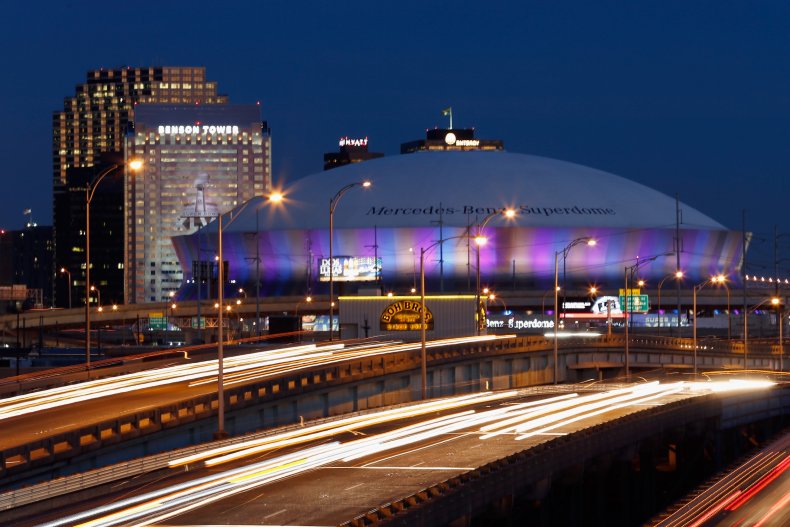 ASM Global, the venue management company that runs the Superdome, released a statement about the incident.
"This afternoon a fire occurred on the exterior of the Caesars Superdome in the gutter tub of the roof," the statement read. "NOFD and venue first responders were dispatched immediately and extinguished the fire. Upon further investigation, it appears that a pressure washer being used to clean the roof caught fire. Damage is still being assessed."
Sources within the NFL told WDSU that, while it remains an evolving situation, it is believed that the Superdome's structural integrity is intact after the fire. Therefore, the Saints vs. New York Giants game scheduled for October 3 is still expected to go ahead as planned.
The Superdome opened its doors in 1975 and from 2011 until a few months ago was known as the "Mercedes-Benz Superdome." In July, a 20-year, $138 million deal was made with Caesar Entertainment, the official casino sponsor of the NFL, to rename the famous stadium. This marks the first time that a league venue has borne the name of a casino.