Fire, Corrections Unions Boycott New York 'Hometown Heroes' Parade: 'Treat Us Right!'
Unions for New York firefighters, correction officers and EMT workers are denouncing the city's Hometown Heroes parade.
The parade, which kicked off at 11 a.m. on Wednesday along the Canyon of Heroes in lower Manhattan, is being thrown to thank the essential workers who helped New York weather the coronavirus pandemic.
"This celebration will honor all those who fought through adversity and unprecedented challenges to keep New Yorkers safe. I can't wait to celebrate alongside them," Mayor Bill de Blasio said in a statement last week.
But several unions representing the city's first responders are asking for more than just a ticker tape event.
The Correction Officers' Benevolent Association (COBA) released an open letter to de Blasio stating that their members were "treated as expendable" during the health crisis.
"I want all New Yorkers to know that because of the Department of Correction's gross mismanagement and sheer negligence, far too many of our pandemic heroes are no longer with us today," COBA President Benny Boscio Jr. wrote. "Over 1,700 Correction Officers contracted COVID-19 and tragically nine of them succumbed to this deadly disease."
Boscio said officers weren't provided masks, PPE or testing at the start of the pandemic. When an employee did test positive for COVID-19, he said, they weren't allowed to use sick leave benefits.
The union president also pointed to "atrocious working conditions" that haven't been fully addressed, such as triple shifts and poor ventilation in facilities during the summer months.
"You sure as hell won't see us in a photo op," Boscio wrote, referring to the parade.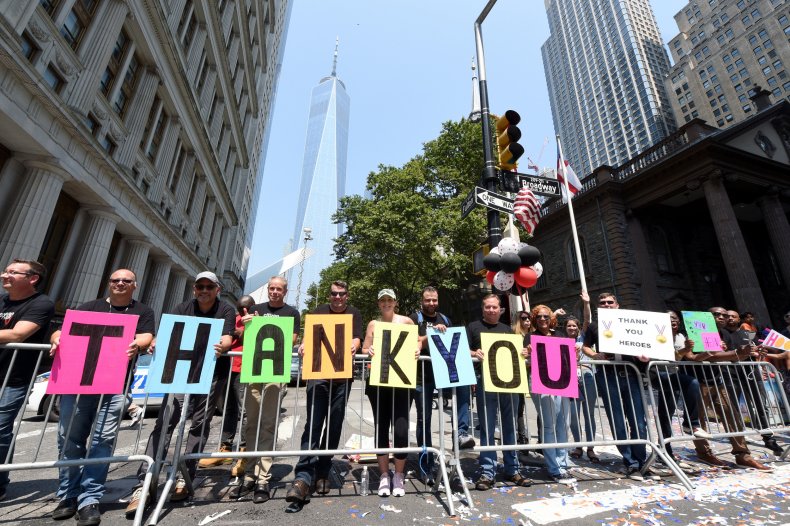 The Uniformed Firefighters Association also told its members to withhold participation from the parade, according to the New York Daily News.
"Our members are still risking their lives daily by exposing themselves to COVID-related illnesses," the message, signed by union president Andrew Ansbro, read.
Local 2507, a union representing EMT workers, paramedics and fire inspectors, told news station CBS2 they would be boycotting the heroes event, as well. The union said the money being used for the parade would be better spent on raising pay.
Another union, Local 768, also argued that its workers should receive more pay rather than a parade. The group represents more than 5,000 social workers, contact tracers, public health advisors, respiratory therapists and other employees.
"A Ticker Tape Parade usually costs the City over a million dollars, and while the money is supposedly being raised through private funding, Local 768 wants to see Essential Worker Pay back on the table for All Municipal Workers of New York City. Local 768 Leadership firmly believes it is important to send a strong message to the Mayor of New York: YOU CANNOT BUY US OFF WITH A PARADE!" the union posted on its website.
Newsweek reached out to the mayor's office for a response to the union pushback but didn't receive a response before publication.