Fire Destroys 400-Year-Old Village of Last Remaining 'Primitive Tribe' in China
A 400-year-old settlement belonging to China's last "primitive tribe" was razed to the ground on Sunday following a serious fire exacerbated by strong winds.
The charming village of Wengding, a tourist attraction in China's southwestern Yunnan province, has since been evacuated, with no deaths or injuries reported thus far.
According to local media reports, the blaze began in an unoccupied thatch home at 5:40 p.m. local time, with strong winds spreading it to neighboring huts belonging to members of the Wa people.
The Wa reside mostly in northern Myanmar, but they also live across the border in northern Thailand and southwestern China. Chinese National Geography, a monthly magazine modeled on National Geographic, called Wengding home to "China's last primitive tribe."
The fire was brought under control roughly six hours later, said the municipal government of Cangyuan Va Autonomous County. No casualties have been reported, while the cause of the fire is still being investigated.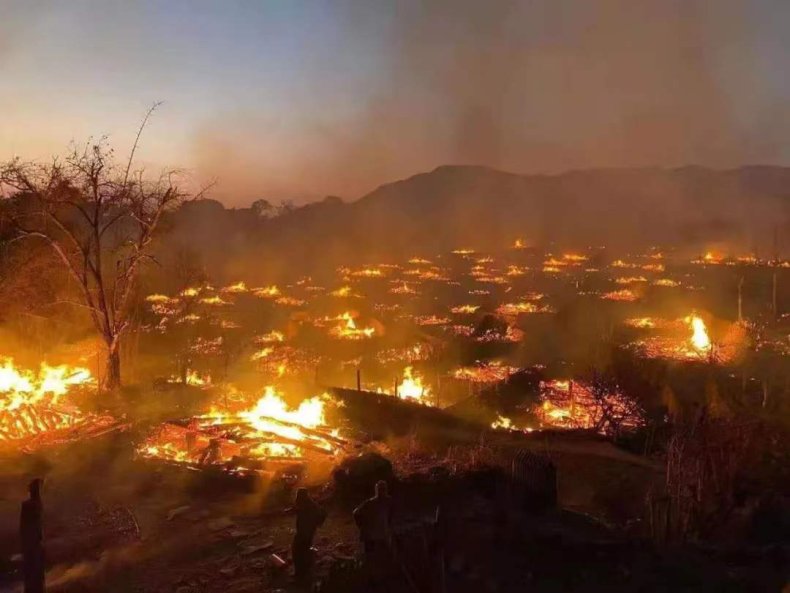 Wengding was once home to 107 traditional households and 497 Wa residents, reports said. Most straw huts had been vacated to serve the lucrative tourist industry following the settlement's classification as a "4A" scenic area—the fourth highest in China's five-tier grading system.
Only 17 households and 73 Wa tribespeople were in Wengding at the time of the fire, which occurred amid Lunar New Year celebrations. All have since been evacuated and were given shelter in hotels, the local government said.
Sunday's blaze destroyed all but four of the village's characteristic straw huts.
Wa villagers interviewed by state-owned media described how firefighting equipment had failed during their attempts to rescue their homes during the blaze.
"The fire started about 20 meters [66 feet] from my house. We took a fire hose and turned it on, but it ran out of water," a resident surnamed Yang told Communist Party newspaper The Beijing News.
Another villager, surnamed Xiao, told the paper: "I was cooking at home and heard people shouting about a fire. By the time I got outside, the flames were already on the roof."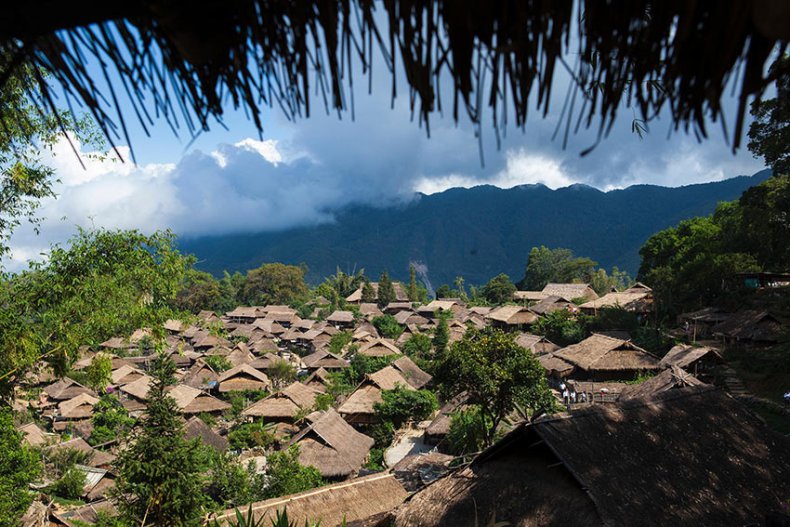 Xiao said his fire hose ran out of water after about 10 minutes of use. "There was nothing else we could do. The fire spread to the next home," he added.
According to Xiao, the village and each of its several dozen fire hydrants are supplied by two pipes, which carry water from three nearby reservoirs into the settlement.
Xiao said the reservoirs might have run dry due to a lack of rain in recent weeks, while a county official said an increase in water use during the Lunar New Year holidays could have played a role, The Beijing News reported.
The Wengding fire came almost two months to the day local government officials conducted a fire safety drill in the popular tourist village.
On December 15, the county simulated a straw hut fire started by a tourist's cigarette butt. A fire prevention exercise was held and educational lectures were also given, according to a post on the municipal government's social media account.
Local officials are expected to release preliminary findings from their investigation in the coming days.