Thousands of people have been left without shelter after a fire broke out at one of Greece's most overcrowded refugee camps on Monday night.
In an interview with Newsweek on Tuesday morning, Médecins Sans Frontières' field coordinator Eirini Papanastasiou said nearly all of the 6,000 people staying a the Vathy camp had been displaced by the blaze.
"The shelters are totally burnt down," Papanastasiou said. "They're mainly made out of tents and plywood and plastic sheeting and all of this has burned down."
Video captured by MSF depicts a chaotic scene, with residents screaming as they run away from the camp as flames tear across the site.
Residents, including hundreds of children, were forced to spend the night sleeping outside the camp site, as they watched their makeshift shelters burn.
Papanastasiou said non-profit organizations working on the ground had raced to hand out blankets, tents and other provisions to refugees. Thankfully, she said, the weather had been mild enough for residents to sleep outside, but had the incident unfolded during the winter months, their health and safety could have been at greater risk.
No one appeared to be seriously injured in the fire, with only minor injuries reported to MSF as of Tuesday morning.
It is still unclear what caused the blaze, Papanastasiou said. However, she said MSF had received reports of conflict between residents outside of the camp earlier on Monday. However, it is unclear if those clashes were related to the fire.
The incident comes just two weeks after a similar fire at Greece's notorious Moria refugee camp claimed the life of an asylum seeker, sparking outcry among international refugee organizations.
Both Moria and the Vathy refugee camp struggle from severe overcrowding, with the Samos site housing as many as 6,000 people, despite having been set up to shelter hundreds.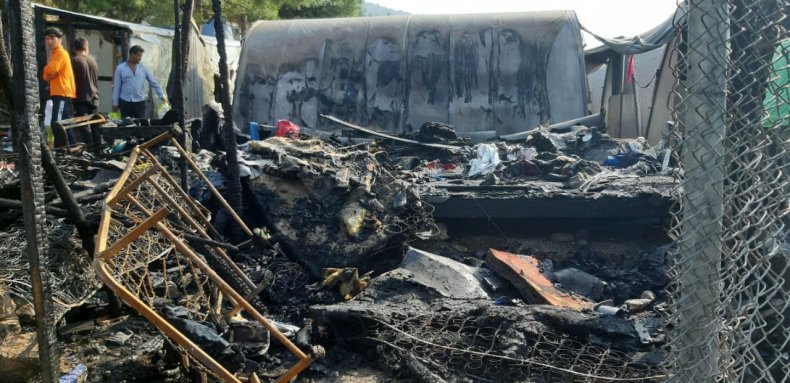 MSF has repeatedly called for children and other vulnerable residents at both Vathy and Moria to be moved out of the camps to safer locations.
"The conditions are really inhumane and precarious and they have an impact on people's health," Papanastasiou said. "These people have been traveling for a long time. They fled countries with problems and were traumatized in their home countries, then they traveled and many were traumatized during that travel... and then they must stay in these conditions."
"This is why MSF is calling for the immediate transfer of children and the most vulnerable from the islands to mainland Greece and to other European countries," she said.
Of course, for years now, immigration advocates have been calling on the international community to take action to ease overcrowding at camps like Moria and Vathy.
Yet, those calls have largely fallen on deaf ears, with both camps constantly crammed, while residents are left to struggle with the lack of security and lack of access to basic sanitation and medical assistance.
While the international spotlight that was once firmly focused on Europe's refugee crisis just a few years ago appears to have dimmed, a recent report from the United Nations Refugee Agency (UNHCR) showed that large numbers of migrants, asylum seekers and refugees continue to make their way to Europe via the Mediterranean.
As of September 30, more than 80,000 refugees and migrants made their way to European countries via Mediterranean routes in 2019, with more than half making their way to Greece, according to the UNHCR's "Desperate Journeys" report.
July, August and September were particularly busy months, with more than 9,300 people arriving to Greece in August, while another 12,500 made their way to the country in September, with the majority of refugees coming from Afghanistan and Syria.
While those numbers are significantly lower than the hundreds of thousands of people who made their way to Greece between July and September 2015, this year's numbers are still a cause for concern, with the country's refugee camps continuing to struggle with overcrowding and inadequate security and sanitation.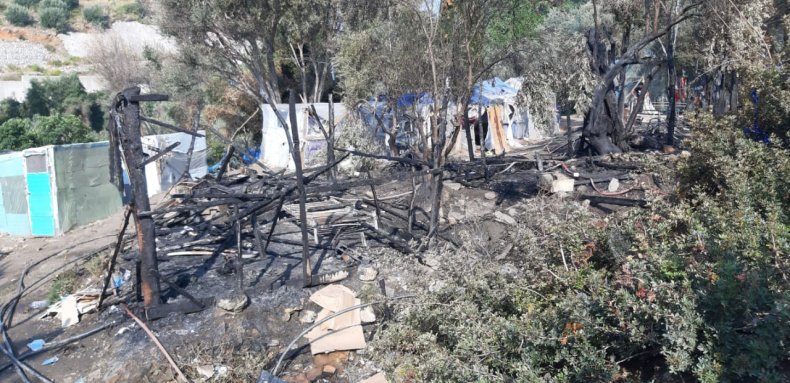 Updated: 15/10/2019: This article has been updated with statements from MSF, as well as with photos and videos of Monday's fire.