Fire Guts Rio's National Museum: '200 Years of Work, Investigation and Knowledge Have Been Lost'
Brazilian president Michel Temer has described the destruction of his country's museum in a fire as an "incalculable loss. Two hundred years of work, research and knowledge were lost," Temer said in a tweet.
The fire at the National Museum in Rio de Janeiro destroyed more than 20 million items, including archaeological finds and historical memorabilia. The fire broke out around 7.30 p.m. on Sunday after visiting hours were over and there are curently no reports of casualties.
The museum was linked to Rio de Janeiro federal university and the education ministry and was founded in 1818. It was home to a number of renowned collections, including Egyptian artifacts, works from Greco-Roman times and the 12,000-year-old skeleton of a woman known as "Luzia," the oldest ever found in the Americas, according to the museum's website.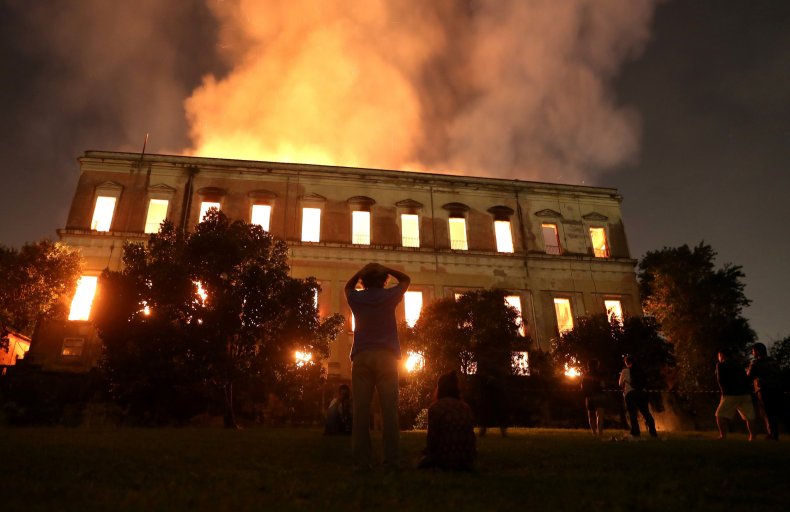 The building also housed historical documents of the Portuguese arriving in the 1500s to the declaration of a republic in 1889. Portugal's royal family also transferred its court to the building in 1808.
Marcelo Moreira, a journalist with TV Globo in Rio, told the BBC: "It's very sad… This museum has a great history. It represents a lot for Brazilian history and Brazilian culture. It's really a big loss for Brazil."
Marco Aurelio Caldas, who had worked at the institution for nearly a decade, said: "This is 200 years of work of a scientific institution, the most important one in Latin America. Everything is finished. Our work, our life was all in there."
It is not clear how the fire began. Rio's fire services said the firefighters did not have enough water at first and trucks had to bring in water from a nearby lake, The Guardian reported.
Many complained how the museum had been allowed to fall into disrepair in recent years. Luiz Duarte, a vice-director of the museum, told TV Globo that funding cuts to maintain the museum were to blame and that, ironically, funds had just been agreed with the Brazilian government's development bank, BNDES, for a fire prevention project.
"For many years we fought with different governments to get adequate resources to preserve what is now completely destroyed. My feeling is of total dismay and immense anger," he said.
The museum's current director, João Carlos Nara, said the damage was "irreparable," Brazilian newspaper Estados de Minas reported.